With an active users count of 2.3 billion, YouTube has been the second most visited site after Google. This means if you have not yet incorporated YouTube marketing as one of your social media marketing strategies, it's high time you should.
The best thing about YouTube is that you can upload videos anytime you want and sometimes they can even go viral.
Now, you must be wondering how to make your videos go viral on YouTube.
Well, let us stop beating around the bush and admit that making a video go viral isn't that easy. There are quite a few things that you need to master.
You have to put yourself in the mind of a social media marketing specialist to learn the secrets of internet algorithms and use them as a part of viral marketing.
Want to become a YouTube superstar? Here are the 10 clever ways to go viral on YouTube.
Keep yourself centered on trending topics
Want to go viral? This is one of the easiest ways to try out. Trending topics can give your videos more exposure than you can think of.
Audiences are likely to know more about the things that interest them. Stick to the latest news. Research thoroughly on the internet and look for topics that can strike the emotional chords of the world.
As a content creator, you should mainly focus on the latest trends taking place in your business vertical or niche and create videos based on that.
Add creativity to your videos
When it comes to creating a video for your channel, you need to think out of the box. You will never see a boring or plain video going viral. To make your videos go viral, they must contain something new or interesting to attract the audience.
Wondering what you should add to make your video exceptional?
Well, nothing except for creativity! Showcase your creative nature to the world through videos.
Instead of posting simple videos about your product, showcase it in a different way that the world has never seen before.
Also, make sure not to compromise with your video quality. Prefer using top-notch video shooting equipment because no one would like to watch a sketchy video with poor audio.
Promote your videos on several Social media platforms
Promoting YouTube videos on different social media platforms is quite common. If you are in need of free organic traffic on your videos, this is a great way.
Facebook, Twitter, Instagram, LinkedIn, and Pinterest, each are having different specifications. You must understand the features and the behavior of the users in each platform before you start advertising.
Do you have any friends who can share your videos? If not, it's time to make some.
Get your content shared as much as possible and you will go viral before you know it.
Reach out to influencers
Contacting or reaching out to influencers is an effective strategy that can make your video go viral on YouTube. Influencers usually have thousands and sometimes millions of loyal followers.
Search for an influencer with a good followers count. But where can you find them? Nowadays, it's to reach out to influencers. You can mostly find them active on Instagram. Reach them out and start working with them.
Ask the influencers to post your content on their social networks. If you want to go viral, you have to be shameless. A "No" will not break your bones.
This is a great way to get organic views on your YouTube videos. So go for it and get that ball rolling.
Prefer making shorter videos
YouTube users mostly prefer watching shorter videos of not more than 5 – 8 minutes. If you make longer videos, it becomes difficult to retain the attention of the viewers till the end of the video.
Prefer making videos that are not more than 8 minutes long which is enough to convey your message without frustrating the viewers.
Sometimes people ignore long videos even if they contain attractive thumbnails and titles. They are only interested in videos that get straight to the point.
This is why YouTube Shorts are rising into fame now.
YouTube Shorts are videos that are not more than 60 seconds long. This is a great way to go viral overnight.
Court Controversies
Yes! You heard that right. Controversial videos receive the most views on YouTube. So you need to decide whether you want to go viral or sit with an innocent YouTuber tag? No one will award you for being innocent on YouTube.
People love to share hard-hitting content. If you dare to say things that most people are avoiding, it will provide you with views. Create a compelling story as people are more attracted to emotional content.
If all you care about is going viral, do not stop yourself from creating controversial content as it can lead you towards your dream of going viral.
Make use of proper tags & hashtags
Tags and Hashtags are an important way to expand your audience base and increase your reach. Using the right tags and hashtags can help you to move a step higher from your competition.
Many YouTubers are not using this strategy and this is why they are having a tough time with getting the desired number of views on their videos.
YouTube provides you with a space of 500 characters for your tags. Make sure you take advantage of the space by choosing the best ones.
Conduct a research for the most popular keywords in your niche and add them as your tags to appear at the top of the search results.
Incorporate catchy & branded thumbnails
"A picture is worth a thousand words", You must have heard this phrase before. Focusing on this phrase, thumbnails are an important part of your YouTube videos.
People will see your thumbnail before they click on your video and so it is important to add a high-quality and attractive thumbnail to your video. If your thumbnail fails to capture the attention of the viewers, they will move on ignoring your video.
Make use of contrasting background colors and add a title to your thumbnail that will compel the viewers to click on it.
Play on emotions
Have you noticed most of the viral videos on YouTube tell a story that has a deeper meaning? These stories are told to connect with the viewers' emotions.
There are so many different types of emotions such as happy, inspiring, sad, motivational, etc, that you can choose to portray through your videos.
The key to attract millions of viewers' attention is to convey a certain emotion through storytelling. People will share your videos only when they feel your emotional content.
Figure out what type of emotion your brand can display and incorporate it in your video accordingly and wait for your video to go viral.
Improve the title & description with the right keywords
Another great tip when it comes to making your YouTube video go viral is that you will have to use proper keywords. Conduct a research on keywords in your niche and incorporate them into the title and description of your YouTube video.
The title of the video is the first thing that people notice before clicking on the video and so it needs to be interesting and captivating. Boring titles do not even get a second glance.
Add keywords and power words and spice up your titles and descriptions of your YouTube videos.
An additional tip if all these strategies fail
In case none of these tricks work out for you, no worries! We still have a great option for you that will definitely provide you with guaranteed success.
Introducing LiveCaster3.
LiveCaster3 is a software application that allows you to schedule a live pre-recorded videos on Facebook & YouTube.
Earlier, live streaming meant sharing live videos but now, you do not have to wait to go live on YouTube or Facebook.
You cannot deny the fact that live streaming can really help to get you traffic from Facebook and YouTube and make you go viral within minutes. With LiveCaster3, you can go 100% handsfree and it does not even require any third-party app.
So what are you waiting for? Get your LiveCaster3 today and rank your videos on both Google and YouTube faster.
LiveCaster3- https://livecaster.in/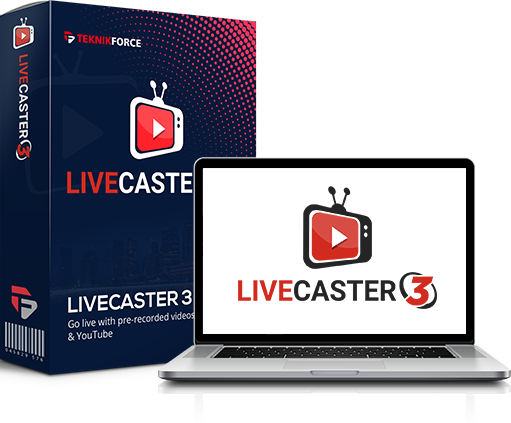 Conclusion
Creating viral videos is often challenging but not impossible. If you follow the above-mentioned strategies, you will be capable of making videos that can receive millions of views.
So, don't waste your time in making unnecessary efforts and fulfill your dream by applying these strategies on your YouTube videos to go viral overnight.