Making your business blossom like a rose into a name known by all and able to connect with the global audience is the dream of many, but a reality for very few.
Expanding a modest business into a global giant comes with many challenges. One of the biggest obstacles is the difficulty of adapting to the language and cultural differences.
Gone are the days when the Internet was ruled by people who spoke the English language. Now the internet is a global platform where people use English as their second language or don't speak at all.
Do you know 75% of the world's internet users use the internet in their native language?
It's a great opportunity to reach them to explode engagement and traffic.
To help you in making the best decision on the most suitable multilingual translation and voiceover software we've listed below the top 6 software.
LinguaScribe
With LinguaScribe you can take any YouTube audio, transcribe it, translate it into another language, and then create your very new audio file in the preferred language, all on full autopilot.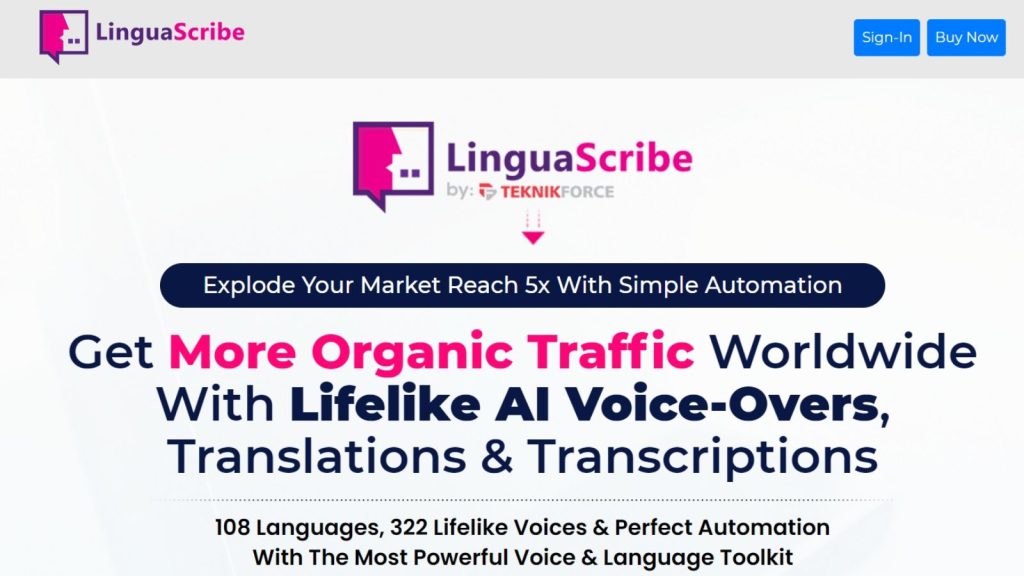 If you are looking for lifelike voice-to-text conversions, text-to-voice conversions then LinguaScribe is perfect for you.
LinguaScribe opens up your marketing to a potential that you've never experienced before.
With LinguaScribe, you can
➢ Create amazing Voiceovers and narrations from the text with lifelike quality
➢ Create local language versions of any landing page
➢ Create podcasts
➢ Embed audio versions of your articles on your page
➢ Create local language versions of your videos
➢ Use It With Animated or Explainer Videos
➢ Turn blogs into audiobooks or videos into ebooks and articles.
➢ Use It For video Commercials
➢ Sell Voice Over Services On Fiverr & Freelance Sites
➢ And A LOT MORE…
Happy Scribe
Happy Scribe is an auto-transcribe SAAS. It supports 60 different languages through which you can convert your audio to text.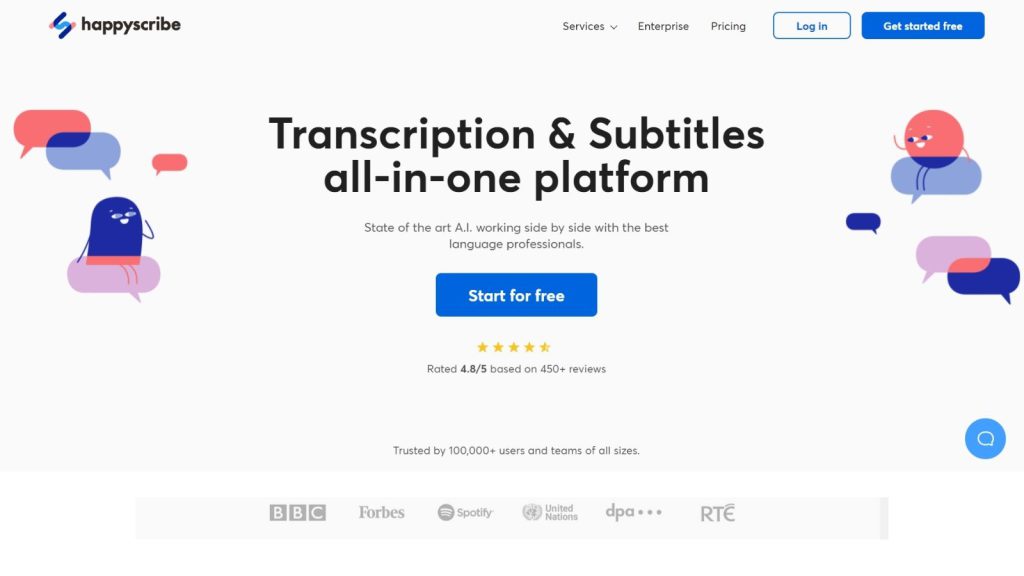 You can have a smooth workflow here because it allows you to add your team members, like proofreaders and editors.
The best part is you can assign speaker names, create your own vocabulary and use the API process to syn the third-party tools to make the whole process seamless. The transcript created here will be of great quality, along with proper vocabulary, punctuations, and grammar.
Trint
Trint is an artificial intelligence audio transcription software that enables you to turn audio into 31 different languages. If you are running a business then it's a great tool.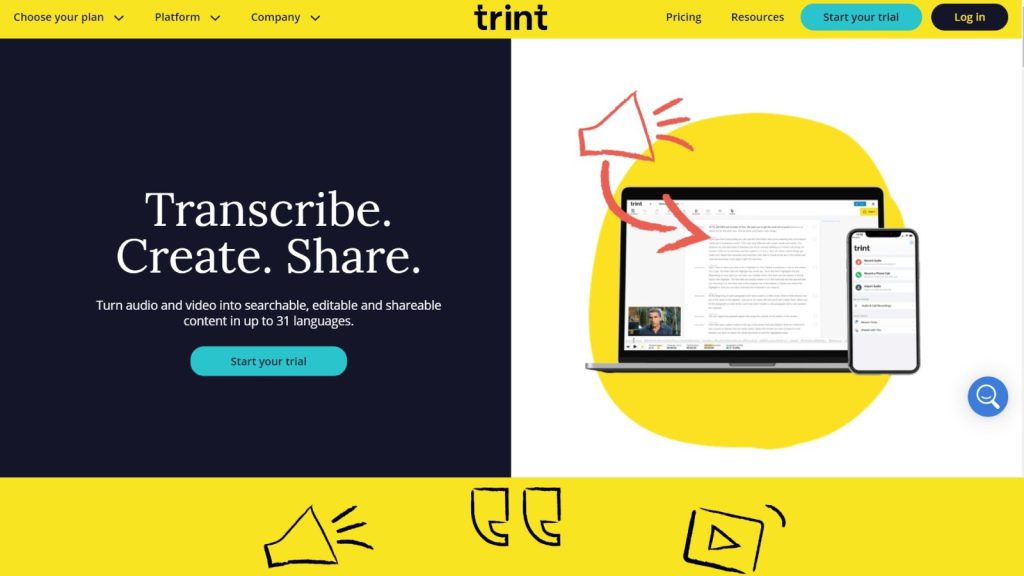 The only thing you need is to import your files which need to be transcribed into Trint, it will automatically turn each and every word into the text of the preferred language.
The best part is you can edit it manually as well to make it 100% accurate.
You can search certain words, assign speakers, highlight important parts, and add reminders as well through comments.
Once you are done with everything, you can export your file into CSV and word doc. For seamless collaboration, one can even add their teammates.
Descript
Descript provides great accuracy and flexible collaboration options are available to make the transcription look perfect. The price is very reasonable it's just $2/minute and your task will be completed in just 24 hours.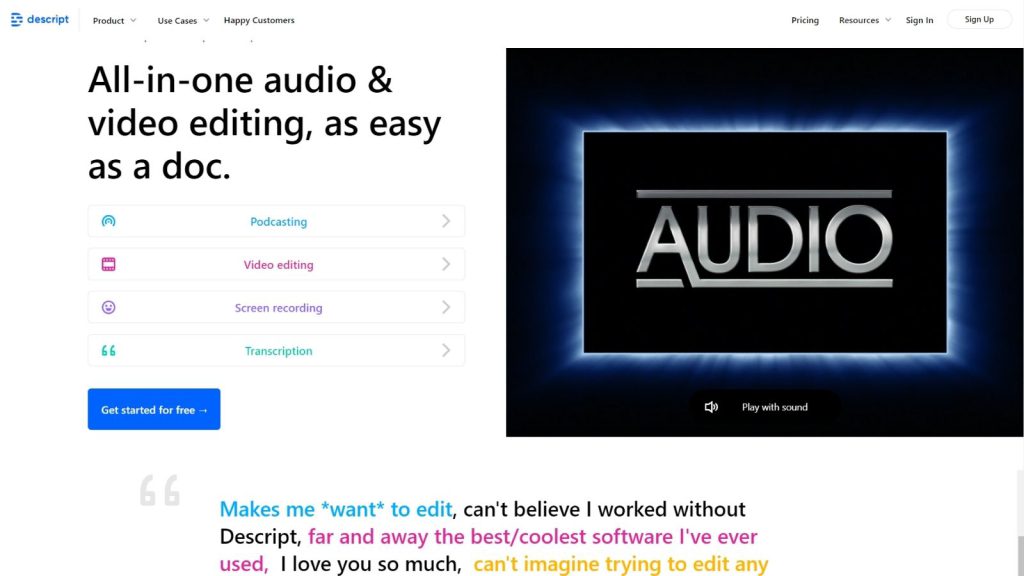 Descript keeps the data safe and very private.
Here are some cool features of these tools:
1. Sync files through Cloud Storage.
2. Import already done transcription for free to go with your media.
3. Add timestamps, speaker labels, and other customizations.
The best part is you can sign up for free and test all these features.
Nuance
Nuance is a speech-to-text software but is also good for transcribing. Depending on your needs you can use different versions provided by Nuance. For example, it has a plan for professions, freelancers, individuals, and many more.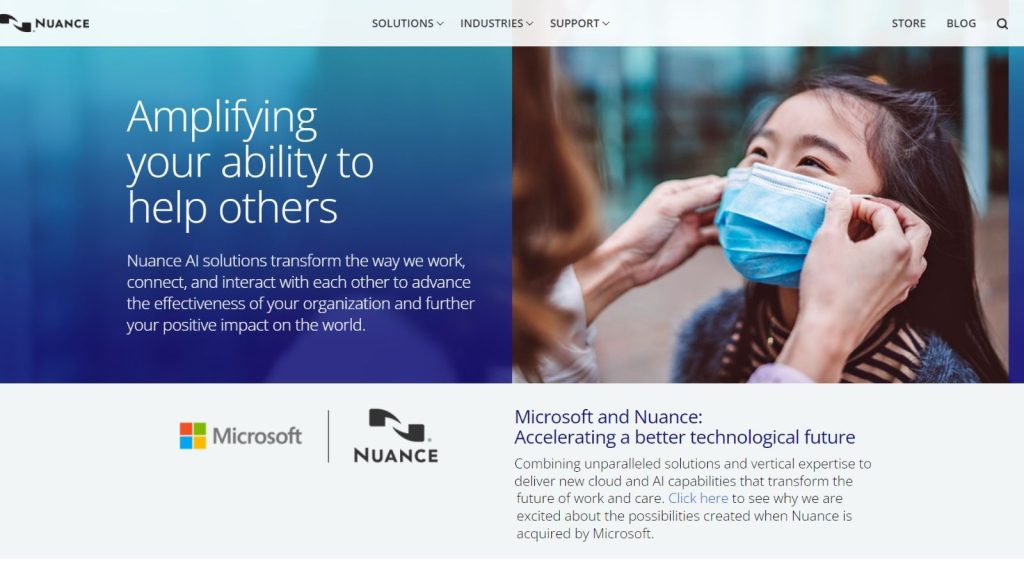 You can control all the aspects of Nuance just by voice making it the best productivity tool. You just need to command the software and everything will be done automatically.
You can create amazing documents in Nuance.
Express Scribe
Express Scribe consists of everything you would need to transcribe audio effortlessly in any language. It is available in both the pro and free version.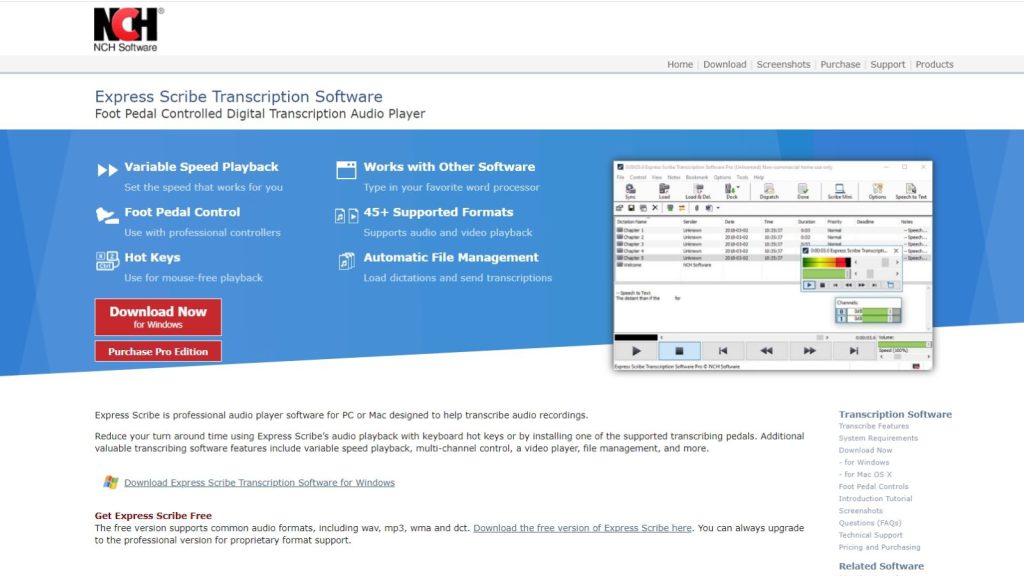 Because of the keyboard hotkeys and transcribing pedal support you'll be able to spend less time transcribing ad translating your text.
Express Scribe includes dictation files and a variety of file formats.
Once you are done with the transcription, the software will automatically send the files to the clients saving you a lot of time.
The best part is you can integrate this software with other tools like FastFox Text Expander, Microsoft Word, and even text-to-speech ones out there.
Conclusion:
The above list covers both software or service for transcription whatever you prefer. I'm quite certain that with this list a lot of work will be released from your shoulders.