Are you looking for an effective way to increase your sales and profits?
Nothing can work better than a sales funnel! Undeniably, sales funnels play a vital role in storing, finding, and growing your ideal customer base.
The more the customers enter the top of your funnel, the more deals you're likely to crack at the bottom.
Building a productive sales funnel is perhaps one of the most important parts of your digital marketing journey.
Now you must be wondering how to build an effective sales funnel?
There are many tools in the market that can help you create sales funnels. But how will you understand which one will work the best for your business?
The best sales funnel builders and tools are the ones that help your business to grow.
Hence, it is important to find the right one for you, and this is why we have compiled a list of 6 different tools to make it easier for you to choose from.
But before we dive into the features, pros, cons, and pricing of the 6 best sales funnel builders, you must be aware of the things to consider while choosing the best funnel builder for your business.
Things to Consider While Choosing The Best Sales Funnel Builder
Now that you know the best way to increase sales and profit is to build an effective sales funnel, here is a checklist of the key features that you must look for while choosing the best sales funnel builder or tools:
Must offer all the marketing tools under one single dashboard.
Must offer good third-party integrations.
Should be easy enough to use.
Must offer plenty of readymade templates.
Must provide excellent customer support.
Must offer affordable pricing plans with a money-back guarantee.
Must offer proper security.
Must include integrated automated webinar platform
Now let's take a look at the 6 best sales funnel builders that have all the above-mentioned qualities.
Top Sales Funnel Builder & Tools
1. CloudFunnels
CloudFunnels is an all-in-one digital marketing platform that consists of all the features that are required to make a business successful.
You can create powerful sales funnels, memberships, landing pages, and email marketing campaigns to sell your products in just a few clicks.
While using CloudFunnels, you do not have to buy additional hosting anymore. Combined with many smart tools and applications, CloudFunnels can provide you with the best assistant to grow your business faster.
Building a sales funnel has become much easier with the launch of CloudFunnels. Now you can easily attract target customers and convert them into buyers.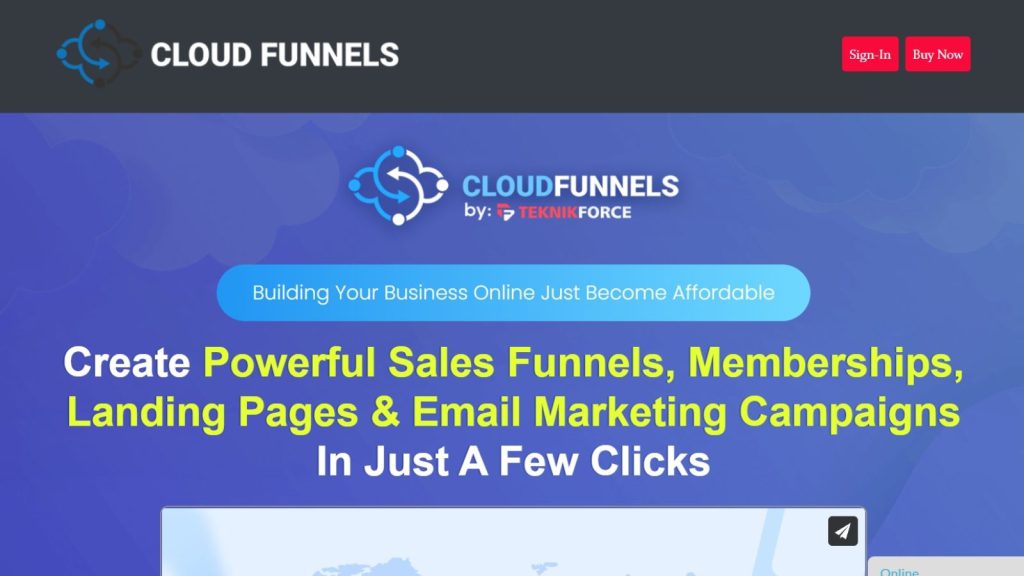 Key Features
Create any kind of funnel & site on one domain or subdomain
Create any sort of membership areas
Has over a dozen readymade funnel templates
Offers email automation
Provides insightful business analytics
Has powerful WYSIWYG Page Builder
Offers SEO friendly features
Supports popular payment gateways & marketplaces
Designed to get you organic traffic
Has a page cloner to duplicate any page or funnel online.
Has A/B & Split Testing
Integrates with popular autoresponders like GetResponse, Aweber. MailChimp, etc.
Integrates with all SMTPs like Sendgrid, Mailgun, etc.
Supports all kinds of pixels & third party plugins
Full GDPR Support
Supports Zapier integration to send your data to any CRM.
Multi-User Support
Pros
No technical knowledge is required.
24*7 online assistance and chat support.
On-page SEO factors can take your site to rank 1 in search engine results.
Create funnels in minutes.
Easy to use
Powerful email automation
Informative analytics
Compatible with GDPR
Free automatic up-gradation for 1 year
Cons
There is none so far.
Pricing
CloudFunnels offers 2 comprehensive pricing plans to suit the needs of its users:
CloudFunnels Elite Monthly- $27.00
CloudFunnels Elite Yearly- $67.00
2. GetResponse Conversion Funnel
GetResponse is usually considered as an email marketing software but over the years, it has upgraded itself to become one of the most popular inbound marketing software.
GetResponse is an amazing funnel builder which can help you to create lead magnets, simple opt-in, and webinar funnels.
With the recently launched Conversion Funnel feature in GetResponse, it has become easier to set up social media campaigns, landing pages, webinars, and email automation.
Now, you can even sell your products through GetResponse easily.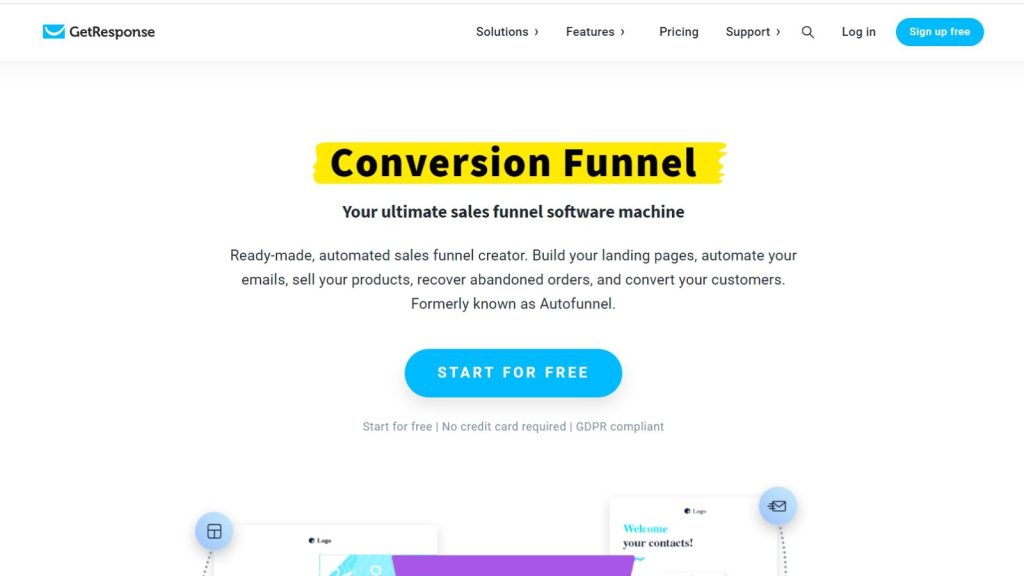 Key Features
Offers 30+ readymade funnel templates
Helps to create and launch social media ad campaigns
Connects to any payment system effortlessly
Conduct webinars
Creates webinar funnels
Collect leads
Email automation available
Creates exceptional landing pages
Offers drip campaigns
Has A/B testing
Pros
Detailed analytics and ROI tracking
Customizable templates
Offers a free trial
Provides demonstration videos
24*7 live support and chat
Cons
Slow loading time
Limited third-party website tracking links
Pricing
GetResponse offers 4 comprehensive pricing plans to suit the needs of its users:
Basic Plan: $15/month & $147.6/year
Plus Plan: $49/month & $482.16/year
Professional Plan: $99/month & $974.16/year
Max Plan: Custom pricing
3. ClickFunnels
ClickFunnels is a cloud-based lead generation platform that allows all types of businesses to automate emails and Facebook marketing processes and also convert visitors into customers.
The inbuilt templates in ClickFunnels can be used to create custom landing pages or funnels to attract more customers.
ClickFunnels has features that can solve all your funnel-building problems.
It allows you to capture the contact information of your customer and send targeted follow-ups via texts or emails.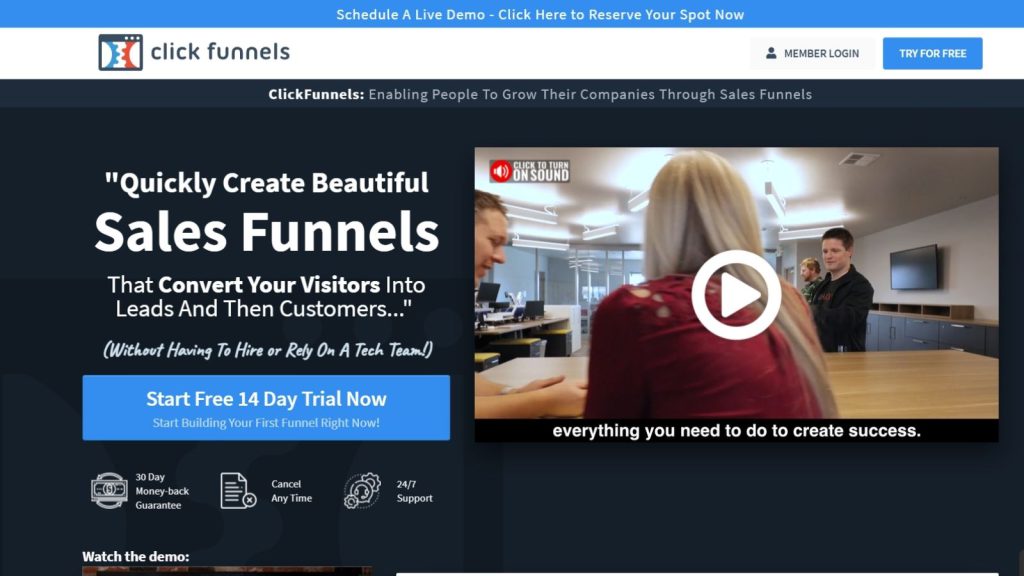 Key Features
Creates simple funnels that can capture visitors quickly
Helps to ad "1 click upsells" to increase revenue per customer
Sends follow-ups automatically to the customers through emails, texts, etc.
Create highly converting pages using drag and drop editor
Runs smart affiliate programs inside your funnels
Offers high security
Enables integration of your favorite autoresponders or shopping carts
No need to install. Just log in and you're ready to go.
Allows real-time editing
Pros
Offers A/B testing features
Offers videos, documentations, and webinars for training.
24*7 live support and chat available
Free 14 day trial is available
All-in-one single dashboard
Has a form builder
Cons
Bad customer support
The interface is difficult to use
Slow page loading speed
Very expensive for small businesses
Pricing
ClickFunnels offers 2 comprehensive pricing plans to suit the needs of its users:
Basic Plan: $97/month
Advanced Plan: $297/month
4. Kartra
Kartra is an all-in-one eCommerce tool where you can find a website and a landing page builder, opt-in forms, lead database (CRM), email marketing and automation, video hosting, and many more.
The easy checklist found in the dashboard of Kartra makes it easy to get started with the software.
Kartra is an amazing platform that allows you to host and optimize videos with the option to add call-to-action buttons and opt-in forms. Also, you'll be able to see which leads are watching which videos and up to what point.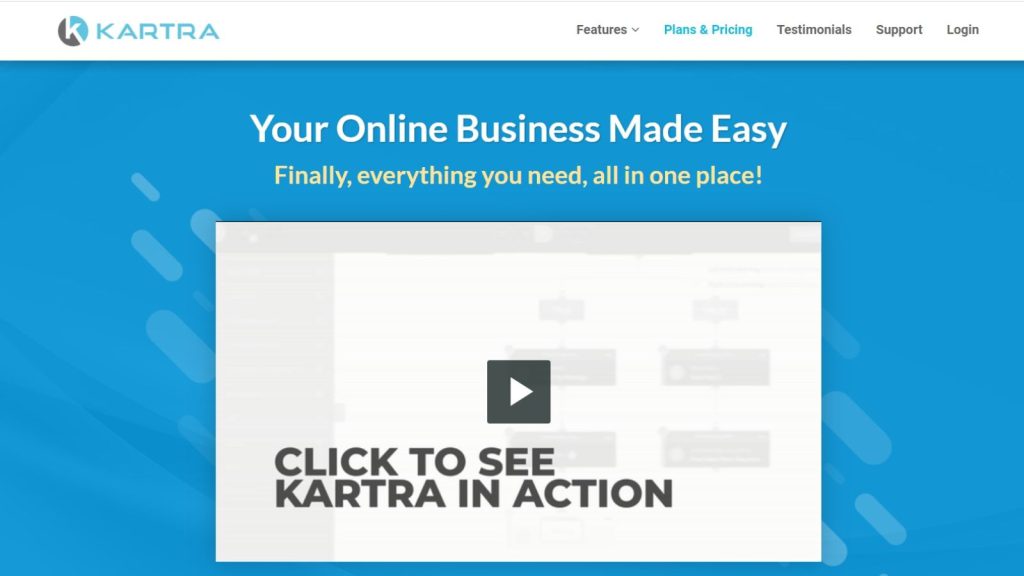 Key Features
Creates exceptional landing pages
Offers many readymade sales-funnel templates
Enables automation of your sales process
Enables users to host videos instead of relying on YouTube, Vimeo, and so on.
Designs automated and sales-driving funnels within minutes
Opt-in forms help to capture leads easily
Enables integration: Kartra API and IPN
Supports Zapier integration
Provides great customer surveys
Pros
14 days trial is offered with $1
24*7 live support and chat is available
Training videos and documentation are provided
Excellent analytics and ROI tracking
Customizable CTAs
Cons
Slow loading pages
Contains bugs and issues
Too expensive
Pricing
Kartra offers 4 comprehensive pricing plans to suit the needs of its users:
Starter plan: $99/month & $948/year
Silver plan: $199/month & $1788/year
Gold plan: $299/month & $2748/year
Platinum plan: $499/month & $4548/year
5. GrooveFunnels
GrooveFunnels is another all-in-one platform with plenty of applications that are designed to help people who are trying to market, sell, and promote businesses.
It makes it easier to create and manage your ads and marketing funnels.
GrooveFunnels finds and attracts potential leads for your business. It allows you to build brand websites with full feature selection and navigation.
It consists of one-click upsells which help you to create custom domains and sell products easily.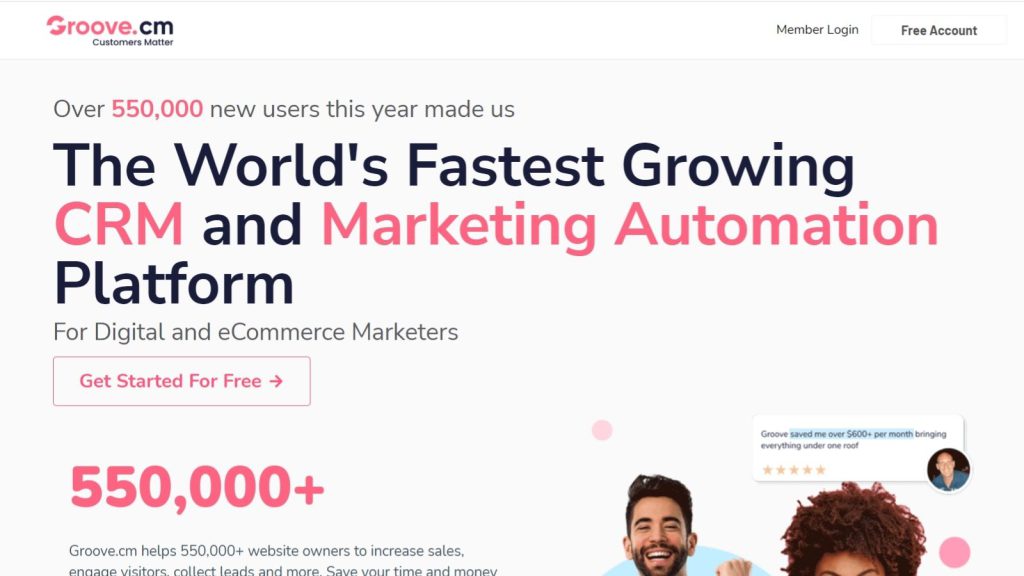 Key Features
Create conversion oriented landing pages
Build high converting brand sites, funnels, and blogs
Sell digital and eCommerce products
Offers email marketing CRM and automation
Create your membership sites and online courses
Powerful affiliate management system
Launch exceptional webinar funnels
Pros
Provides webinars and videos
Lots of demo videos are available
Excellent drag & drop feature
Offers one-time lifetime payment
Has a free version/free trial
Cons
Bugs are there with popups
Bad email service
Pricing
GrooveFunnels offers 2 comprehensive pricing plans to suit the needs of its users:
Free plan- Create 3 sales funnels
Platinum plan- One-time payment of $1397 or pay $497 every month for up to 5 months as installments.
6. LeadPages
LeadPages is one of the best platforms for creating code-free web designs and publishing them. It provides you with all the tools that you need to navigate your digital marketing.
LeadPages makes it easy for you to schedule consultations and collect payments.
This platform is 100% mobile responsive and designed in a way that helps to load the pages very quickly. You can get a variety of pre-made templates without even writing a single code.
LeadPages is one of the platforms that does not limit the landing pages and traffic you create.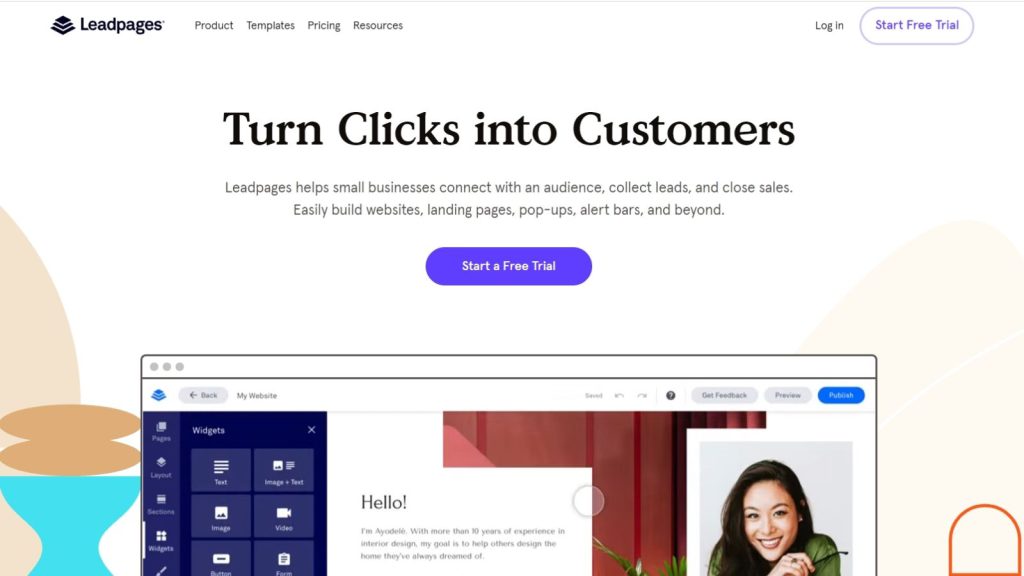 Key Features
Boosts your conversion rates faster
Doesn't limit the landing pages and traffic you create
Integrates with almost all third-party platforms
Offers lead boxes to collect leads
Consists of a drag & drop feature
Free 200+ templates and landing pages
Equipped with a built-in delivery system for PDFs, ebooks, etc.
Creates high-quality landing pages, websites, opt-ins, and other sales funnels
Increases profit by selling products that can appeal to the customers
Pros
User-friendly interface
Consists of pop-ups and lead boxes
Tons of readymade templates
100% mobile responsive
Simple analytics dashboard
Cons
No marketing automation
No funnel tracking
Lots of technical issues with integrated software and apps
Pricing
LeadPages offers 2 comprehensive pricing plans to suit the needs of its users:
Standard Plan: $37/month & $324/year
Pro Plan: $79/month & $708/year
The Conclusion & Our Best Pick
Though all the funnel builders mentioned above have their pros & cons, not all of them will be ideal for your business.
So, it is your responsibility to choose the best sales funnel builder which will suit your business needs and provide you with a huge increase in sales.
If you are in a hurry and want a quick suggestion, our best pick would be CloudFunnels. The current features make this software worthwhile for small businesses.