Are you spending hundreds of dollars on ads but not getting the desired engagement?
Personalized media is the best solution out there that can boost your engagement rate.
With so many messages hitting the inboxes daily, personalization is a must for getting the attention of your audience. But if you think, just addressing your prospect by their first name is enough, you're completely wrong! Just the name won't work anymore!
What works now is image personalization!
Most successful marketers all over the world use personalized images and videos to boost their engagement rates. But creating personalized media for a large audience is quite time-consuming. Isn't it?
So, we have come up with the top 5 hyper-personalization tools that can ease that hassle for you and create attractive image messages for your audiences in a short period of time.
1. SellitPics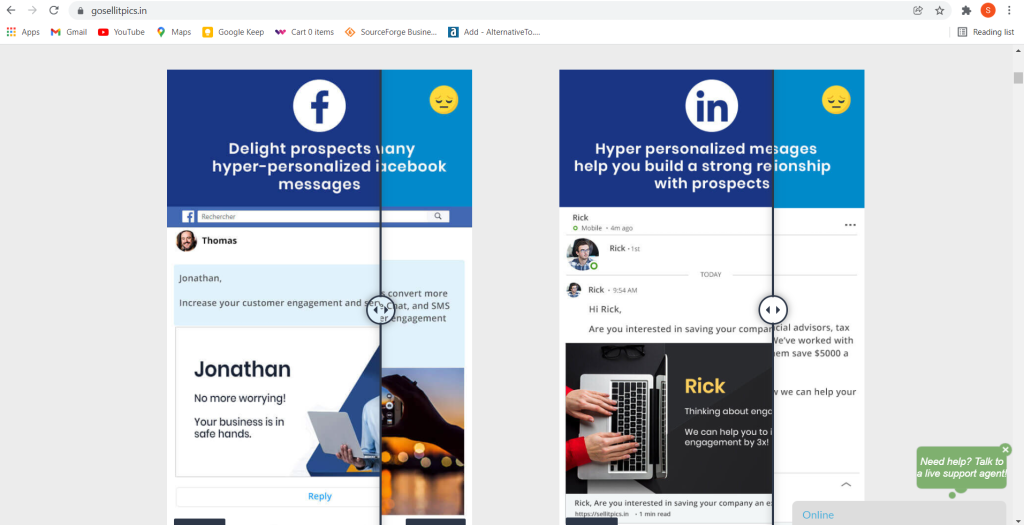 SellitPics is a cloud-based software that creates automated hyper-personalized image messages to get you more sales and clients on Facebook, Emails, LinkedIn, and also from your Landing pages. Creating dynamic images has just become easier with SellitPics.
Creating engaging and attractive messages with SellitPics can help you to get more shares and eyeballs
Make your customers feel that they are worth your attention by making everything look like it is made just for them with SellitPics' end-to-end personalization feature.
SellitPics can get you 3x more replies, 325% more conversions, & more sales from every message you send.
Now, let's dive into the main features that make this software the best.
Key Features
Powerful WYSIWYG designer that helps to create unlimited personalized layouts and great messages easily.
Personalization for emails, social media, and landing pages in one app.
50+ readymade templates that can be modified within minutes.
Free public library of templates allows you to see the designs done by other SellitPics users.
Full control over text layout, colors, and style of the font.
Allows changing the background image, logos, color, and so on.
Supports any HTML template. All you have to do is copy and paste the HTML code and your personalized image is ready.
Supports both downloading images and sharing image links that go on your landing page.
Personalize images in your emails in order to increase your click-through rate.
Drag & drop designers make it easier to create personalized designs.
Runs everywhere & easy to use.
Integrates with all autoresponders & email software.
Pros
No tech knowledge required
24/6 live support for all users.
Easy to use and newbie-friendly
Free credits are added every month
Affordable even for small business owners
Templates customization can be done within minutes
Powerful and detailed analytics & reporting
Suits all types of businesses
30 days money-back guarantee
Cons
Until now, there is none found!
Pricing
SellitPics offers 2 comprehensive plans to suit your needs:
Elite Monthly- $17/month
Elite Yearly- $42/month
2. Uclic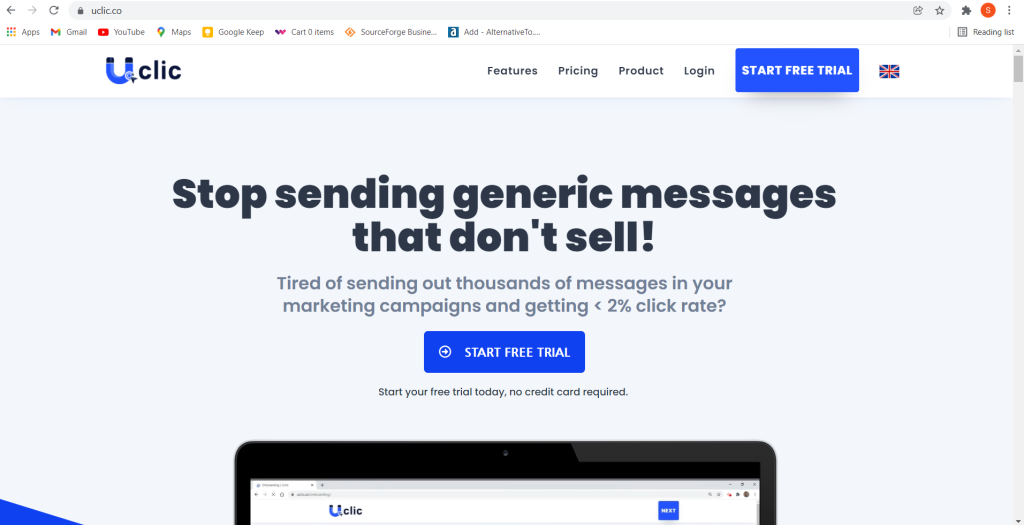 Uclic is a platform that can help you to build a strong bond with your prospects by sending them personalized image messages and links to bring them to a well-customized landing page.
It also helps to measure the conversion rates to automate workflows. Major integrations like Zapier, Google Sheets, and so on are also available.
All types of businesses, no matter what size it is, can make use of this software.
Key Features
Sends personalized messages on LinkedIn
Write emails with hyper-customized images
Increases the conversion rate of landing pages by personalizing the landing page
Create personalized messages on Facebook
Easy installation.
Integrates with Zapier, Google Sheets, & so on.
Pros
Live customer support
Detailed analytics
Suits all types of businesses
No technical skills required
Cons
They don't have public templates
There is no visual template editor
Expensive monthly fee & credits
Pricing
Uclic offers 5 comprehensive plans to suit your needs:
Small- $8/month (billed yearly)
Growth- $16/month (billed yearly)
Large- $39/month (billed yearly)
Turbo-$79/month (billed yearly)
Enterprise- $239/month (billed yearly)
3. Hyperise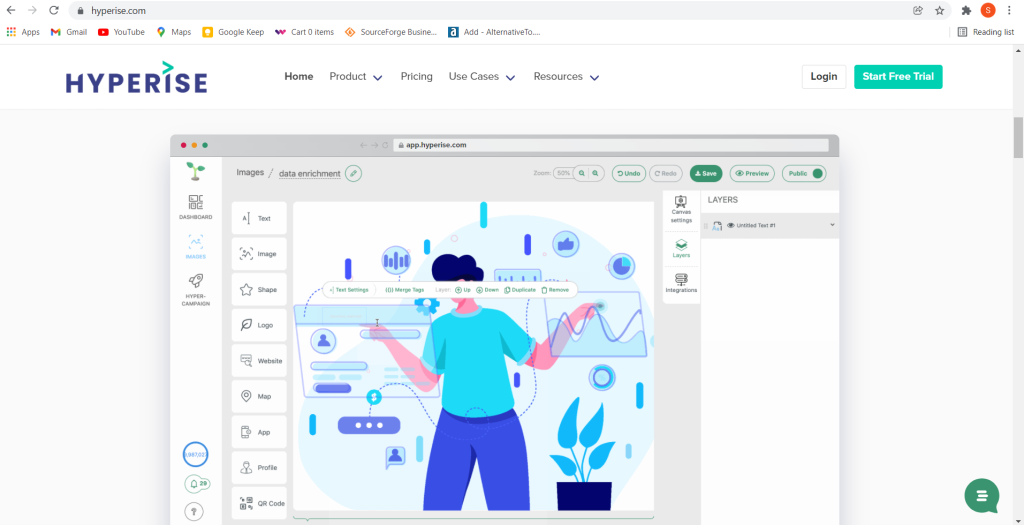 Hyperise is a personalization tool that enables you to personalize your site and grow your conversions with attractive customized images. It allows you to add dynamic layers to your images that can be used on your emails, website, chatbots, ads, social media, videos, and other channels.
With Hyperise, you can easily personalize your CTAs, website's texts, and images for your visitors without writing a single line of HTML codes.
Hyperise also allows integration with Zapier and Integromat.
Key Features
Allows editing existing images or can also create new personalized images
Create unique videos at scale by including individual user data
No coding is required for personalizing your existing website
Integrates with Zapier and Integromat
Personalizes your emails to increase engagement
Hyper-personalize your Facebook & LinkedIn Outreach
Make your chatbots respond with personalized images
Pros
Offers a lot of integrations
Great customer service
Personalizing texts have become easier with the WP plugin
Increases conversion rates
Cons
Quite expensive for small businesses
Set up/configurations are not too user-friendly
Webinars and documentation are difficult to understand
Pricing
Hyperise offers 2 comprehensive plans to suit your needs:
Agency- $495/month
White label- $1620/month
Also, to just create:
Images- $49/seat monthly
Images + Websites-$99/seat monthly
Images + Websites + Videos- $149/seat monthly
4. Nexweave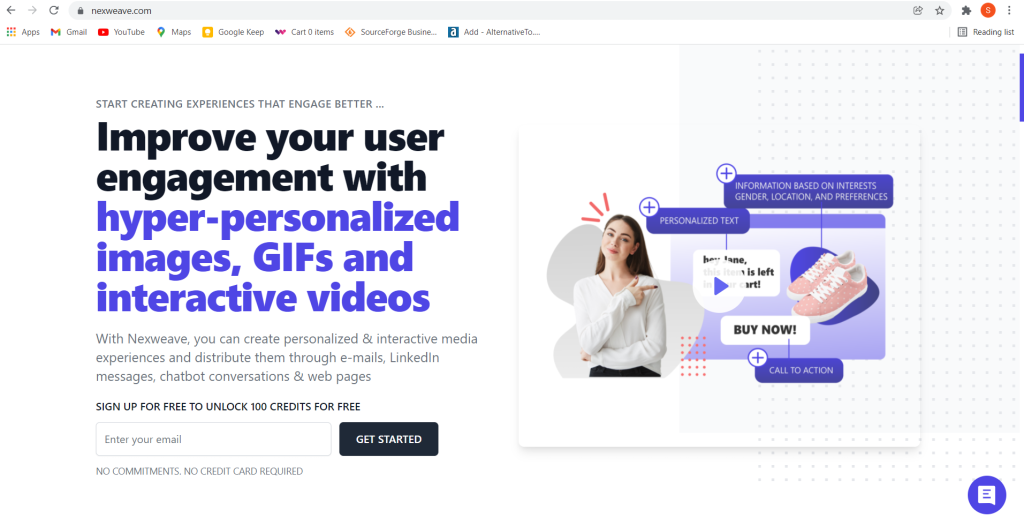 Nexweave is a powerful SaaS that helps you to create hyper-personalized images, interactive videos, and GIFs to display in your LinkedIn messages, emails, landing pages, and chatbots.
With Nexweave, you can easily create amazing templates to compel your audiences and turn them into loyal customers. This tool also allows you to set personalization parameters for your interactive images and videos with the help of its editor.
Key Features
Create interactive images & videos with personalization parameters
Serve personalized images within emails
Include interactive & personalized videos within landing pages
Consists of an enhanced media template library
Allows integration with Apollo, Customerly, Anyleads, and so on
Experienced editor allows editing components, properties, background, change metadata, and so on.
Pros
GDPR compliant
No coding knowledge required
60 days money-back guarantee
Mostly used for lead management & engagement management
Cons
Customer support service is quite inactive
Analytics section is difficult to understand for a newbie
Pricing
Nexweave offers 2 comprehensive plans to suit your needs:
Starter- $49/month
Assisted- $499/month
5. Canva
Canva is an all-in-one online designing tool for people who are not experienced in designing. Most marketers see Canva as just an image design tool, but it is much more than that. It helps you to design everything from social media graphics to invoices to PDFs to flyers.
With thousands of professionally made templates, you can start your designing process from the scratch by creating, customizing, and sharing your designs in just a few clicks.
Key Features
Consists of several effects to enhance the images
Get access to 75+ million photos, videos, and 420,000+ templates with the Canva Pro plan
Icons, shapes, stickers, charts, and so on are also available
Font library under text enables you to find dozens of fonts.
Drag-and-drop editor makes it easy to work with the photos, videos, templates, elements, and fonts
Published directly to your social media platforms
Pros
Unique & attractive built-in templates
Easy to use, even for the inexperienced
Create print-ready in a short period of time
Available on mobile devices
Freemium subscription model
Provides high-resolution images
Cons
Hard to use on small screens
Limited photo editing functions until switched to the pro version
Not available offline
Photo library needs to be upgraded
Pricing
Canva offers 3 comprehensive plans to suit your needs:
Free
Pro- $682.79/year for 25 people
Enterprise- $722.20/month for 25 people
Conclusion
So now, as you are well aware of the top 5 hyper-personalization tools, have you made up your mind on which tool to buy?
The above-mentioned tools are actually great for B2B and SaaS marketers who are looking to improve their online conversions with the use of hyper-personalization.
If you're looking for the best hyper-personalization tool for your business that is not only affordable but also offers all the important features, nothing can be better than SellitPics.
Even if you're not a professional designer, SellitPics will create images that can stun your audiences. It is easy to use and very much cost-effective which makes this software stand out from the rest of the top hyper-personalization tools. So, you must give it a shot today!