Looking for the best Facebook Ad tool for your next campaign?
Facebook ads are a great way to reach your target audience and a tool for this would enhance the effectiveness of Facebook ads.
Whether you are just starting out with Facebook ads or you have been running ads on Facebook for a long time, there are various tools in the market that you would love to use.
Such tools will save you more time, energy, and money. They will also help you to create successful advertising campaigns and get you more leads, more conversions, and more sales.
But how to choose the right Facebook Ad tool for your business?
That's not easy!!
This blog will help you with some features to look for in the best Facebook ad tool. You'll also get some amazing tips on how to create an effective Facebook Ad in this blog.
So, let's get started!
Tips to create an effective Facebook Ad
Facebook ads can increase your chances of getting noticed and hence creating an effective Facebook ad is very important.
Here are some tips that can help you to create an attractive Facebook Ad for your business.
Design your ad based on the format of your ad
Choosing the type of ad format you want to use is the first step.
There are currently eight main Facebook ad formats, each of which serves a particular marketing purpose. The eight ads formats include Photo, Video, Stories, Messenger, Carousels, SlideShow, Collections, and Playable.
Think properly which ad format will suit the motive of your campaign.
Ad placement should be taken into account when designing
The placement of your Facebook ads can be just as important as the ad format. Designing without ad placement in mind can have disastrous results. The amount of space is determined by ad placement.
Clearly state your value proposition and call to action
Your ad should capture the attention of your audience by integrating your value proposition into the image and ensuring your call to action is clear and concise.
Without a call to action, there is less chance that your ad will bring you sales.
Make sure your landing page matches your ads
High bounce rates can be caused by Facebook ad designs that don't match landing page designs! Thus, your ROI can be compromised.
Be sure to choose the right size for your images
When you have designed your ad, it is important to make sure that the size and aspect ratio of the images and videos are correct. Videos or images that are not formatted correctly will look distorted, or difficult to view.
Analyze the psychology of color
It is just as important to choose the right colors for your Facebook ad as the images or text. Think about your market and your target audience before choosing the right color. Think about whom you're selling to, what they like, what they expect, and then you'll be thinking along the right lines.
Write a clear & conversational headline
Using wordy sales pitch and boring benefits will never get you sales. Prefer using a conversational tone in your headline and add some of your sales tricks.
There are no good hacks for writing great headlines. Sometimes a good headline can act as a clever phrase and sometimes it can act as a straightforward product benefit. Hence, you need to choose a headline that attracts your target audience.
Optimize your Facebook ads by using split testing
Advertisers can find out which version of an ad works the best by split testing.
Try running two different ads- with the same image but different copies. See which one brings you more conversions, more leads, & more sales.
Features To Look For In The Best Facebook Ads Tool
There are many Facebook ad tools available in the market and choosing the perfect one is not easy.
However, to choose the best Facebook ad tool, you need to know its features and match up with the requirements.
Take a look at these 6 important features of Facebook ad tools:
Ability to track the competitors
When looking forward to working on Facebook ads, it is important to analyze what competitors are working on. It helps to understand the strategies and makes it easier for you to plan accordingly.
Thus, the right tool should have the ability to keep a track of the competitor's ads.
Identify the right audience
The best Facebook advertising tool must help you to reach the right and the hidden audience as well. It provides you the opportunity to advertise and reach more audiences who are interested in buying your product.
Decorates your ads properly
Your target audience might not always like the ad you have created. So, it's your tool that will help you to create the perfect ad for your audience which will get you more sales.
Thus, the best tool must have an ad decorator feature that makes unique ads and grabs the audience's attention.
Scheduling ads
The best Facebook ad tool must have the feature of ad scheduling because it's not always possible for you to create an ad and wait for the right time to make it public.
The ad scheduler feature will help to post it at the right time when most of your target audience is active on Facebook.
Automating workflow
Your Facebook ad tool must have the ability to pause and run ads automatically to save your time. There is no need to check the performance of marketing campaigns.
Setup rules according to the strategy and start automating the process.
Calculator to calculate your ROI
If you want to run budget-friendly Facebook ads, this is the most important feature you must look for in your tool. This feature will help you to have control over your budget and run your ads profitably.
Top 3 Facebook ads tools for your business
Wondering which is the perfect tool that will have all these features listed above?
Well, there are many in the market!
If you're looking for an affordable yet feature-rich software for your Facebook ads, here is a list of the top 3 Facebook ads tool for your business.
AdPlify is a powerful 7-in-1 SAAS that replaces 7 different expensive SAAS products with one powerful solution. It is the only tool in the market that can track and monitor competitor ads in addition to 6 more amazing Profit-Boosting tools.
AdPlify makes your facebook advertising more profitable. This tool will take you there with its powerful data-mining and data-extraction features. You will get the audience and targeting that will put your advertising on the next level.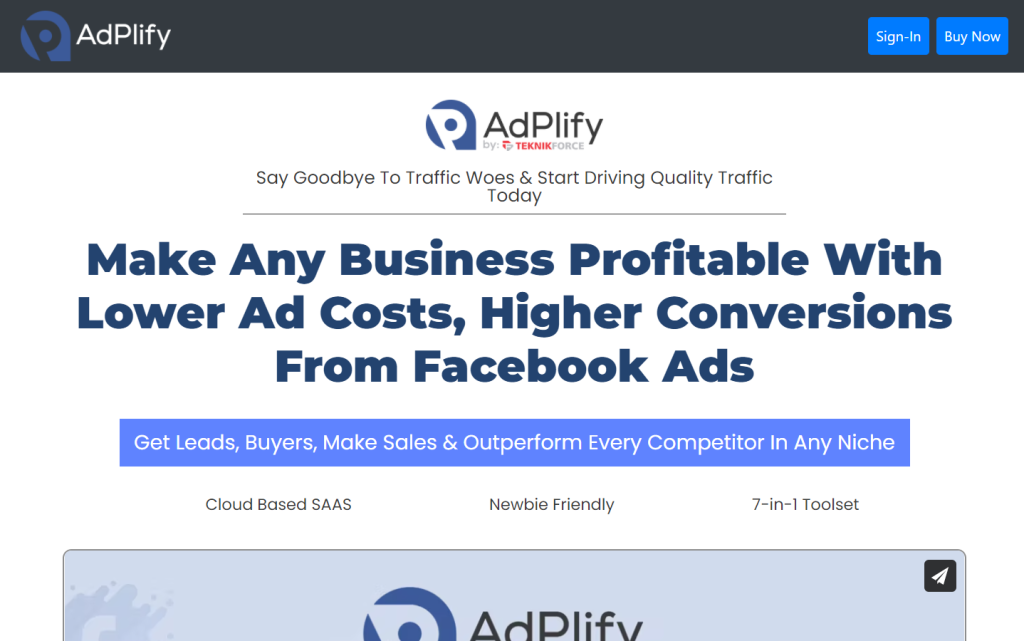 It provides two very affordable plans:
Elite monthly plan: $17
Elite yearly plan: $67
2. AdEspresso
AdEspresso is also considered one of the best Facebook advertising platforms. It helps you to create, manage, and analyze your Facebook ads. It has an in-built analytics tool for ad campaign analysis and helps in creating high converting ads.
In addition, it has a customer management system, based on their location and interest.
It saves time and provides money management training for ad campaigns as well.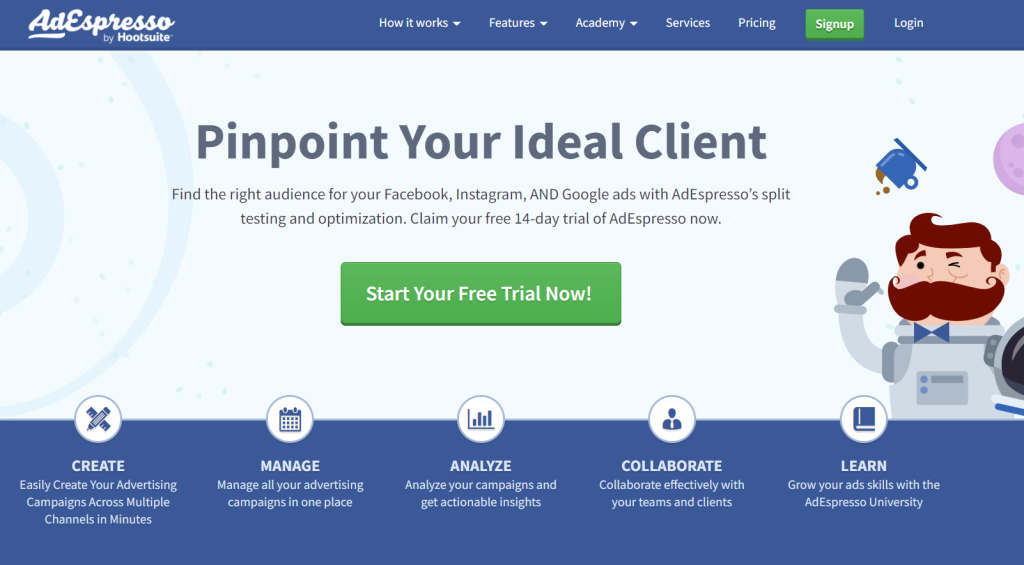 It provides three different plans:
Starter plan: $49/month
Plus plan: $99/month
Enterprise plan: $259/month
3. Revealbot
Revealbot is a Facebook advertising platform that's suitable for small businesses. The tool helps manage ad campaigns on a daily basis. Facebook ads can be easily automated with this tool.
It helps in managing the bids for ad campaigns and provides a customized matric system for ad managers. Also, it helps in creating high converting ads and provides analysis reports of ad campaigns as well.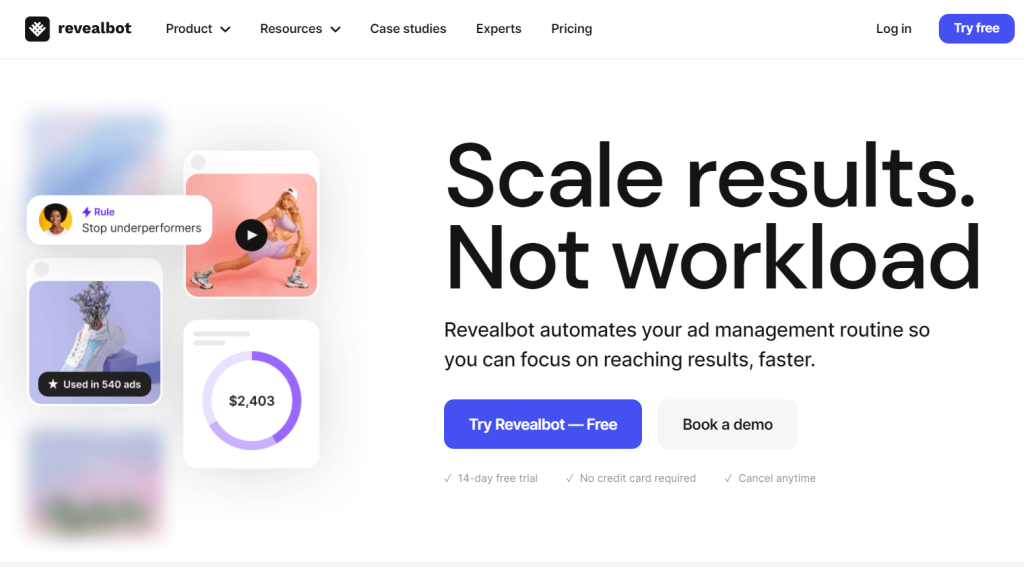 RevealBot plans vary from ads spend limit:
For eg if the ad spend limit is $10k then it is billed $99/ month
The basic plan starts with the ad spend limit of $10k billed $99/ month and goes up to the ad spend limit of $3M billed $2999/ month.
Conclusion
Only if you're able to create a great Facebook ad, you'll be able to make sales. Otherwise all your efforts will go in vain.
Hence, using a Facebook ad tool can be beneficial! Don't forget to look for the above features when you search for the best Facebook ad tool.
Did we miss out on some important feature? Comment below & let us know your thoughts.