Generating leads is the first stage of making sales and nothing can defeat cold email marketing when it comes to lead generation.
No matter what space you work in or what kind of business you run, if you want to establish a relationship and turn a non-customer into a loyal customer, cold emailing campaigns are a must.
To conduct an effective cold email campaign, you would require professional tools.
But with so many promising cold emailing tools in the market, it becomes challenging for you to figure out which ones are worth your time and effort.
We have made it easy for you! Here are the top 7 cold email software that can help you generate more leads in 2021.
1. PursueApp
PursueApp is a powerful cloud-based software which helps marketers to get more sales through effective cold emailing.
With this tool, you can create highly personalized marketing campaigns without spending much time.
PursueApp is a great tool to get your cold email marketing done in the right way and not end up in the spam folder.
This software will conduct well-executed cold email campaigns which will turn your ice-cold leads who know nothing about your business into your loyal customers.
The best thing about PursueApp is that it is low-cost and targeted towards achieving your goal.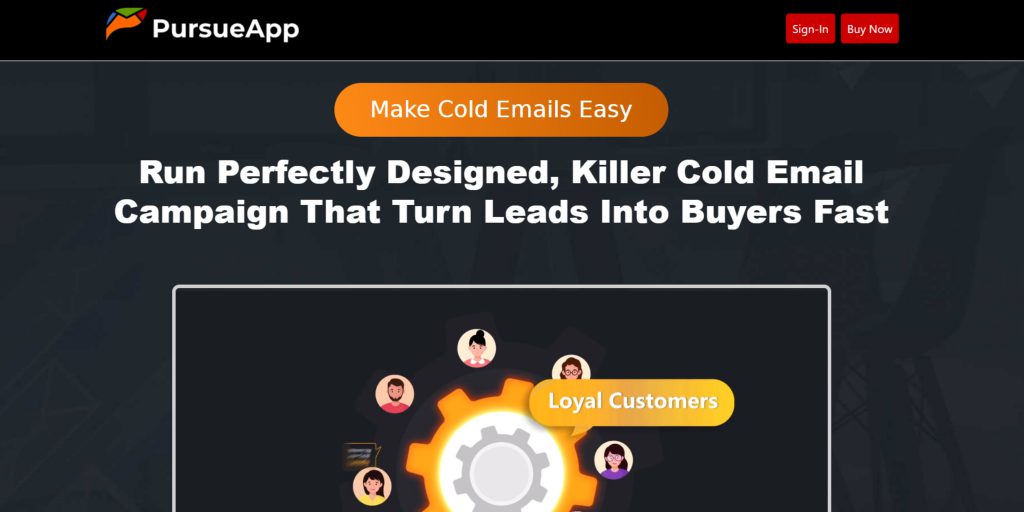 Key features
Powerful campaign designer
Lead verification
Custom Lead Marketing
Email verification
Powerful integration
Built-in conversion tracking
Quality dashboard
Readymade templates
Supports multiple senders
Powerful email-flow paths
Strong analytics
Full automation
Pros
Newbie-friendly app
Includes training guide.
24 hours live support
100% Moneyback guarantee
No need to install or download. Can be accessed from any device.
Very low cost.
Cons
Haven't found any so far.
Pricing
The pricing plan for PursueApp is:
Elite Monthly Payment- $9.95
Elite Yearly Payment- $39
2. GMass
GMass is a cold email software that lets you run sales & marketing campaigns right from your Gmail account. It has mail merge capabilities which makes it a great tool for email marketers.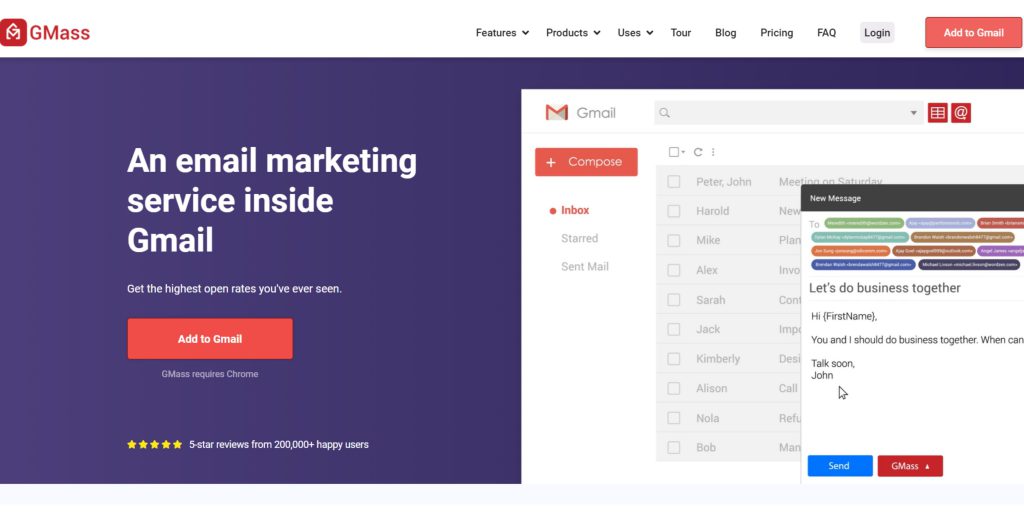 Key features
Powerful email personalization
Builds email list automatically
Generates automated mail merge campaign reports
Advanced email analytics feature
Scheduling bulk emails
Automatic follow-ups
Pros
Easy-to-use interface
Offers a free email verification service
Provides a Gmail add-on for Android devices
24 hrs customer support
Ability to test email deliverability
Very simple setup
Cons
Works only on Chrome browser.
Works only with Google Workspace and Gmail accounts.
Pricing
GMass offers 3 comprehensive pricing plans to suit the needs of its users:
Free
Individual: Standard plan is $12.95/month and the Premium plan is $19.95/month.
Team: Premium plan starts from $89/month (for a team of 5)
3. Snov
Snov is another great cold email marketing tool that comes with powerful features and an easy-to-use interface. You can easily automate your email campaigns on Snov to save time.
If a user opens your mail and does not reply, you can set up a follow-up email for that person and automate that action.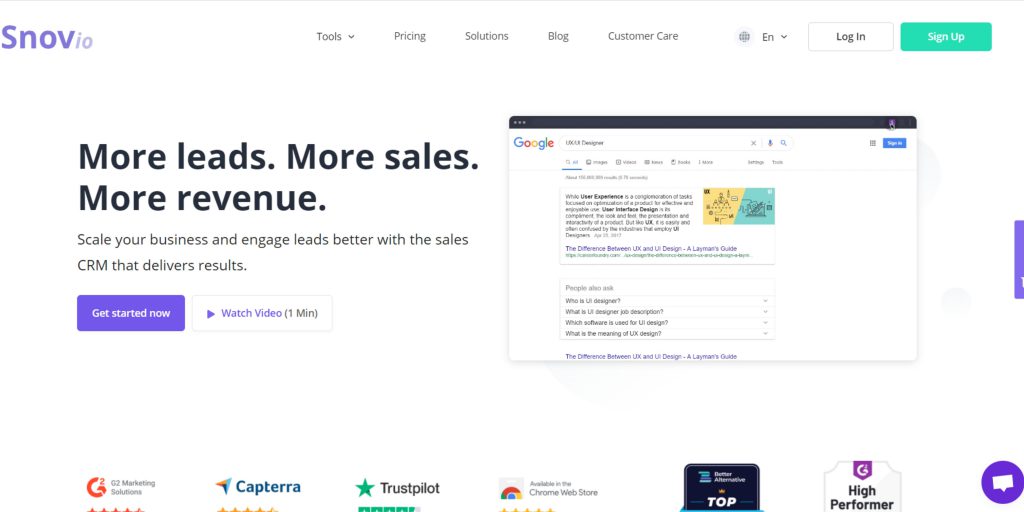 Key features
Creating personalized drip email sequences
Can be integrated with any app
Track email opens and link clicks in Gmail
Has Email finder extension for finding emails
Email verifier to clean your email list
Pros
User-friendly interface
Consists of an email finder
Validates all email addresses with an email verifier
Drip campaigns
Live support
Cons
No "Unsubscribe" link is present
No free version is available
Pricing
Snov offers 4 comprehensive pricing plans to suit the needs of its users:
Monthly package
Small plan: $39/month
Medium plan: $79/month
Large plan: $169/month
Extra-large plan: $289/month
Yearly package
Small plan: $33/month (billed annually)
Medium plan: $66/month (billed annually)
Large plan: $141/month (billed annually)
Extra-large plan: $241/month (billed annually)
4. Woodpecker
Woodpecker is a cold email marketing tool that can be integrated with Gmail and Outlook to continue successful cold email marketing. It lets users track emails and send personalized emails and follow-ups.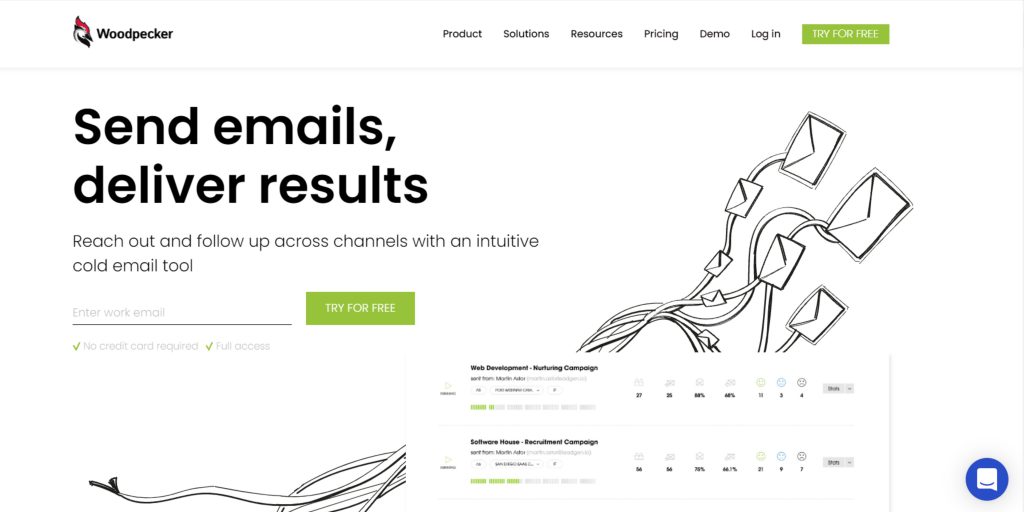 Key features
Detects replies automatically
Powerful dashboard which showcases team activities
Automated email sequences
Scheduling cold email campaigns on a prior note
Tracking emails
Creating personalized emails & follow-ups
Pros
Offers dedicated features for B2B lead generation agencies
Ability to detect duplicate contacts
Having a Google Chrome extension
Active support service
Cons
Unable to send email attachments
Pricing
Woodpecker offers 2 comprehensive pricing plans to suit the needs of its users:
Monthly plan: $39 monthly per slot
Annual plan: $384/year ($32 monthly per slot)
5. Streak
Streak is a simple CRM software that can be integrated with Gmail to conduct successful cold email marketing campaigns. It helps busy sales marketers to manage their sales funnel, track cold calling, engagements, and send mail merges.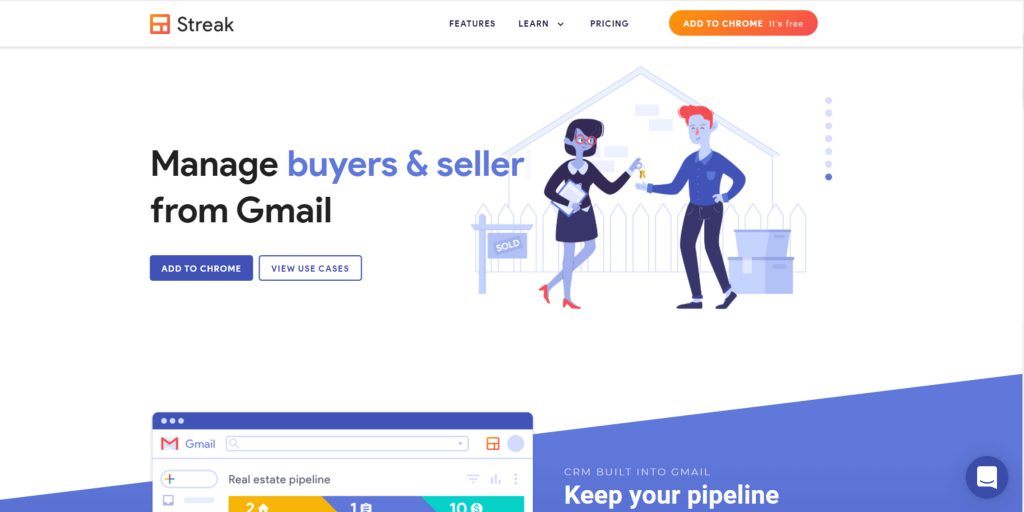 Key features
Scheduling emails and follow-ups automatically
Offers custom email templates
Sending personalized emails
Email tracking reports
Email sidebar which gives contexts about each email
Pros
Allows collaboration with your sales department
Consists of email filters to sort prospect responses
The iOS and Android mobile apps can log cold calls
Offers a free plan
Cons
No proper dashboard
No data validation features are offered in the base plan
Pricing
Streak offers 4 comprehensive pricing plans to suit the needs of its users:
Free plan
Solo plan: $15 per user/ month
Pro plan: $49 per user/ month
Enterprise plan: $129 per user/ month
6. Lemlist
Lemlist is an all-in-one cold email and sales automation software that allows you to automate follow-ups, personalize your cold emails, and engage with leads across all the channels.
It is a popular email marketing tool that lets you personalize texts, videos, and images easily to conduct successful cold email campaigns.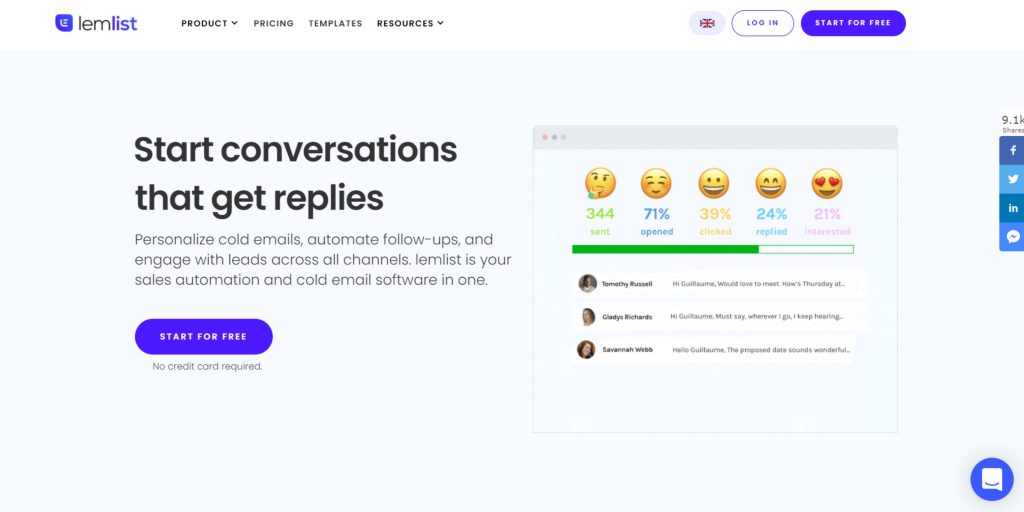 Key features
Creates personalized videos, texts, and images.
Automatically warms up your domain to reach the inbox of users instead of the spam folder
Automates emails and follow-ups
Engages with leads
Enables integration
Pros
Consists of many customizable cold email templates
Enables Zapier and CRM integration
Can use the A/B test feature to determine your most effective emails
24/7 live support
Free trial available for 14 days
Cons
Challenging to set up a drip campaign
Managing each cold email outreach campaign is difficult as you need to switch through multiple tabs
Pricing
Lemlist offers 3 comprehensive pricing plans to suit the needs of its users:
Monthly package
Email warm-up: $29/month
Email Outreach: $59/month per user
Sales Engagement: $99/month per user
Yearly package
Email warm-up: $25/month (billed annually)
Email Outreach: $50/month per user (billed annually)
Sales Engagement: $83/month per user (billed annually)
7. UpLead
UpLead is a powerful and reliable B2B sales intelligence platform that allows you to connect with highly qualified leads quickly and easily. Its exciting features enable you to spend more time selling to prospects and less time looking for them.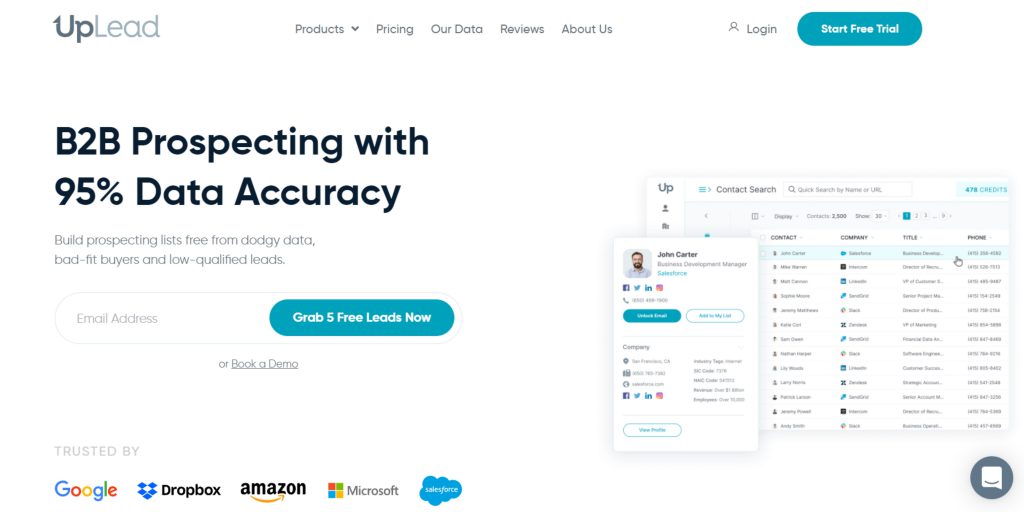 Key features
Grabs lead straight from your browser
Offers 95% data accuracy
Turns disjointed lists into sales opportunities
Built-in data enrichment for your products
Real-time email verification feature
Finds and unlocks your top prospects' emails
Pros
Offers 95% data accuracy guarantee
Capable of bulk searching
Easy to use interface
Offers email verification feature
Offers free trial
Cons
Only the desktop version is available. No mobile apps
Quite expensive for small businesses
Pricing
UpLead offers 4 comprehensive pricing plans to suit the needs of its users:
Free trial
Essentials: $99/month & $890/year
Plus: $199/month & $1,790/year
Professional: $399/month & $3,590/year
Conclusion
Cold emailing is a great way to connect with new customers and with the help of the above tools, the lead generation process becomes easier.
So, don't waste any more time and choose one of these 7 best tools to start your cold email journey today and become a successful marketer.