Do you like to get offers when you buy something? Of course yes! Who doesn't like offers?
Sometimes offers are the only thing that makes us buy the product. So naturally, if you are a marketer with a business or service in hand, giving out great offers to your consumers is the way to go. People love free stuff so offers will serve as a great factor when it comes to sales.
So how many kinds of offers are there?
There are two kinds of offers. Order bumps and upsells. They are different but both are necessary. It is a great sales technique that can do wonders in your business.
The value of your offer also determines, which category it fits into. If you have an offer that is low value and doesn't need a lot of thought before the purchase, it will come under the category of order bump.
Now to master this technique you need to learn about these offers in detail. So, here we are going to discuss what order bumps and upsells are, why are they important, the difference between them, and how to use them properly.
So let's get into it.
What is an order bump?
Order bump as the name suggests is a smart tactic of making the customers buy more from you, using offers and discounts as motivation. This takes place at the checkout page. The option is presented here and with a single button, your customer can add extra items to their cart and make a bigger purchase.
So how do you convince your customers to buy more?
Here comes the offers and discounts! These products we talk about are complimentary and add-ons. Providing these services at lower rates allows the creators to increase their overall revenue per purchase.
You can simply use this strategy to sell those goods that have a low sale, or you can use it for advertising new products. Here, the consumers feel rewarded and you sell more while promoting a new product. It is a win-win situation!
Order bumps enhance the customer experience in the online as well as the offline world.
Why is an order bump important for business?
Now that we know what order bump is, you must know why it is so important for your business. Here are some factors that make order bumps such a great strategy:
This strategy works on the psychology of commitment and consistency. Humans like to be consistent with their choices, so they use their decisions as a reference point to make related choices.
It targets the impulse buying squad. They feel they have saved money while buying more from you.
It increases your average order value which is great for your business
It gives your consumers a great customer experience
You can get rid of products that sell less
You get to advertise new products while adding value to your products
Order bump examples
So now that we know what order bump is and how it benefits your business, here are some examples for you to get started:
Complementary offer – Try to give out something that compliments their purchase. Something that they will have to buy eventually since they own the product. Make them come to you for that complementary product as well. Both products must go together well.
Subscription – You can provide your consumers with a subscription or a membership so that they could get a discount next time they shop with you. It guarantees their return while also increasing brand awareness and functionality.
Warranty – If your customer is buying something of value, it will be a good idea to present them with an offer that enhances the functionality of the original product. This could include warranties and insurance.
Customize – Try to personalize the new item for your consumer, that way they will feel a personal connection to it.
Bulk discount – It is an easy way to sell the same item in more quantity. Give your consumers offers to buy more of the same product.
What is an upsell?
Upselling is a sales technique that encourages your customers to spend more money by buying a premium or upgraded version of the product they originally intended to buy. If done correctly, it can help your business increase its order value, while generating more revenue.
It is an offer that is provided after checkout, unlike order bumps that are provided before checking out.
Whether your business is online or offline, you must know that upselling starts the moment your customer enters your store. You must recommend them premium or improved versions with the help of comparison charts.
You need to be a better version of yourself, for your consumers to come back for more. However, upselling method works better in online businesses rather than offline ones.
Why is an upsell important for business?
Now that you know what upsell is, it's important to know its importance in your business. Here are some factors that make upsell so important for your business:
The cost of attracting new customers is five times the cost of retaining existing ones and existing customers are 50% more likely to try a new product.
It will increase your customer's lifetime value
It will enable you to provide a more personalized service
It optimizes the value of every sale
It will help you improve customer relationships
It will give you more brand awareness
It will attract more premium customers as existing customers spend 31% more than new customers.
Upsell examples
Examples of upselling to increase sales:
Bump up the services – An airline can upgrade a passenger flying coach to a first-class seat as part of the airline check-in process.
Top-up reminder – Add things they will require with the purchase. These are useful reminders for topping up on items needed in the future, instead of annoying sales pitches.
Give what they will need – In restaurants, give salads and dips for an extra charge.
Delivery services – Provide delivery services in online marketing and give discounts on more significant purchases.
Premium services – An AI tool or resource is available for free in its basic version but unlocking premium, will grant them desired features with an extra fee.
Order bumps vs Upsells: Difference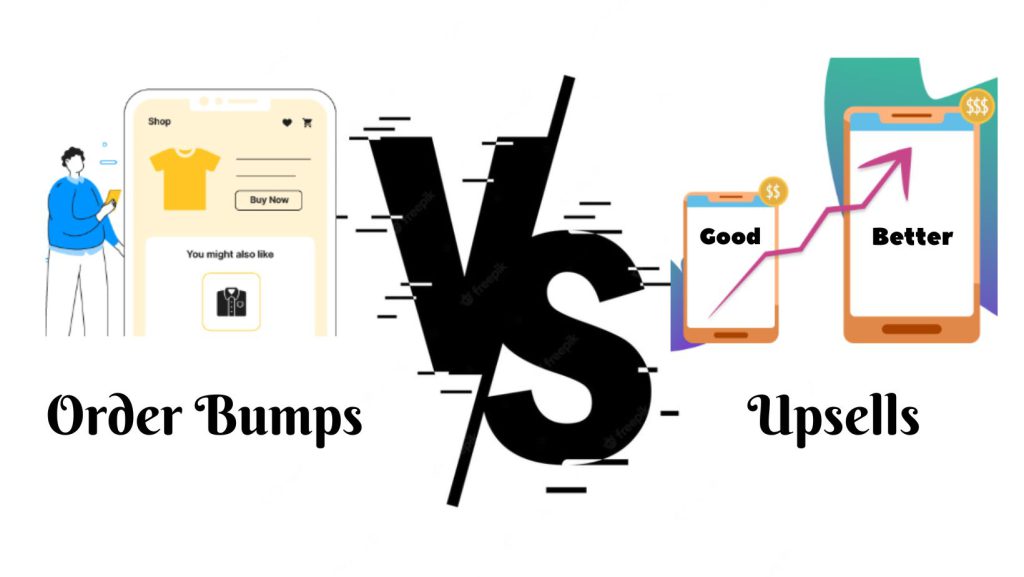 So, we are all caught up on order bump and upsell, and we know how both are important for your business along with some examples. 
So how are both different? What makes them have a value of their own and complement each other?
Order bumps and upsell can be used interchangeably in offline retail, as they mean the same thing. The difference however arises when the promotion is being used in e-commerce.
Here are some key differences between order bump and upsell:
An order bump generally does not require a dedicated sales page, but an upsell is used after the customer has made the payment, so it needs a dedicated sales page.
An order bump is usually a low-value offer while upsell is valuable as it sells the premium version.
Through order bumps, you get to advertise different items, while upsell promotes the better version of the same product.
An order bump is a promotional offer represented by a small checkbox offering a complementary service or product.
An upsell is an offer of a second buying opportunity and improving the customer's initial buying experience.
An order bump can be done in both online and offline businesses but upsells are most successful when done in online businesses. So, if you're planning to build your online store, you can check out ShopFunnels.
How to use them easily with CourseFunnels?
Are you a course creator?
Then, for you, this is the most important part of the blog!
After knowing all about order bumps and upsell, you must be thinking about how to use them correctly in selling courses. Well, here we are going to provide a detailed guide on using such offers with courses.
But before we talk about how to use upsells & order bumps in CourseFunnels, you must know what is CourseFunnels.
CourseFunnels is an all-in-one platform that will help you to create amazing courses and turn them into lucrative sales funnel.
Learn how to create upsells & order bumps using CourseFunnels here- Creating Upsells & Order Bumps With CourseFunnels
What do you think about this strategy? Have you used CourseFunnels to increase your sales? Tell us in the comments!
Thanks for reading.