Welcome, and Thanks For Being so Awesome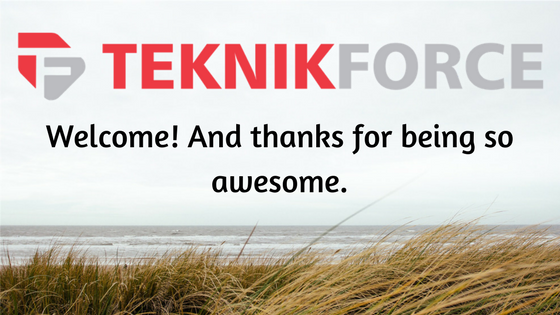 I started Teknikforce from a quiet apartment in Pune five years ago with our first product Tubejeet, that I coded, designed, packaged and released solo. The journey began in 2013, but the seeds were laid 3 years ago in 2010 when I got sick of making software for the local market in India. Those were the days before SAAS, and I was into creating packaged software for the Indian market. We would work for months on a product, putting things together painstakingly, only to release it and find pirates distributing it on CD-ROMs just days after we launched. We were using the best encryptions and copy-protection technologies, and even when we had products that survived the pirates, we still couldn't get the sales we deserved. People had access to pirated software from our competition (who weren't smart enough to invest in quality copy protection), and they were happily using the free stuff even if it meant lower quality. No matter how hard we worked growth seemed difficult and we were stuck, creating products just to maintain our revenue. It was deeply, morbidly, frustrating.
Begin, the Internet revolution
The Internet came in as a savior. Suddenly, we were able to reach out to a lot more customers who found our product online and chose to buy the licensed stuff either from us or our dealers. Another lease of life. As I dove into content and online marketing I started using tools that made things simpler and helped boost our marketing efforts. Some of them were good, some not so good. We did a lot of work manually and for some things, we created little tools of our own. We understood digital marketing cause we did it daily, and we understood tech cause that's what we did every day. It was time to put that together.
Introducing, Teknikforce
Internet marketing is fast paced, it's dynamic, and the rules change all the time. Perfect for someone who has worked in the world's most challenging market for software (India in 90s and 2000s). So, I started Teknikforce with a clear aim. To make things better for digital marketers by creating tools that they could trust to do their job. A company that they could trust to keep pace with all the changes, innovations and breakthroughs. It began with one guy working solo on a project that was not more than a dream, and has evolved into an organization with more than 25 high-quality products for Internet marketers and an international team that's over a 30 people now. All this time we have kept innovating. Not just in technology and our products, but also in customer service, product delivery, marketing, and work environments. Today we provide round the clock support to our buyers, with product updates that solve breaking changes in hours not days, and a team that's 100% distributed. Yes, nobody goes to the office. We are growing, we are innovating, and we work every day with one clear goal in mind - to bring you the tools that you can depend on, and a company that you can trust. If we've made it possible it's only thanks to our customers. Awesome people like you who showed us what we could do, and supported us by placing your trust in us and using our products. The real journey has begun only now. We look forward to being your tools team and partners for a really long time. Thank you for being so awesome.
Subscribe to our newsletter
We'll keep you in the loop on our best advice and strategies for social media marketing and growing a small business.

Back To Homepage