How To Select The Right SEO Strategy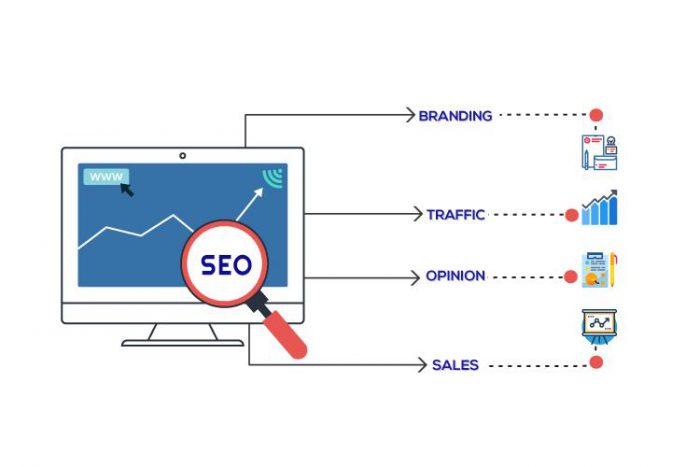 Almost everyone nowadays is familiar with the term SEO. Marketers are aware that SEO is vital part of getting better rankings in the Search engine. But SEO leaves a lot of room for understanding. SEO is not just about rankings but the overall social promotion of your website.
The Google search engine is known for its evolution. And with the recent developments, SEO has moved on from mere keywords. The real Google promotion now considers two important factors – trust and value. When you are able to provide these two to Google, only then does Google makes you worthy of its attention.
On any given day, Google receives over 63,000 searches per second. (Source:
InternetLiveStats
)
That number includes a lot of your potential customers. But how do they find you?
Not without proper SEO.
SEO is often thought to be a bag of tricks that can give you the maximum result by applying the least effort. However, SEO is quite the opposite that needs maximum efforts while it initially gives out slow results.
SEO OBJECTIVES DEFINE THE STRATEGY
The 4 steps that go into SEO are :
      Keyword research

      Broad Keyword planning

      Content production with comprehensiveness and value

      Content promotion
SEO and Content – which is more important?
SEO is NOT a substitute for good content. It is, at best,Ba support mechanism that can give your content a boost in traffic. There is a need to focus on both content and SEO to achieve best results. Ignoring one can directly affect the performance of the other.
As a good SEO practice, one should have a broad idea of the SEO strategy before one starts to produce content for the same. One should have a goal and objective that one can aim for. However, it should have content as the centrepiece with SEO revolving around that.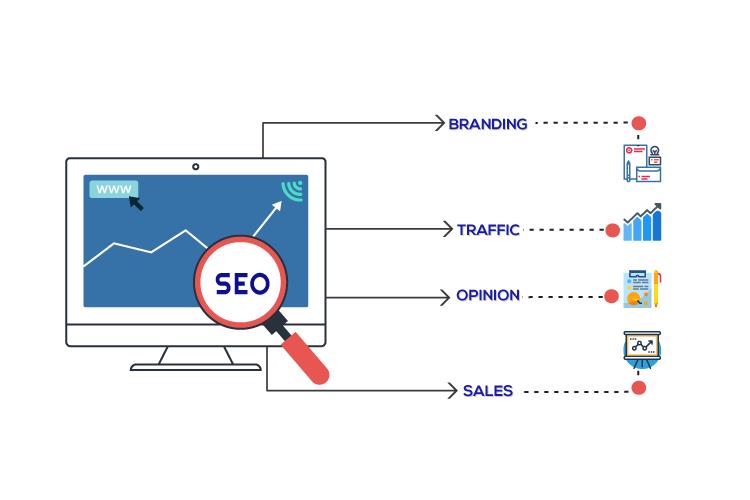 How to select a SEO strategy based on objective?
SEO strategy must begin with a clear objective. Only then can one can think of the content and direct it to convey the message of the brand. With the clear objective, you can eliminate the unnecessary distractions and put your effort in the right direction. You know when to say no a decision.
When deciding upon the content strategy for SEO, one needs to look past mere search engine ranks. The following article identifies how ranking is not the only goal of SEO. There are different goals that can be affected using SEO. Understand what each goal means and whether it applies to your requirement.
1. Generating Traffic
Generating traffic is one of the most common uses of SEO. Â Making keyword specific content and optimising it for search engines increases the visibility to viewers. The more people find the content and the more they react to it, the more it is further shared by the search engine and in effect it is presented to even more people.
SEO can help the content to be found by relevant and targeted traffic which may even be looking for such content. Without proper SEO it is a tough task to reach people who do not even know that you exist in the first place.
Unlike earlier times, the aim of SEO is no more only to get to the top rank of the first page. Because people are not drawn to the top result anymore. People like to sift through the results for a particular and relevant answer to their specific query. Therefore, more important than ranking, is the traffic.
The increase in traffic makes the website profitable for businesses to advertise on and also increases the overall quality of the website. However this traffic needs to be relevant.
Strategy:
 Keywords play a vital role in guiding the search engine to your web page. In earlier times, people used keyword stuffing as a tool to increase discovery but that has now been outsmarted by the algorithms. So how do you use keywords to increase traffic?
The keywords that you use should be relevant to your content at all times. You can use a combination of long tail keywords and high occurrence keywords and try to balance the two.
The other important factor is the content itself. The content should be comprehensive, fresh and relevant. The value of the content will also increase if many domains backlink to your pages in a natural and non spammy way.
2. Branding
Branding aims at creating awareness of your brand and making it associated with trust and quality. When the brand is understood clearly and its values are recognised in a uniform fashion, then it develops a positive reputation and builds trust among the viewers.
Google recognises and promotes brands. Brand recognition on Google works much like your local shopping store where you pick up a brand over the local substitutes just because you know that they offer quality.
Trust is the most important factor when looking for quality. Organic searches are no different to this concept.
Strategy:
In order to use SEO for branding, you must target the terms or keywords that are closely related to your brand. It would give you better exposure if you list the terms that your market is associated with rather than try for a direct increase in traffic.
The keywords should be market related and focussed to bring in traffic that is related to the brand. You should try to get more domain authority in this way and should be focused on engagement on the website.
3. E- Commerce sales
SEO can boost e commerce sales by upto 100 percent. And it is not just about visual appeal. SEO when applied to an e-comm website must consider factors like conversions, analytics along with practical situations like how to manage website when a product is out of stock or expired.
Strategy:
For maximum efficiency and conversions, the design of the website must have SEO built in and integrated in it and not be an afterthought. All the pages, categories, URL's must be in sync with each other and be relevant at all times.
Focus should be to integrate human psychology along with retail needs to give the user a memorable and efficient user experience.
You must consider
People will misspelt words should be directed to the relevant page

Similar products should be suggested

Internal search should be optimized.

Pages should be mobile friendly

Pages must have user feedback

Duplicate product descriptions should be avoided
4. Ideological Impact
If you want to influence public opinion on a particular topic, SEO is very powerful tool to promote your ideas. However, if you are new, Google will not trust you.
Strategy:
you will need to build your content keeping in mind the audience profile and the primary queries they are likely to search using. It is important to build relationships and showcase your content in like-minded groups where a lot of people might be genuinely interested in your content.
Conclusion:
The new changes in Google algorithm put a lot of importance on the value of content. In fact, the more it is valued, the more people react to it, the more the content is considered to be worthwhile. SEO strategy must also work with content. The idea is to leverage the resources at hand, understand if one can produce content of value in a particular platform, and then decide which platform or content type is best suited. The content types may be articles, blogs, videos, playlists, presentations and many more.
The strategy for each objective differs significantly as well as described in the above article. Consider the focus of the marketing campaign and then decide a couple of key objectives that will govern important SEO decisions.
Subscribe to our newsletter
We'll keep you in the loop on our best advice and strategies for social media marketing and growing a small business.

Back To Homepage