6 Amazing Platforms to Create and Sell Your own Courses
Posted
September 22, 2021
|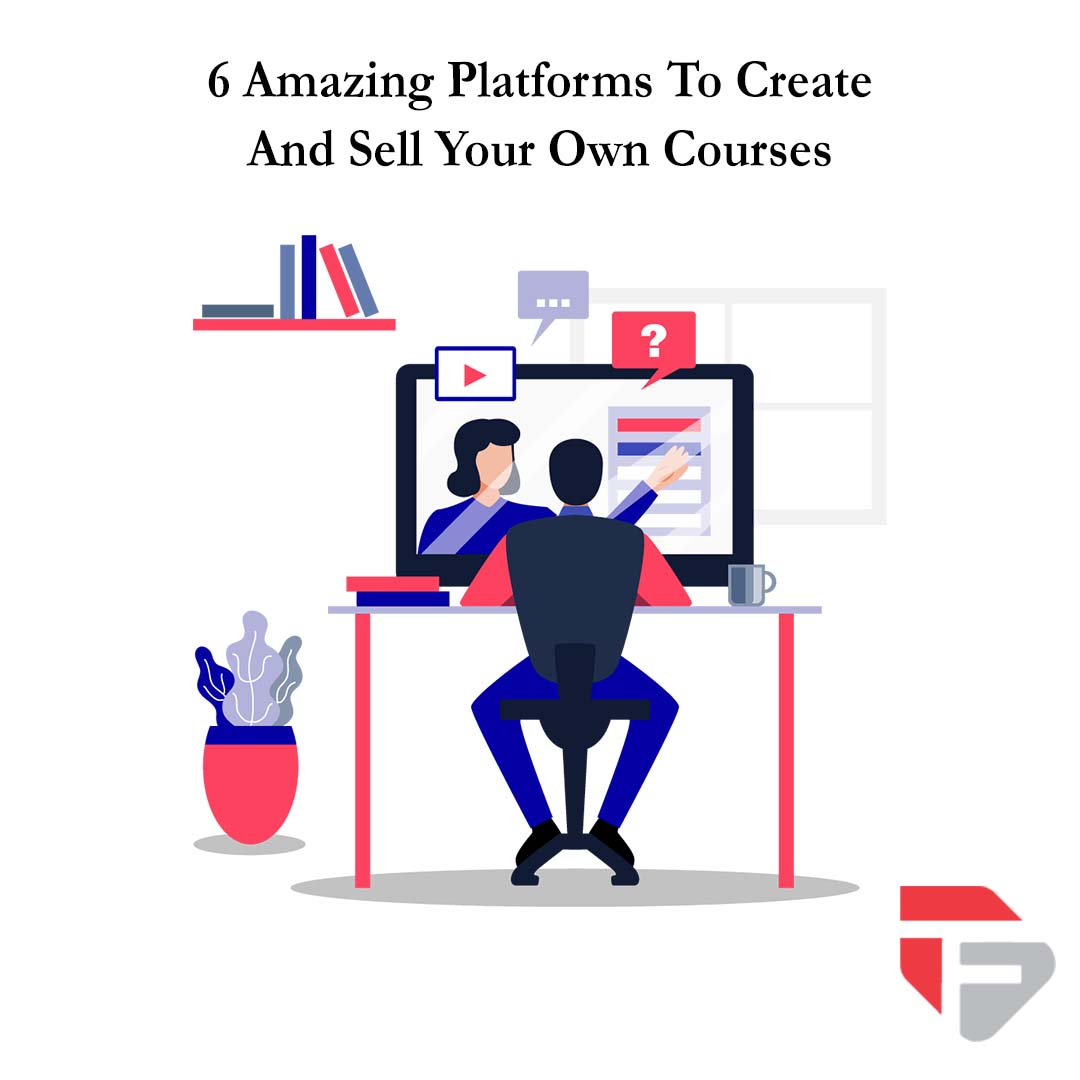 Online learning platforms have upsurged massive traffic as more and more people from all age groups want meaningful learning.
Selling online courses and tutorials only is the most lucrative and best strategy right now. As millions of people are searching for courses that can enhance their skills and knowledge.
That's why in this article I'll be sharing with you the Top 6 platforms where you can create and sell courses online.
1. CourseFunnels
Coursefunnels is an amazing platform that allows you to create and sell online courses. It provides high - class experience to students in learning and gives creators a powerful sales platform.
Coursefunnels works for everyone from small businesses to large companies and universities.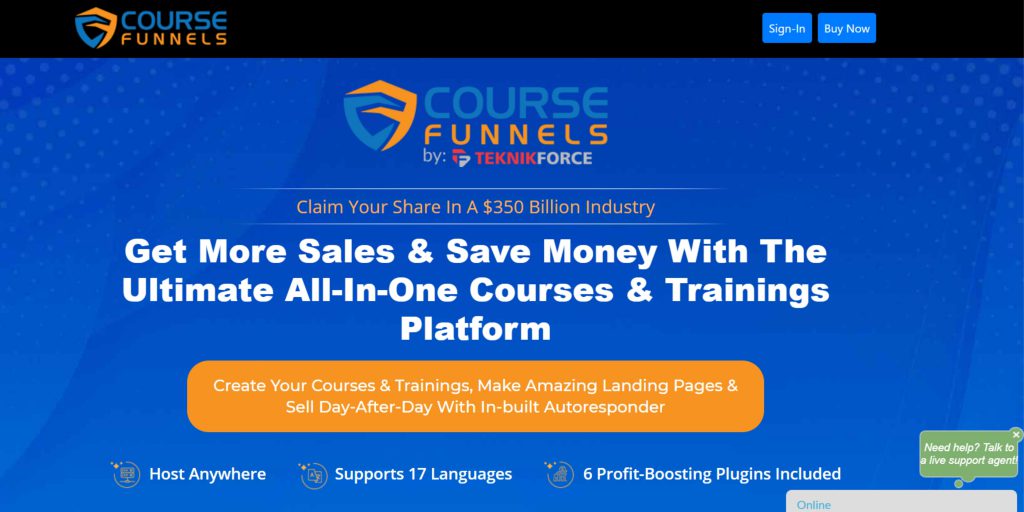 Key Features:
🡪 Helps you to create amazing courses with lessons, chapters, quizzes, and assignments.
🡪 You can sell your courses by creating amazing landing pages.
🡪 With an in-built autoresponder, you can seamlessly do email marketing.
🡪 There are sales-boosting add-ons like Conversion proof, Exit pop, timer, built-in.
🡪 It supports all kinds of video hosts like Vimeo, YouTube, Self Hosted, etc.
🡪 You get sales reporting, analytics reports, and progress tracking for members & students.
🡪 You can track student progress and provide them with certificates.
🡪 It integrates with all the major payment gateways, sales platforms, and carts.
🡪 You can integrate it with all the major autoresponders
🡪 It provides support for multiple users and teachers
🡪 Many more.
Pros
1. User Friendly.
2. Build amazing landing and sales pages for your courses.
3. It has a high-powered autoresponder built right in.
4. It comes with dozens of readymade templates for everything
5. Grab Optin Leads & Deliver Your Courses Instantly
6. Setup Marketing Sequences With In-Built autoresponder
7. Course Reviews
8. Comments Management System
9. Drip-Feed Content
10. Self-Hosted To Give You 100% Control & Security
Cons
1. I see no downsides of Coursefunnels.
It works flawlessly for me you can check the demo video and some more amazing features here → https://getcoursefunnels.in/
2. Thinkific
Thinkific allows you to create, send and deliver courses on your own branded site. Thinkific makes it easy to grow your brand and engage with your prospective clients.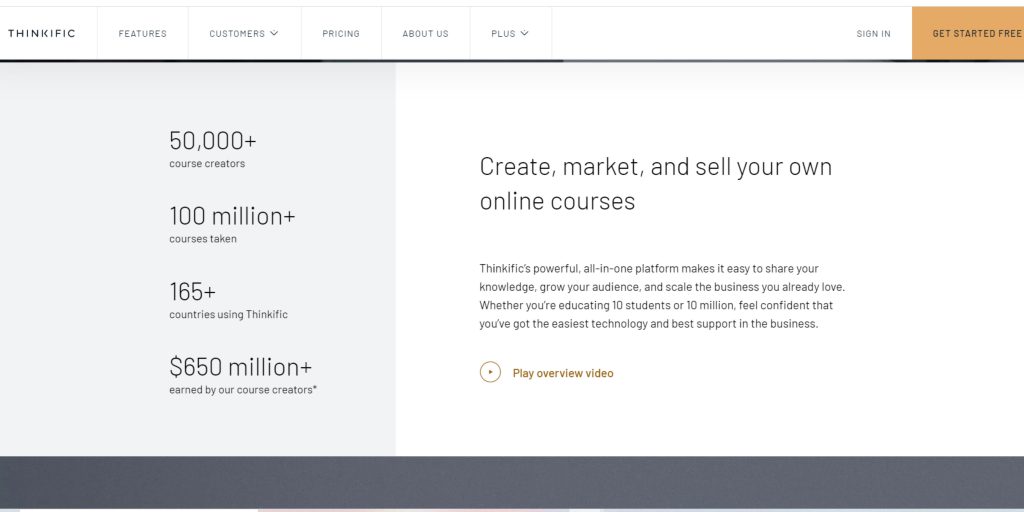 Features:
🡢 You get full access to edit the code of your courses.
🡢 Set up the expiry date of your course.
🡢 You get built-in course authoring.
🡢 Organize web content with a simple drop and drag feature.
🡢 Get access to HTML and CSS.
Pros:
1. Easily edit the code of courses.
2. Customizable domains.
3. Marketing Automation.
4. Supports Google Adverb
Cons:
1. You can't add your own CSS.
2. There are not many plugins inside.
3. Themes are single-columned.
4. There is no control of SEO settings on web pages.
3. Teachable
Teachable is a great option for newbies because the setup and navigation are very easy. This is also the reason why the prices are low and flexible.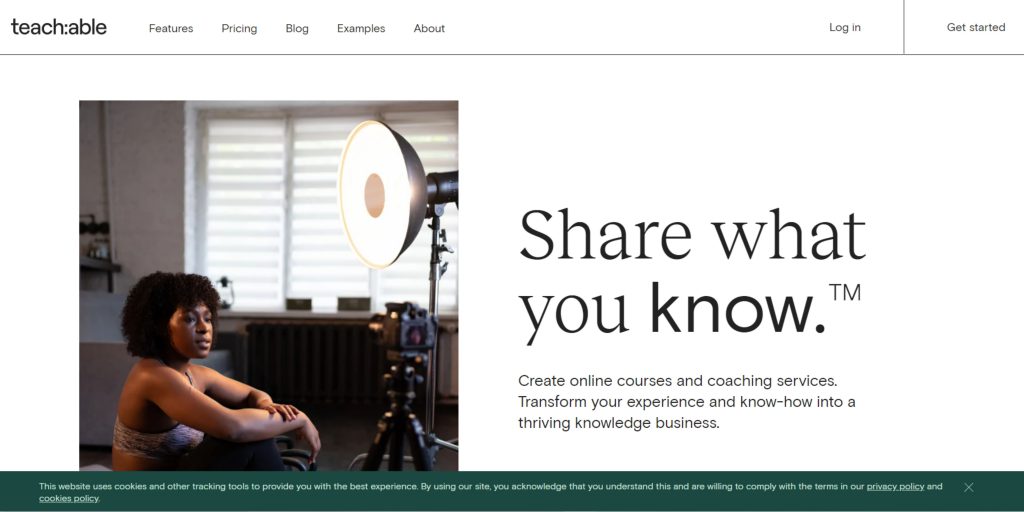 Features:
🡢 Smooth setup.
🡢 You get live zoom courses in the Pro section.
🡢 They have payment plans in 100+ currencies.
🡢 You get unlimited courses, students, and bandwidth.
🡢 They offer great sales pages and storefronts.
🡢 Active blog with valuable tips.
Pros
1. Customer service is good.
2. You can customize website themes.
3. Free plan is available.
Cons
1. They charge transaction fees.
2. Designing a sales page is difficult here.
3. Payout options might create problems for people outside the USA.
4. Podia
Podia is a complete all-in-one platform that provides you to create and sell courses, digital products, and memberships. You can get some amazing email marketing features here on Podia.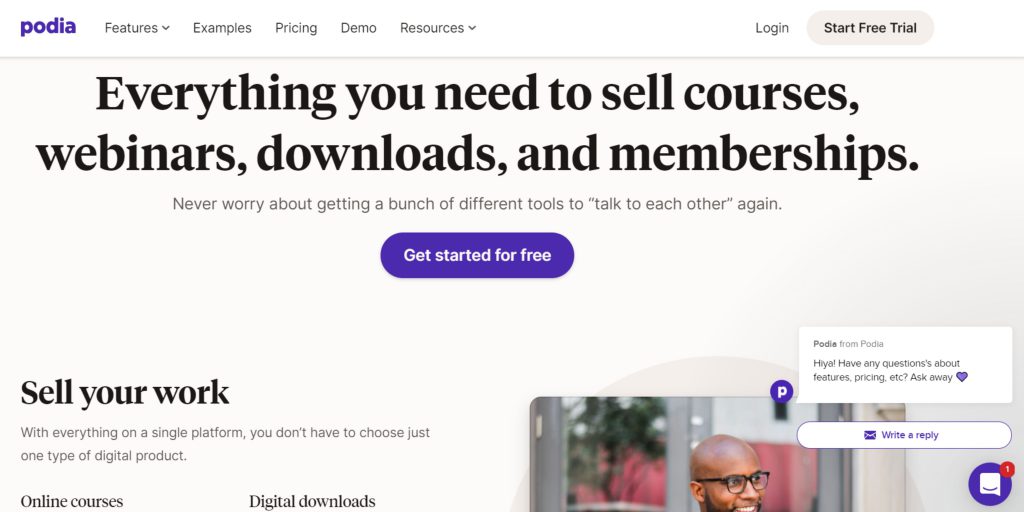 Features:
🡢 Provides unlimited courses and products.
🡢 Pre-launch option to notify people about your course.
🡢 You get zapier integration.
🡢 Host your own videos.
Pros:
1. User Friendly.
2. You can create coupons and memberships.
3. Affordable plans.
4. Offer different payment options to students.
Cons:
1. No Transaction Fees.
2. You can't personalize the emails.
3. No certification feature.
4. No landing page builder.
5. Lack of design flexibility.
5. LearnDash
LearnDash is a popular WordPress plugin to sell online courses with a WordPress site. It is one of the best options when we talk about WordPress learning management systems.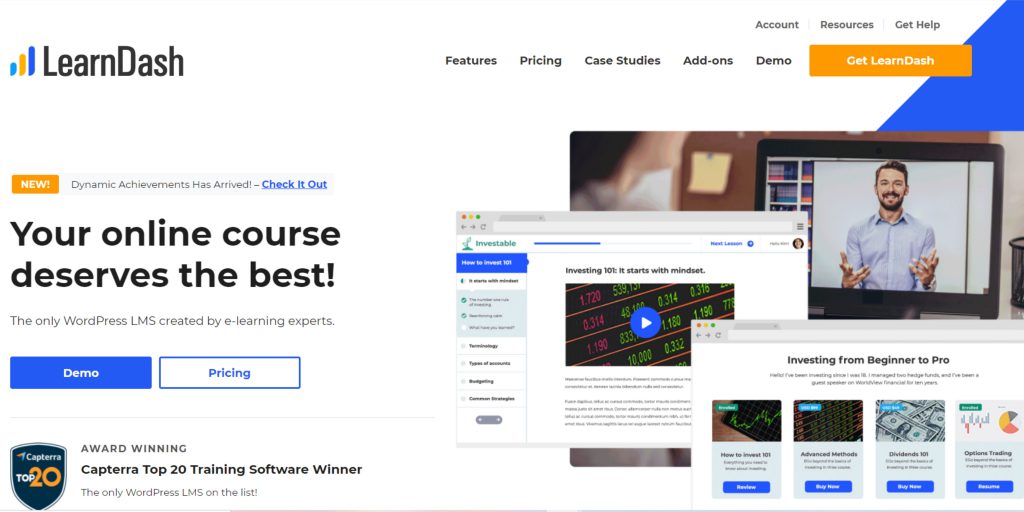 Features:
🡢 You can create unlimited courses.
🡢 Supports recurring payments.
🡢 Amazing administration tools.
🡢 There are many settings and control options.
Pros:
1. Seamless drag and drop builder.
2. It supports detailed video content.
3. Powerful Front End learning experience.
Cons:
1. Payment options are very limited.
2. LearnDash is Expensive
3. The plans are very limited.
4. Memberships are limited.
6. WizIq
WizIq provides educators an easy and amazing way to create virtual classrooms for students. They provide live training with the latest tools such as mobile options, videos, discussion boards, and a lot more.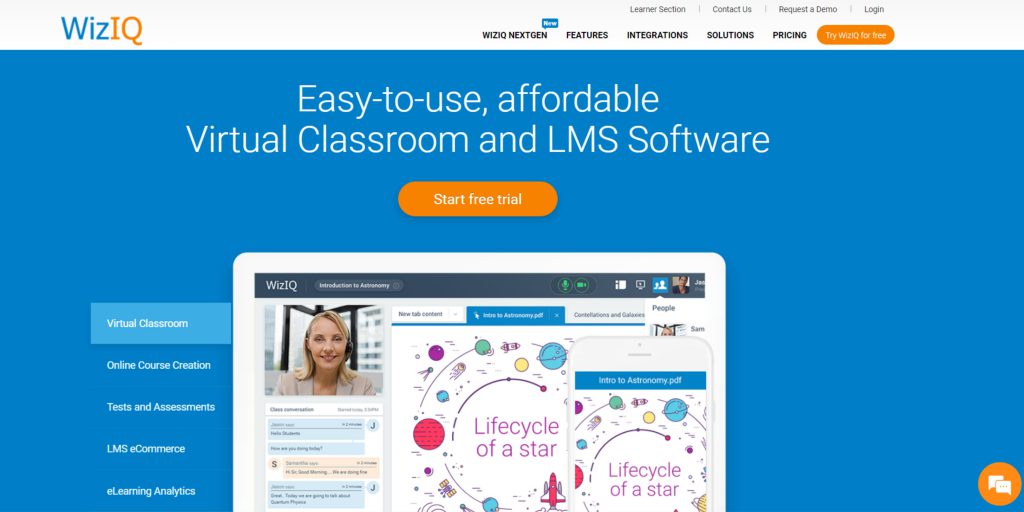 Features:
🡢 A video streaming option is available.
🡢 You can track student's attendance.
🡢 Enables e - assignments, and tests.
🡢 They provide cloud storage and mobile learning.
Pros:
1. The quality of the recorded video is good.
2. You can upload and edit pdf easily and on time.
Cons:
1. Customer service is not good.
2. Poor audio and video quality.
3. Plugins are slow.
4. Many bugs in the software.
Now the question is how to choose the right platform for your online learning needs?
1. The most important point is whether it is easy to use or not. An online learning platform should be easy to use and set up for both the students and teachers.
2. You should select a platform that provides interactive content, virtual classrooms, grading, and comments from educators.
3. Make sure to select a platform that works for all your students irrespective of their devices.
4. Online learning platforms should provide analytics to help get essential data and evaluate students on their performance.
Conclusion
The most vital role of an online learning platform is to provide students with valuable knowledge and experience. It should not provide a traditional classroom experience rather it should enhance their experience.
So make sure to keep these things in mind while selecting an online course platform.
Subscribe to our newsletter
We'll keep you in the loop on our best advice and strategies for social media marketing and growing a small business.

Back To Homepage