8 Common Social Media Marketing Mistakes you must avoid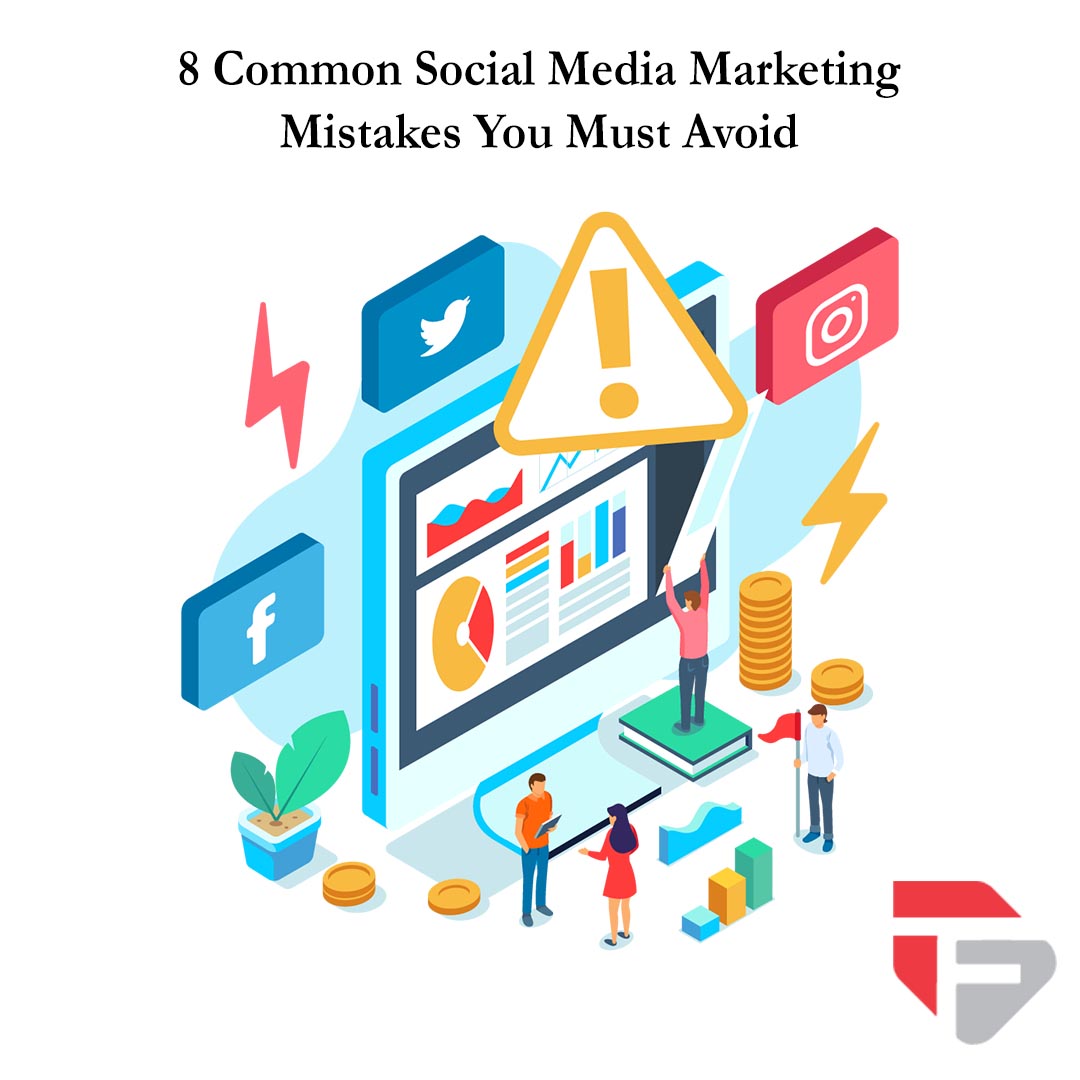 For a long time, social media has been one of the most effective ways to showcase your business in front of a huge audience due to its immense popularity.
To stand out from this huge competition, it is not unusual for marketers to make some mistakes.
To avoid such mistakes, it is necessary for them to identify them.
Your marketing mix is incomplete without social media. Hence, you cannot eliminate social media marketing even if you are not good at it.
If you are not getting desired results from social media marketing, it is quite evident that you are making some mistakes and you need to rectify them to achieve success.
Wondering how to identify those mistakes?
Let us help you by identifying 8 common mistakes that most marketers make and the ways to avoid them.
No proper social media strategy
Before starting out with social media marketing, you should always know why you are posting something and what goals you want to achieve with it.
If there is no particular strategy to work on, there is a high chance of making mistakes while carrying out marketing on social media.
Starting out with no strategies is like driving a car without knowing the exact destination.
This is a grave mistake that most marketers make and this can make your whole campaign fall flat completely.
So, do not let your efforts go in vain and plan out a proper marketing strategy to grow your business via social media.
Using hashtags irrelevant to your niche
You must be well aware of the fact that hashtags play a very important role in social media marketing.
Involve your content with a trending hashtag and it will be out in front of millions of eyeballs. Well, this may sound simple, but getting desired results is not always the reality.
Most people use the wrong hashtags while trying to promote their content. This can sometimes even harm your social media presence.
Before using hashtags, make sure you are well aware of the content attached to the hashtag.
Ignoring the comments on social media
Boosting the engagement rate is one of the best ways to make your social media algorithms like you.
Everyone marketer loves engagement on their social media platforms. Isn't it? Then why keep quiet in the comments section?
To be a successful social media marketer, it is your responsibility to reply to each and every comment on your posts.
If you do not pay attention to your followers, why will they bother to pay attention to your posts?
When they see you taking out your precious time from your busy schedule to reply to their comments, they'll like your business more and get more engaged in it.
Not following the insights
Without actionable insights, there is hardly any point in using social media.
You must be measuring the success of your email marketing campaigns and SEO with specific analytics software. Then why not view the insights of your social media platforms?
While you are reading this article on identifying social media marketing mistakes and how to avoid them, your social media analytics has already made a clear picture of your postings which includes your mistakes as well.
All you have to do is view the social media analytics of every platform and identify your mistakes and work on them accordingly.
Start monitoring engagement, customer conversion, and trends in buying decisions of your customers.
If you have not been doing this yet, it is high time you should start collecting and decrypting your analytics to ease your social media marketing efforts.
Unable to identify the uniqueness of each social media platform
Every social media platform is unique. What works on one platform may not work well on another platform.
Treating all the social media platforms the same is a grave mistake one can commit.
While marketing on social media, it is important to know the basics of each platform.
Identify the uniqueness of each social media platform.
It is important to understand how each social media platform works to make the most of the opportunities therein.
Understanding these will help your business to increase its exposure in different ways.
When you start to learn about each platform in detail as an entity on its own with its extraordinary opportunities, you will start to discover various new ways to leverage these opportunities and grow your business.
Leaving Social Media on Autopilot
Nowadays, automated things are ruling the digital industry. A lot of tasks can be automated easily nowadays.
But there are some businesses that take this too far. They forget that there are specific aspects that can be automated and not the whole campaign.
Signing up for automated tools and queuing up a bunch of posts to be published can never give you the desired results you are looking for.
This can make your audience feel that you don't really care about them and are only concerned about your message reaching as many people as possible.
This can have a long-term effect on your social media presence. If you are in need of solid results from your social media efforts, you have to do a lot more than just posting a steady stream of content.
You will have to engage with more and more audiences and show them that you care about them.
Opting for the wrong tone while communicating with audiences
Choosing the wrong tone to communicate with followers is one of the most common mistakes that most businesses make.
A person on social media can do whatever they want with their accounts because it is only meant to talk to people about their personal things.
But when it comes to a brand's image on social media platforms, one has to be very careful and formal while communicating.
Being too formal can turn out to be boring and being too casual and friendly can turn out to be offensive. It's confusing!
So, you need to hold humor in your words and communicate in a polite manner. Keep a balance between your tones and you'll be great.
Buying fake followers
We are all aware of the fact that buying fake followers is against the guidelines of all social media platforms.
But when you notice you have very few followers and the follower count is not increasing at a fast pace over time, this unlawful activity becomes more and more tempting. Isn't it?
It becomes nearly impossible to pass on getting a thousand fake followers for just $4.
This offer might sound good but this can harm your social media presence immensely.
Want to know how?
Fake followers will never be interested in your posts. They can only increase your followers' count but you will gain the views from your real followers only.
So, having millions of followers on your social media account with only thousands of them liking and viewing your content can be really harmful to your social media campaign.
Conclusion
Building a social media presence is difficult but committing these mistakes is not that hard. So, you need to pay attention to these 8 common mistakes and make sure you are not committing any of these yourself.
Don't let these mistakes ruin the whole social media campaign of your business
Keep these common mistakes in mind while creating your marketing plan and you will achieve success soon.
Subscribe to our newsletter
We'll keep you in the loop on our best advice and strategies for social media marketing and growing a small business.

Back To Homepage