Top 4 Mind-Blowing YouTube Video Ranking Software in 2022
Posted
September 15, 2021
|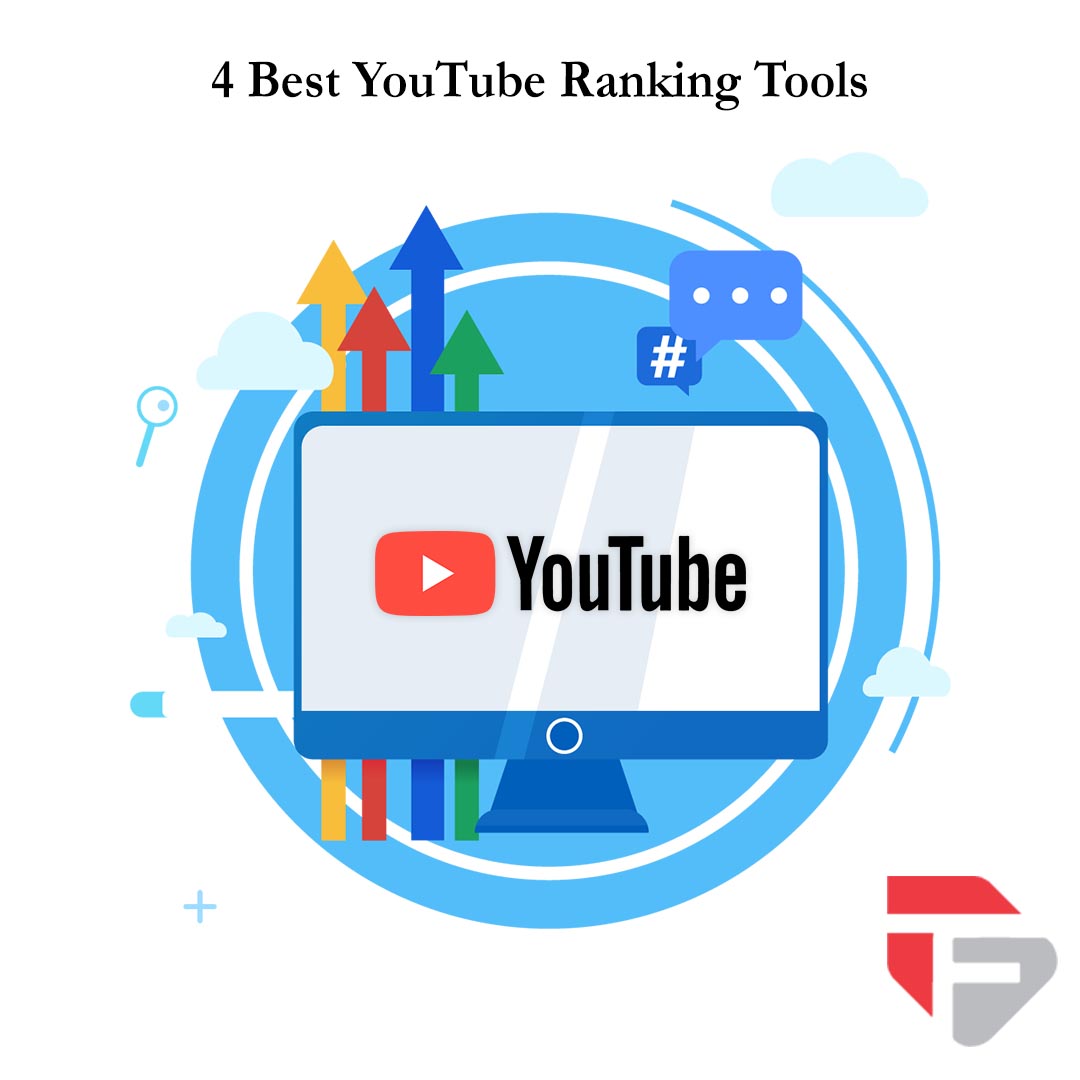 YouTube, being the second most-used search engine in the world, is flooded with thousands of channels. Among these, some are constantly generating exceptional content every day and so, the competition of being the top YouTuber or Vlogger is at its peak.
If you want to stand out from the huge competition, you need to do something extraordinary.
Optimizing your videos is the most common strategy every YouTuber opts for. So, is there no way to stand out from the competition?
Yes! There is a way out! Nothing can be impossible with the right Youtube ranking tool by your side.
But there are tons of YouTube ranking and video optimization software available in the market and it is difficult to identify which one can help you with the result that you want to achieve.
So, to make your work easier, we have come up with the 4 best YouTube video ranking tools that can not only help you to increase your subscriber count but also help you rank #1 on YouTube.
1. Tuberank Jeet 4
Getting free organic traffic has just got easier with the launch of Tuberank Jeet 4.
Tuberank Jeet 4 is the most powerful version of Tuberank Jeet which is one of the most popular YouTube ranking software in the world.
Tuberank Jeet is a powerful video optimization software that helps you to rank #1 on YouTube.
This software provides effective and time-proven strategies that work flawlessly to bring your video to the top of the search results on YouTube.
Your current YouTube strategy may not be able to fix your current issues but Tuberank Jeet can help you fix all the problems in your videos and get you traffic that will last long.
Whether you're a video marketer who is trying to gain more views or a content producer looking for a fresh source of earnings or a blog writer looking for another channel to get visitors from, Tuberank Jeet 4 can always help you to do all these tasks in a better way on YouTube.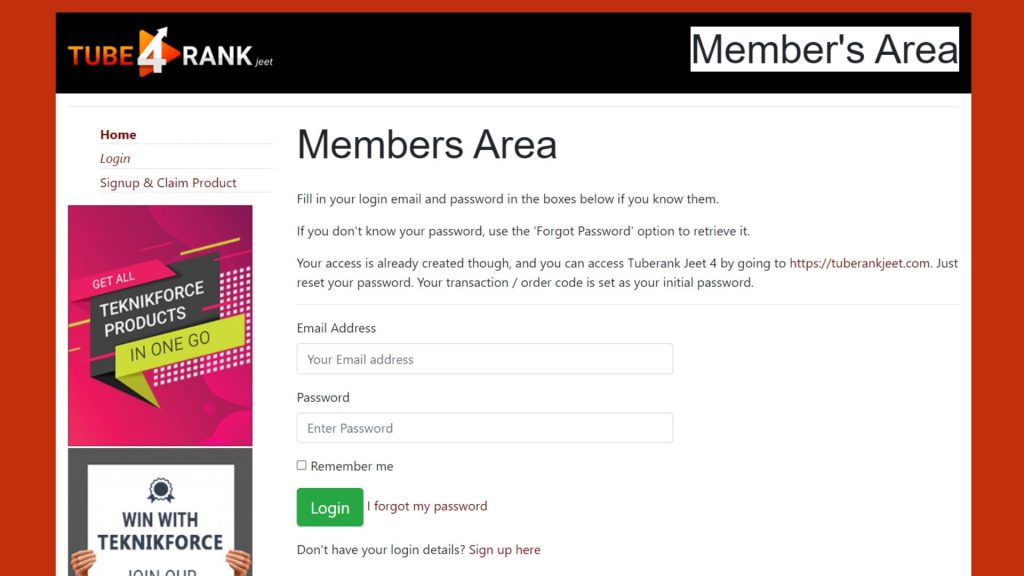 Key features
Get perfect titles, descriptions, tags, and hashtags for your videos.
Tells you which keywords are easy to rank and which are hard.
Analyzes the videos that are ranking for your keywords or niche and finds out what exactly you need to beat them.
Finds long-tail keywords for easy ranking, medium value keywords for traffic with minimal effort, and high-value keywords for the best quality traffic.
Viewer sentiment analysis tells what audiences feel about your keyword or niche and where the market is headed.
Grabs the tags and stats from any video you want and makes your video appear on the suggested videos bar.
Provides you with hashtag recommendations for your videos.
Get a traffic boost on YouTube within 2 days and maintain that growth till the time period of your choice.
Blows your competition away by discovering golden keywords with excessive traffic and reach but having lower competition.
Tap into your competitor's traffic and drive their visitors to your videos.
Gain the exact optimizations that are required to rank #1.
Pros
100% fresh and well-designed interface that makes things even simpler and easier.
User-friendly even for newbies.
Cost-effective software
Saves a lot of time
Full training provided
Updates constantly
24*7 live support
Designed for Microsoft Windows and Mac
100% money-back guarantee within 30 days.
Cons
The main version has limited features and so you need to upgrade it to the pro version for all the above-mentioned features.
No free version is available.
Pricing
Pricing plans start at $37/year per user and $9.95/month per user.
2. TubeBuddy
TubeBuddy is a video marketing and management tool for publishing and promoting your videos on YouTube.
It is a browser extension that maintains your YouTube channel and lends you a helping hand with other things like titles, tags, descriptions, cards, annotations, etc.
There are various tools that help you to create better videos and optimize them for a higher ranking on YouTube.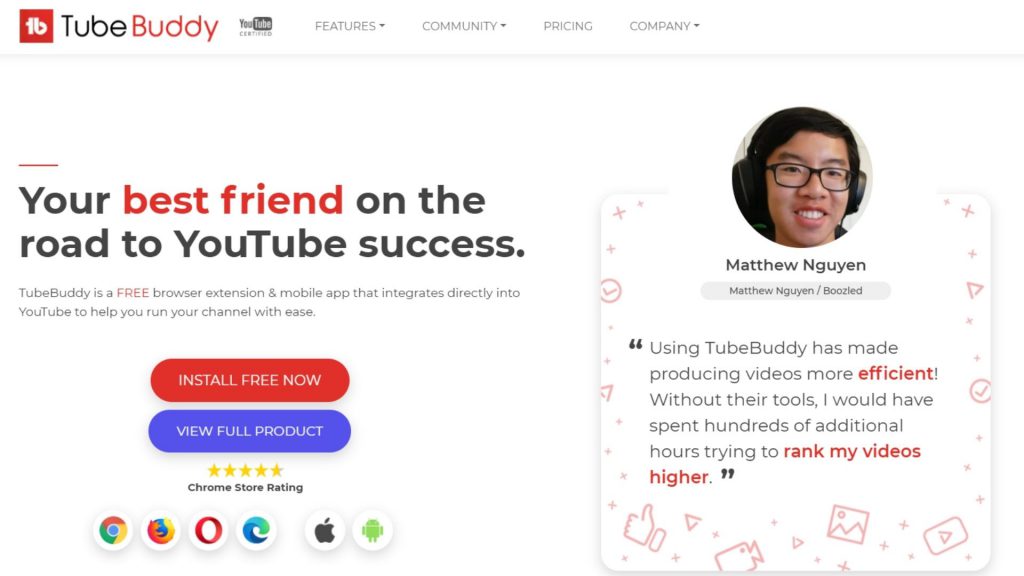 Key features
Generates high-quality thumbnails for your YouTube videos.
Offers a handy Chrome extension that allows you to access tag suggestions, keyword explorer, video topic planner, etc.
Provides comment filters to identify the comments you haven't responded to or to identify the comments from new subscribers.
Create and embed codes for adding playlists.
Finds keyword suggestions under recommended tags.
Adds emojis to titles and descriptions with the help of a unified dashboard.
Pros
Finds keywords
User-friendly and easy to use.
Trustworthy as it is certified by YouTube.
Enables tag suggestions even in its free version.
Consists of A/B testing and bulk editing tools.
Provides a full SEO checklist
Cons
One needs to pay multiple times for multiple accounts.
Sometimes it gets bugs and crashes.
The free version has limited features and the paid versions are quite expensive.
Takes time in updating channel information.
Only works as a browser extension and supports only Chrome, Firefox, and Microsoft Edge.
Slow website.
Outdated interface.
Pricing
TubeBuddy offers 4 comprehensive pricing plans to suit the needs of its users:
Free version
Pro version: $9/month and $86.4/year.
Star version: $19/month and $182.4/year.
Legend version: $49/month and $470.4/year.
3. VidIQ
VidIQ is a browser extension that helps you to track your YouTube performance by displaying the statistics of your videos.
VidIQ is exceptional in analytics and data and is packed with a range of features to support the areas of video optimization and channel development.
This software also allows you to add the channels of your competitor and compare them against your channel.
With a 24*7 channel audit in your hand, you can easily keep a track of the practices you should consider implementing in order to boost your performance.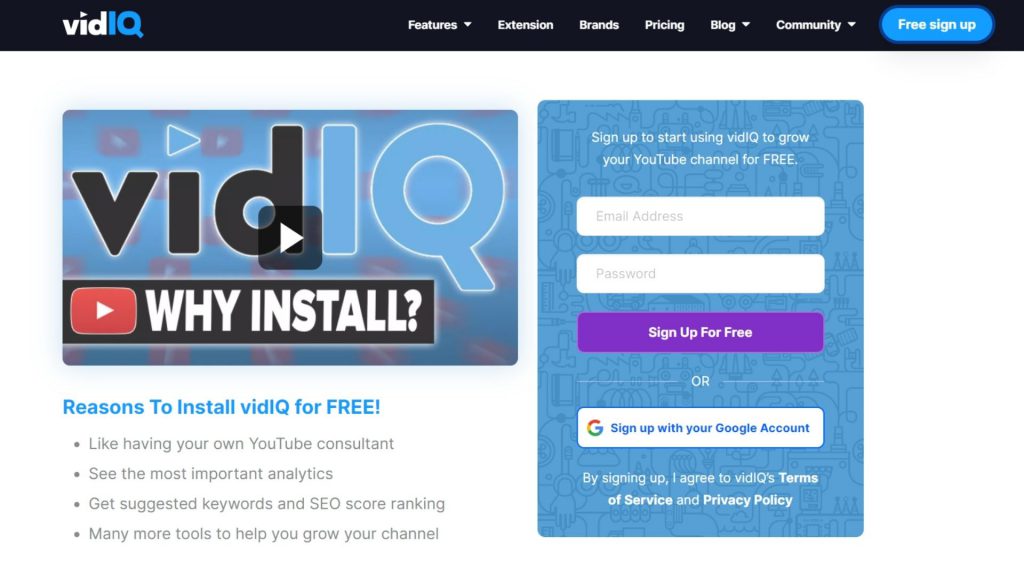 Key features
Generate new ideas for your videos on your YouTube channel.
Get all the important information and view the statistics of your YouTube videos.
Find the best keywords for your content.
Discover what content is working for your competitors and why.
Set up an email alert for the top trending videos on any topic of your choice.
Compare to any channel, video, or playlist and get real-time feedback on how your content is performing.
Comment productivity tools make replying to the comments on your videos faster.
Create engaging custom thumbnails for your YouTube videos.
Pros
Helps to find the right keywords.
Provides helpful analytics.
Boosts your rank on YouTube.
The mobile app for VidIQ is available for both Android and iOS.
Consists of powerful features.
User-friendly interface.
Cons
The free version has limited features.
The paid versions are very expensive.
Exporting keywords is not possible.
Data might not be accurate all the time.
Pricing
VidIQ offers 4 comprehensive pricing plans to suit the needs of its users:
Free version
Pro version: $7.50/month
Boost version: $39/month
Boost+ version: $415/month
4. Morning Fame
Morningfame is a keyword tool for YouTube that tells you in a fun and humorous way which of your videos are performing the best and which of them are retracting.
This software is ideal for those who want to get more insights and focus more on how to grow their YouTube Channel and reach more audiences.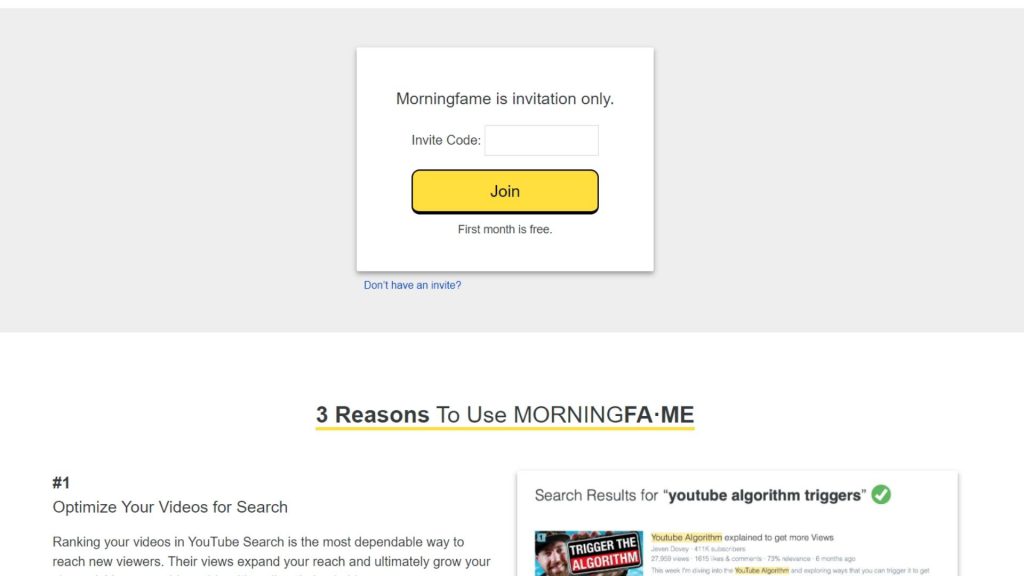 Key features
Guides you through the process of optimizing all your videos for search.
Provides specific recommendations on how to get better at promoting your videos and how to keep viewers engaged till the end of the video.
Helps to reach new viewers.
Identifies which videos are helping your channel to grow and which are not.
Gives exceptional statistics and tells you what to focus on.
Send an email 24 hours after you upload a video on YouTube from MorningFame.
Provides you with a list of tags to rank on YouTube search results.
Pros
No installation of software is required.
User-friendly interface.
Provides in-depth logical research.
Plans are quite cheap.
Effective for both large and small channels.
Cons
The keyword research module is available 24 hours only for 2 weeks unless you get the premium subscription.
Pricing
Morningfame offers 2 comprehensive pricing plans to suit the needs of its users:
Basic plan: $4/month and $36/year
Plus plan: $12/month and $108/year
Conclusion
Now you are well aware of the key features, pros, cons, and pricing of the top 4 YouTube ranking tools. So, do not waste your time anymore. Choose one of these tools and start your YouTube journey today.
Subscribe to our newsletter
We'll keep you in the loop on our best advice and strategies for social media marketing and growing a small business.

Back To Homepage