7 Best Webinar Software To Increase Your Sales Tremendously In 2022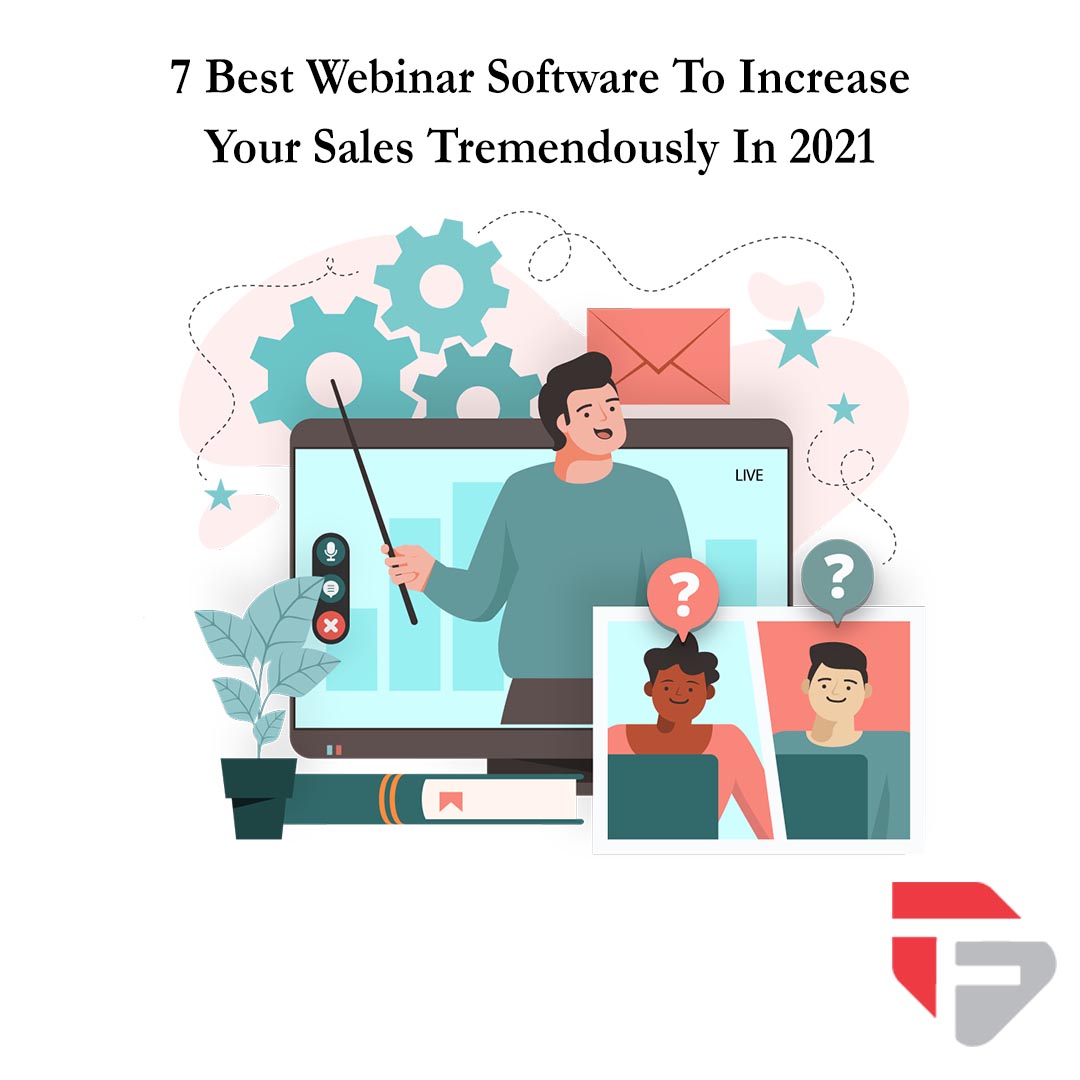 Are you looking for some awesome ways to engage with your leads while sitting at home?
Just like other successful marketers, you can also indulge yourself in webinar marketing to connect with your potential customers and bring them down the sales funnel.
With webinars, you can help your customers to engage in training sessions, demos, seminars, and so on directly from their couch. They can register and pay within the platform itself, if that's what you choose.
However, hosting live webinars is quite challenging. But with automation at your feet, nothing seems difficult.
Webinars provide you with the chance to build a more personal relationship with your audience. With automated webinars, you can do this even while sleeping.
In this blog, we'll be discussing the 7 best webinar tools along with their key features, pros, cons, & pricing in detail.
1. Webinarloop
Webinarloop is one of the most powerful webinar marketing platforms that provides you with everything you need to run high-performance webinars.
With Webinarloop, you can run your webinars on complete autopilot.
Hosting a webinar is quite challenging and so Webinarloop brings a great opportunity for business owners to schedule live webinars to engage more audiences.
With Webinarloop, you can run live, on-demand, scheduled and webinar replays with hands-free automation and breakthrough sales-getting features at a very low price.
Apart from these, Webinarloop comes with plenty of features.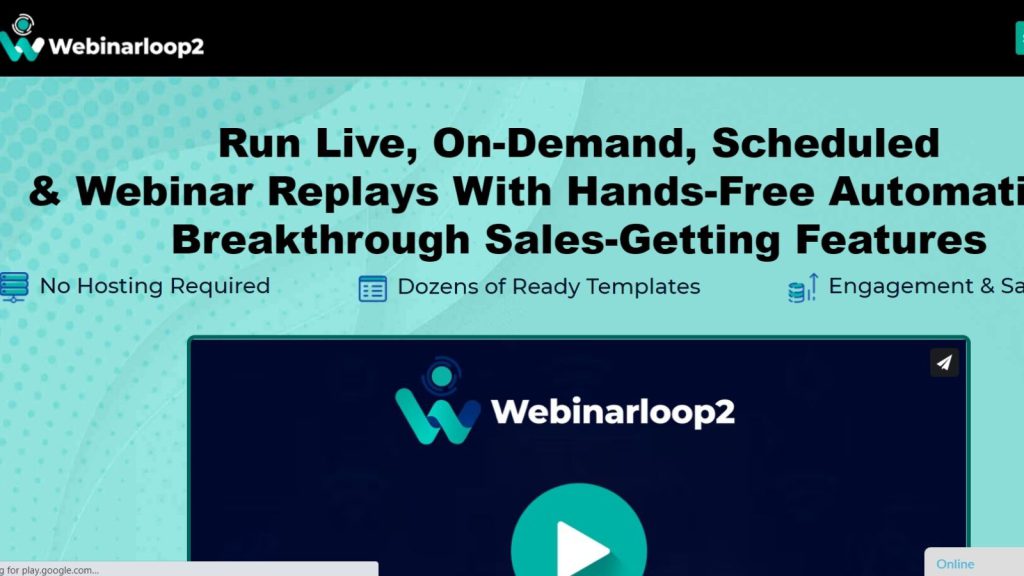 Key features
* No hosting required
* Works on complete automation
* Dozens of ready-made customizable templates
* Offers multiple engagements and sales boosters
* Customizable call-to-actions
* Interactive features which include info pop-ups, surveys, graphics, polls, and so on.
* Supports Facebook and Google retargeting
* Custom branding on the sign-in page
* Provides SMS and email support
* Embeddable opt-in pages that work everywhere
* Integrations with all the top autoresponders
* Zapier integration available
* Detailed and clear analytics
* Free automatic upgrade for 1 year
Pros
No hosting required
Tons of ready-made templates
Many engagement & sales boosters
Very much cost-effective
24*6 Customer support
Consists of call-to-actions with clickable buttons
Many interactive features like live polls, surveys, etc.
Cons
Pricing
Webinarloop offers 3 comprehensive pricing plans to suit the needs of its users:
Elite Monthly Payment- $9.95
Elite Yearly Payment- $37.00
2. WebinarJam
WebinarJam is a webinar platform that mainly focuses on using webinars to sell but you can use it for other purposes as well.
If you have a large audience, then WebinarJam is the best software for you as it allows nearly 5000 audiences to engage in a webinar.
People are allowed to join from any device of their choice, be it desktop, mobile, tablet, and so on.
There are various other cool features that are mentioned below.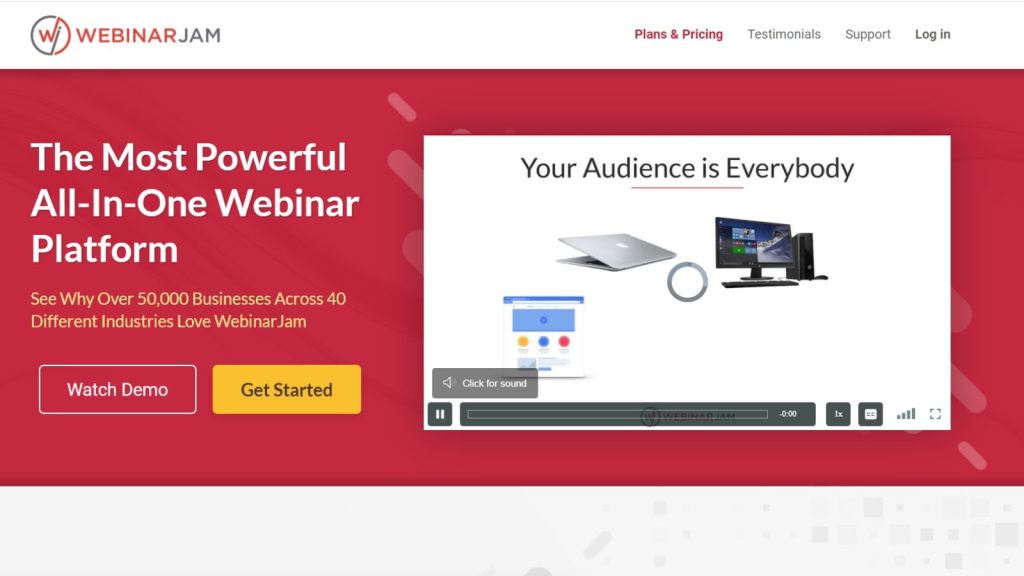 Key features
* Consists of a drawing board to create screen annotations or draw
* Multiple scheduling and registering options that are fully customizable
* Simple, easy-to-understand analytics
* HD videos
* One-click registration
* Email and SMS text reminders and follow-ups
* Polls, surveys, and other interactive tools
* Tons of integrations available
* Can also push to YouTube or Facebook Live
Pros
It is super easy to set up
Works in all browsers, devices, and OS
Up to 6 presenters can appear on one screen
Offers advanced chatting options with moderators
Excellent customer service
Cons
If you want to create on-demand or automated webinars, you must purchase EverWebinar
The sound sometimes get delayed up to a few seconds
Pricing
WebinarJam offers 3 comprehensive pricing plans to suit the needs of its users:
Basic plan: $499/year up to 500 attendees
Professional plan: $699/year up to 2000 attendees
Enterprise plan: $999/year up to 5000 attendees
3. Demio
Demio is a hassle-free webinar marketing software for marketers which has quite an impressive list of customers.
This software provides an amazing webinar experience for both hosts and audiences. It comes with plenty of customizable options and flexible pricing plans.
With Demio, you will have the power to choose whether to go live or launch an automated campaign.
The streams are available in complete HD quality and you will have the option to share your screen and webcam without any interruption while the video is being played during the session.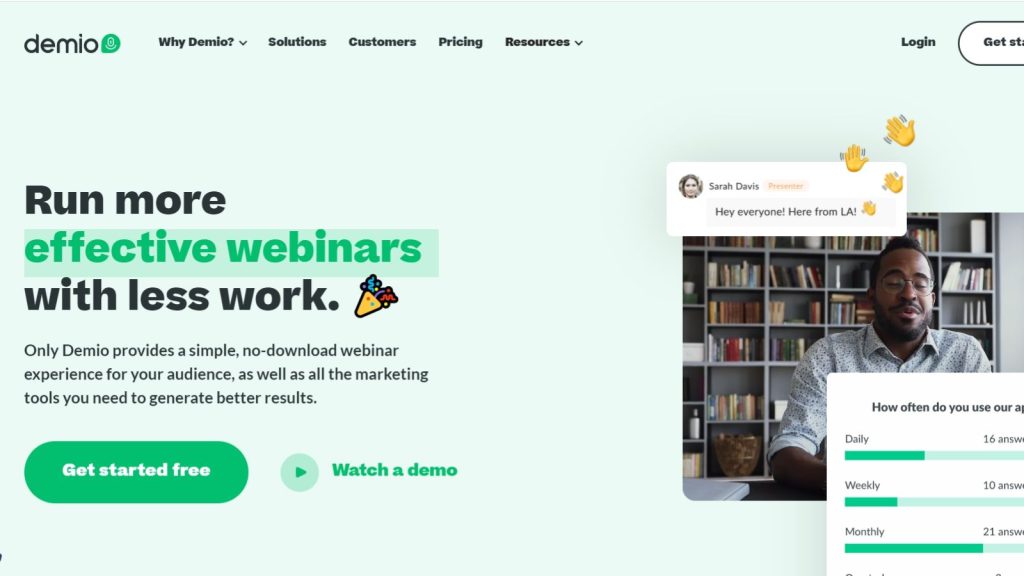 Key features
* Multiple types of sessions (use pre-recorded videos, go live, or combine both)
* Neat statistics that provides proper insights into your webinar performance
* Interactive polls and surveys
* Lots of integrations available
* Automates webinar replays to build an email list
* Chats, handouts makes a great waiting room experience
* Event reminders and email automation
* Live and automated webinars can be conducted
* Automated emails go out as a reminder of the upcoming event.
Pros
Offers a 14-day trial run
Easy to integrate marketing tools
No software to download as it is 100% browser-based
Customizable logos can be added to match your brand
Simple & very easy to setup
Cons
Too expensive for small businesses when the attendees count rises above 50
No registration page conversion analytics.
Pricing
Demio offers 3 comprehensive pricing plans to suit the needs of its users:
Starter plan: $34/month (billed annually) for 50 attendees
Growth plan: $69/month (billed annually) for 150 attendees
Premium plan: $163/month (billed annually) for 500 attendees
4. LiveWebinar
LiveWebinar is a cloud-based webinar software that helps to host webinars with more than 1000 participants.
There is no need to download and install the application to join or conduct an online meet. All you need to do is visit your internet browser directly and you can start your webinar.
Also, you can embed any type of webinar into your site.
LiveWebinar consists of a whiteboard feature that helps to turn stale deck slides into dynamic learning opportunities.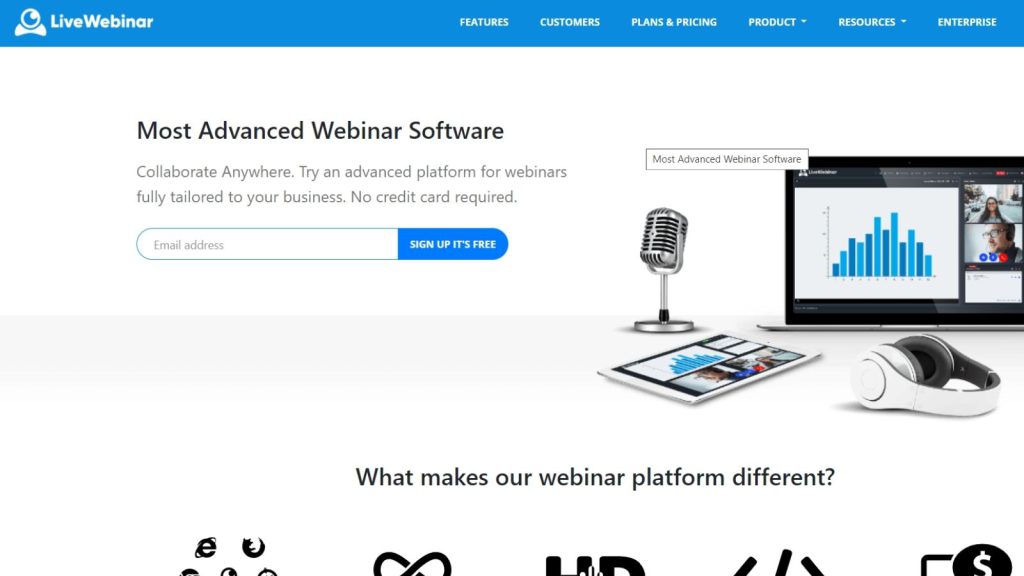 Key features
Incorporates Prezi forms into your presentation so you can earn and keep your attendees closer
Exceptional interactive features help to enhance feedback and participation.
Helps to connect with attendees through emails, text messages, and calls
Can easily assign roles for online meeting participants and webinars
Tons of integrations are available
Translates chats into a preferred language in real-time
Enables playing YouTube video in webinar rooms
Pros
Can record live webinars in full HD
Interactive polls, surveys are available
Offers a free trial for up to 5 attendees
Consists of a whiteboard feature
Quite a responsive customer support
Cons
Issues while upgrading the software
Complicated User Interface
Pricing
LiveWebinar offers 3 comprehensive pricing plans to suit the needs of its users:
Pro Plan: $11.99/month (billed annually) for up to 100 attendees
Business Plan: $95.20/month (billed annually) for up to 500 attendees
Custom Plan: This has custom pricing plans for over 1000 attendees.
5. ClickMeeting
ClickMeeting is a browser-based webinar software with a user-friendly interface that makes it easy for small businesses to operate smoothly.
With this software, you can easily prepare a presentation and invite people to your webinar with a few clicks.
It makes it easy for you to run smooth, live, and automated webinars regardless of the device you're using.
ClickMeeting is an all-in-one and well-integrated platform which provides options for automated webinars and customized invites.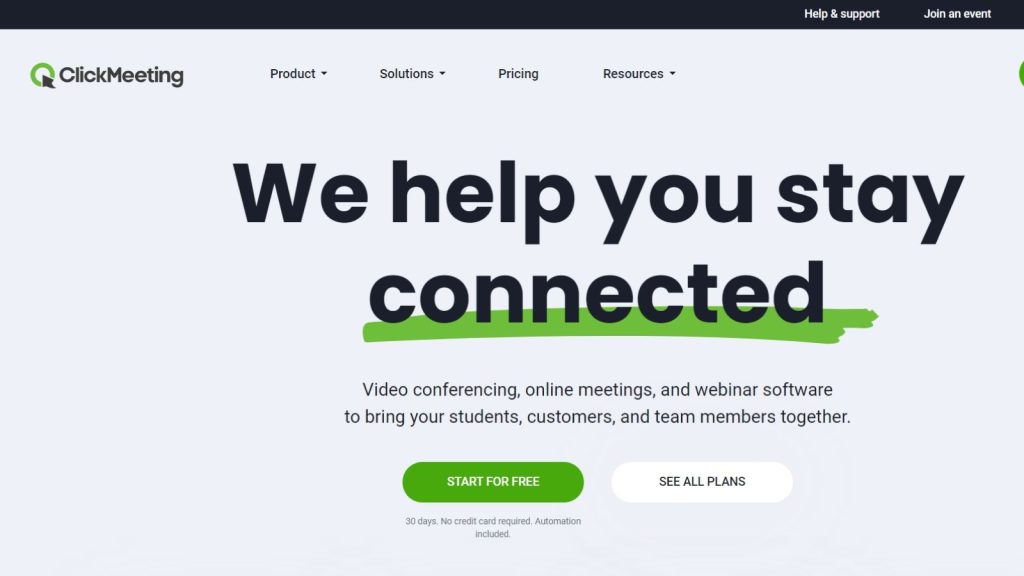 Key features
* Allows customization of webinars.
* Recording the webinar
* Offers interactive tools like videos, whiteboard, and live chat.
* Offers surveys and polls for feedback
* Can be connected to YouTube and Facebook to increase engagement
* Multiple presenters are allowed to present
* Customizable call-to-actions
* Custom branding
* Has an amazing mobile app to create webinars on the go.
Pros
Offers a free trial run for 30 days
Provides HD video presentation for multiple presenters
Has a mobile application
Excellent customer service
Cons
No break-out sessions
Unable to schedule recurring meetings
Pricing
ClickMeeting offers 3 comprehensive pricing plans to suit the needs of its users:
Live plan: $119/month (billed annually) for 200 attendees
Automated plan: $145/month (billed annually) for 200 attendees
Enterprise plan: Perfect for companies seeking a scalable solution as it helps to organize huge virtual meetings for up to 10,000 people.
6. WebinarNinja
WebinarNinja is an all-in-one webinar marketing platform that consists of all the tools required to run a successful webinar.
This software helps to host live webinars and provides a highly interactive experience to its attendees. It also allows you to record and automate your webinars for people who have missed the live session.
WebinarNinja consists of top marketing tools which help to track attendance and conversion rates.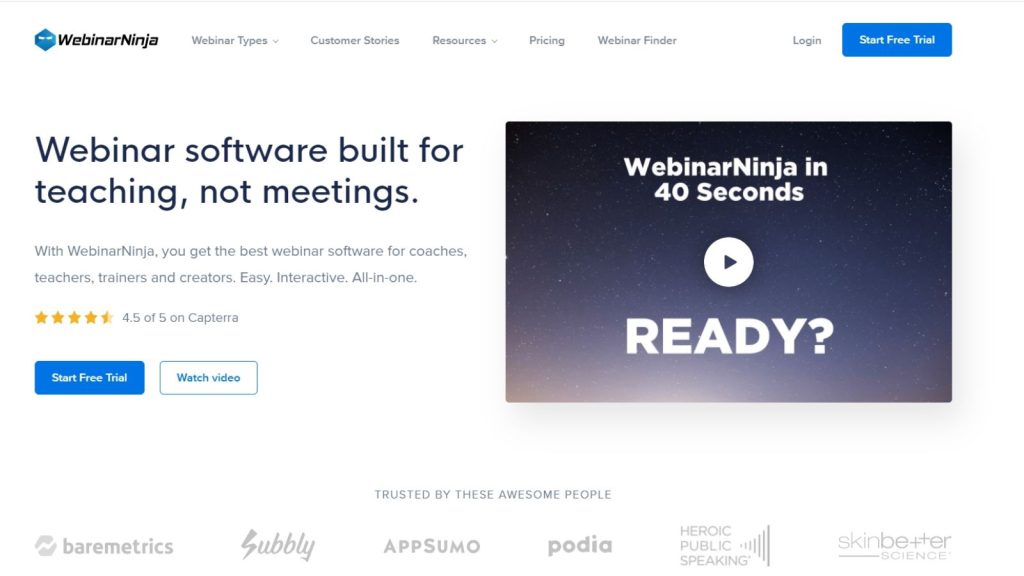 Key features
* Automated webinars that can be scheduled to run at a certain time
* Multiple polls and surveys
* Email automation and drip campaigns
* Proper analytics dashboard
* High converting and custom registration landing pages
* Integration with 1000+ apps with Zapier
* Can insert your Facebook Ad tracking pixel
* Ability to run free webinars or paid virtual summits
Pros
Superfast live chat
Easy to use
Interactive polls and surveys
Offers highly customizable templates
Cons
Difficult to navigate the backend
Glitches in audio going in and out
Takes a longer time to open presentations
Pricing
WebinarNinja offers 3 comprehensive pricing plans to suit the needs of its users:
Starter plan: $39/month billed annually
Pro plan: $79/month billed annually
Plus plan: $129/month billed annually
7. GoToWebinar
GoToWebinar is one of the oldest and the most popular webinar tools that are used by big businesses.
It has got lots of useful tools and features that help to plan, host, analyze, and promote your webinars.
GoToWebinar platform supports everyone. Whether you're doing your first webinar or you get thousands of attendees every week.
This software enables you to customize the look and its feel to match your brand.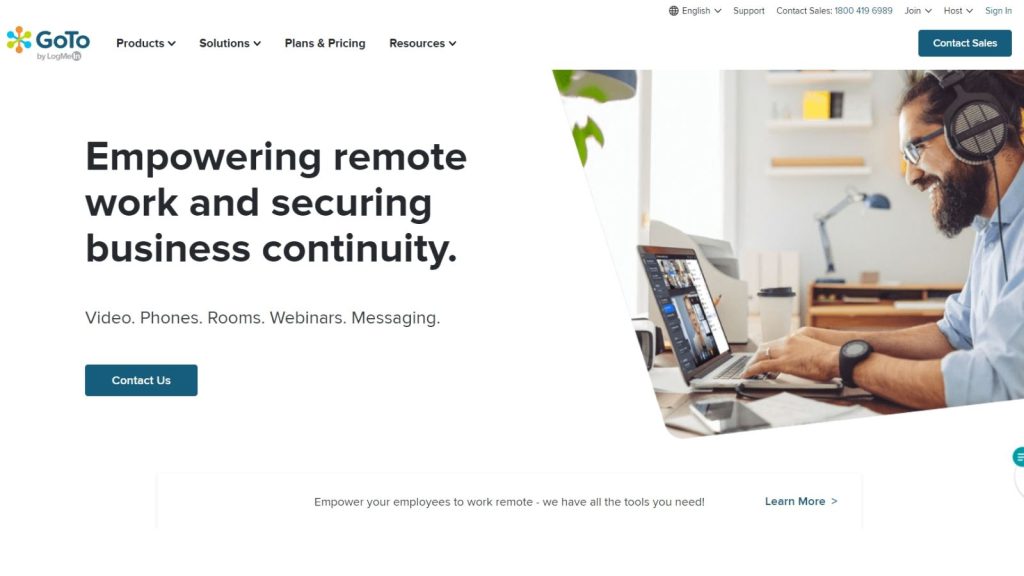 Key features
Integration with GoToMeeting
Integration with Zapier, Unbounce, Salesforce, etc
Pre-recorded events
Detailed analytics
Consists of a video editor and transcripts
Allows video embedding
Breakout rooms
Interactive features like live chat, polls, etc
Accepts payments
Pros
HD quality video
In-built polls & surveys
Recording can be shared online
Excellent customer support
Offers a 7-day trial run
Cons
Outdated software
Need to upload the recorded file to the cloud manually
Presenters & participants need to download certain software to use this platform
Pricing
GoToWebinar offers 3 comprehensive pricing plans to suit the needs of its users:
Starter plan: $89/month (billed annually) for 100 participants
Pro plan: $199/month (billed annually) for 500 participants
Plus plan: $429/month (billed annually) for 1000 participants
Conclusion
Choosing the right webinar software helps you to find a solution that allows you to deploy information in a straightforward and simple manner.
The webinar tools mentioned above are the 7 best tools that can help you to create a successful webinar to increase your sales tremendously.
Subscribe to our newsletter
We'll keep you in the loop on our best advice and strategies for social media marketing and growing a small business.

Back To Homepage