8 Incredible Ways To Make Money From YouTube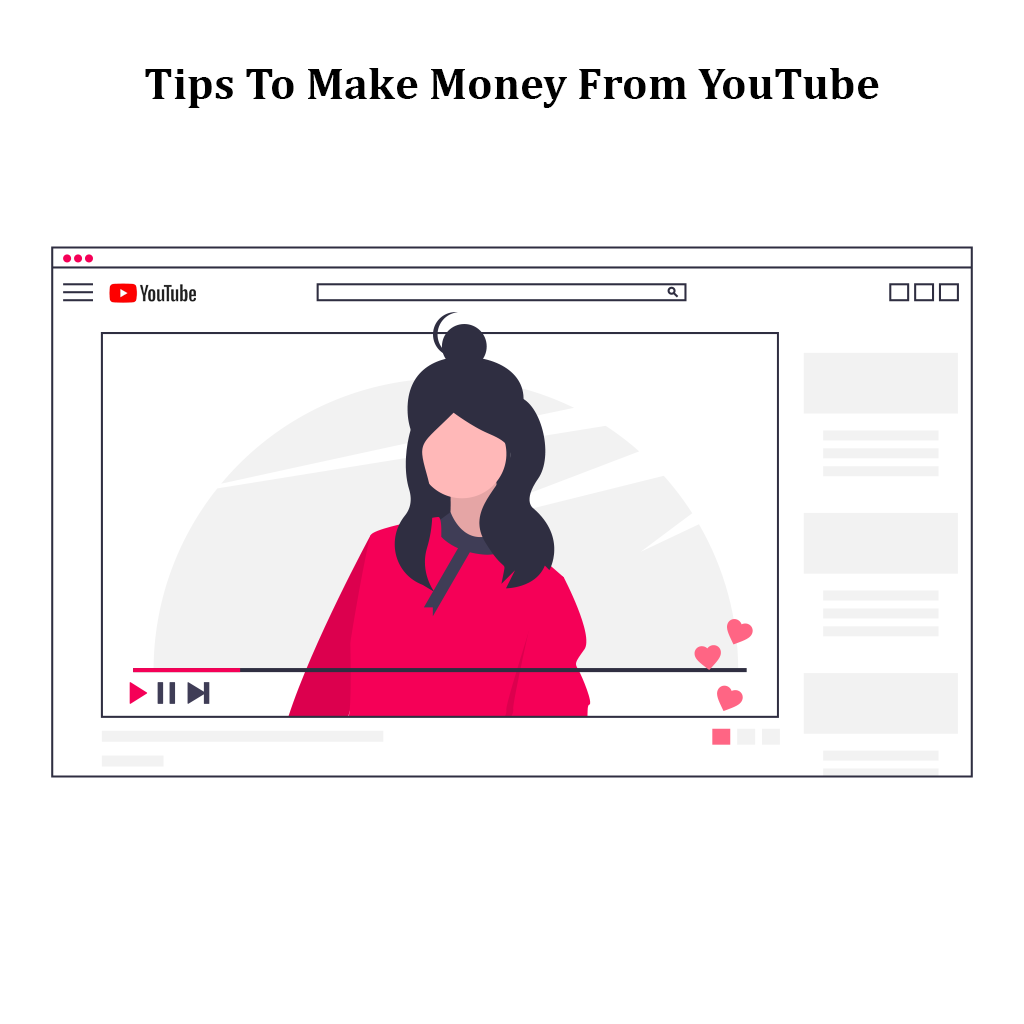 Are you looking for a great opportunity to earn some money while sitting at home?
YouTube, being the second largest search engine, gives you the golden opportunity to bring home some extra cash.
Wondering how?
Most people think monetizing their YouTube channel is enough to earn money from YouTube. They get misled by the belief that having a lot of subscribers & views is enough. They are wrong!
There are many other factors like channel engagement, watch time that are equally important to make money on YouTube.
In this blog, we're going to discuss 8 proven ways to make money on YouTube.
So, let's get started!
# Earn Money from YouTube Ads
Well, this is the most common way to earn from Youtube. You can start earning by simply placing ads on you. YouTube videos once you meet the minimum requirements.
You will need a Google AdSense account to get paid. You will also need to meet YouTube's minimum monetization requirement. It is 1,000 subscribers and over 4,000 hours of view time in the last 1 year.
Once you meet this criterion YouTube will enroll you in the YouTube Partner Program and start showing ads on your videos. These ads may be display ads, video ads, overlay ads.
It is an amazing opportunity to earn a regular income but you need to make sure that you get enough views.
YouTube also has a subscription program where users pay YouTube to remove ads. YouTube distributes a share of the subscriber revenue to the channel owners based on the videos that subscribers watch.
# Get your fans to pay you directly
Getting your fans to pay you directly is also a popular way through which you can earn a good amount from YouTube.
This is one of the easiest & effortless ways. All you have to do is ask your fans to show their appreciation with their credit/debit card.
# Get paid from your fanbase using YouTube features
a) Ask them to sign up as YouTube Premium member - If they sign up you get paid a small share of the revenue when they watch your videos. Just remember it's not going to be much because YouTube distributes their revenues over all the videos they watch.
b) Persuade your fans to become members of your channel- This feature is available to established YouTubers. You can start a membership program and people can pay a monthly fee to show their support. You can give your subscribers a special status or even create premium content for them. Apart from that, they will also get custom emojis & badges.
c) Host a super chat- Start a super chat where your subscribers will pay you some amount to make their comment visible in the live chat. Again, this is a premium feature. If you go live often and you have a good viewer base you can enable Super chat and people who chat with you during live chat can pay to highlight messages. The amount depends on how much time they want their comment to appear in that section.
# Recommend Affiliate Products
If you want to earn from ads on YouTube, you will need to have a huge subscribers count.
So, when your channel is at the initial stage, you cannot just blindly rely on YouTube ads when it comes to earning money. Can you?
In that case, if you don't want to just sit back and watch your subscribers count going up slowly, you can opt for affiliate marketing & review products.
Collaborate with different brands and review their products on YouTube to get commission.
You can find companies that are looking for affiliates on marketplaces like ClickBank, JVZoo, or check if your favorite products have an affiliate program. This is a great way to earn a good commission when your channel is at the initial stage.
Many marketers who have started working on this strategy are successful YouTubers now. So, don't wait any longer & get started as an affiliate marketer.
# Provide Content License to others
Now, this strategy requires your video to go viral..
So, if you are able to create a video that gets viral, you will have an amazing opportunity to earn money by just licensing your content to others.
Wondering how is that possible?
Well, once your video goes viral and is in demand, news outlets & media will require your video to play it on their channel. If your video is licensed, news channels & outlets will have to pay you an amount. To achieve their target, they will pay you a handsome amount of money.
Sounds easy?
It is simple & easy but only if you can make your video viral enough to reach that stage.
# Turn to crowdfunding
Crowdfunding is another popular way to get some amount from your subscribers.
YouTube has recently started allowing crowdfunding where users can ask their subscribers to donate some amount of money.
If you've built a loyal following, you can encourage your followers to crowdfund your channel.
Crowdfunding is usually done for some specific projects or tasks that need to be done quickly. So, if your aim is to collect a huge amount of money within a short time frame, then crowdfunding can do wonders!
# Sell your video editing skills
YouTube is the second largest search engine with more than 2 billion active users.
If you're a marketer, you would definitely want to promote your products & services on YouTube in order to reach those 2 billion people.
But it's not easy to make a video and upload it on YouTube expecting it to go viral someday. To attract more viewers to your videos, it's important to make the videos engaging enough to grab attention.
And do you think it's easy to create such videos?
It's not!! Creating a video full of twists and turns, animations, & different other effects, creators would require someone who can edit their videos in a better way that will look professional.
If you think you're a good editor, showcase your skills on YouTube and grab your clients who are willing to work with you.
Charge your clients based on the time and the type of editing required.. And very soon, you'll become a professional video editor.
# Use the best YouTube SEO tools to boost your YouTube rankings
If you've not yet built some genuine followers on YouTube, it's high time you should!
None of the above mentioned strategies are going to work if you are unable to boost your views or subscribers on YouTube.
Wondering how to step up your game and stand out from the crowd?
Well, for that you would require excessive keyword research & competitor analysis. That's not an easy task to do!!
Hence, to make it easier, you must get the best tool that can automate the YouTube marketing process for you and get you the best results.
The best tool in this category would be Tuberank Jeet 4! It's an all-in-one tool that will analyze your video properly & boost it to rank #1 on YouTube.
Sounds amazing?
So, don't wait any longer & get this tool at only $67 at a yearly subscription. For more information, click here- https://tuberankjeet.com/
CONCLUSION
Now you're well aware of the various ways that can get you some money from YouTube.
Nowadays, YouTubers are earning a lot of money from YouTube & if you're a content creator, you must not miss this golden opportunity.
So, which way out of these 7 do you think is the most effective one? Comment below your opinion.. Also, don't forget to add your own points in the comments section if we missed any!
Subscribe to our newsletter
We'll keep you in the loop on our best advice and strategies for social media marketing and growing a small business.

Back To Homepage