7 Quick & Proven Ways To Make Money From Blogging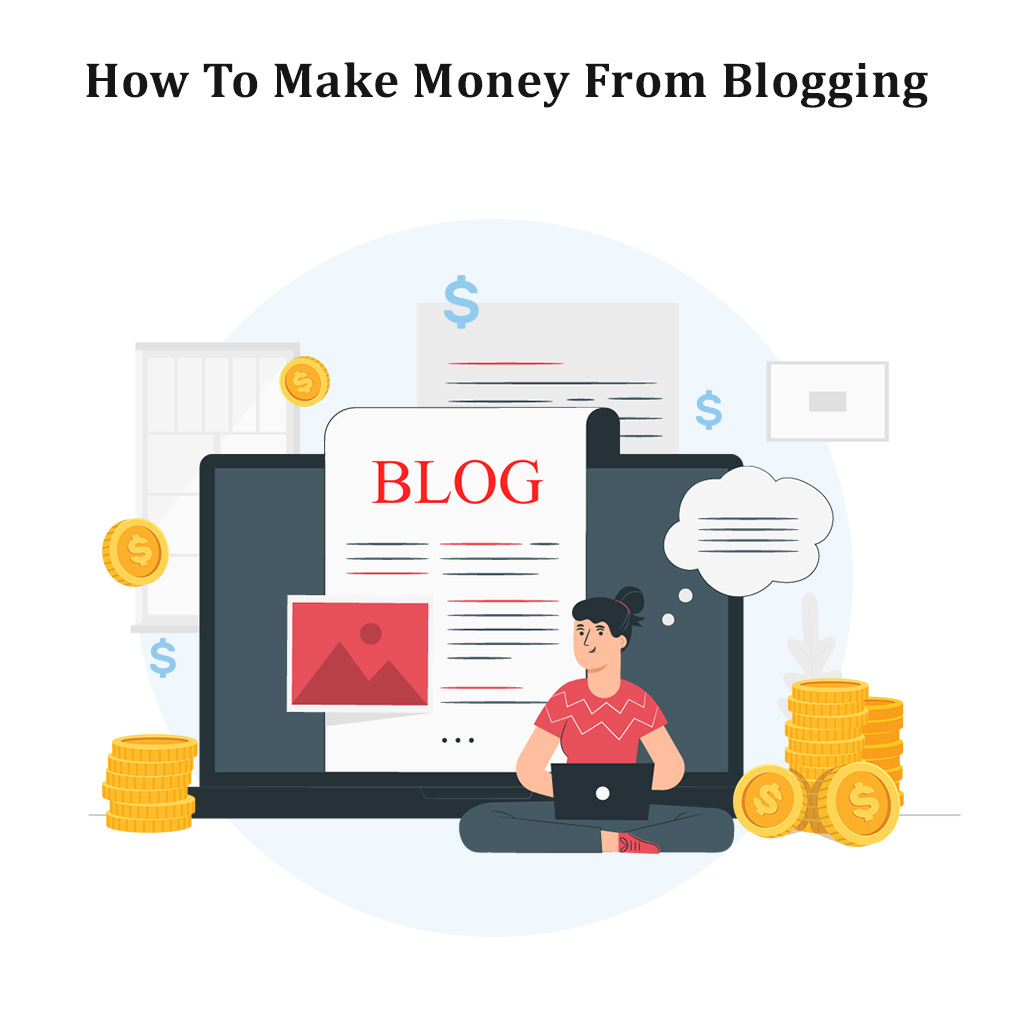 Thinking blogging to be just a hobby?
Think again! It can actually bring you quite a lot of money.
Well, let's be honest. Blogging is not the easiest way to make money because it requires a lot of hard work & time. But the best thing about blogging is that anyone can do it while sitting at home.
You can work on your blogs at your own time & there is no limit to the amount of money you can make.
If people start liking your blogs, you will become popular and Google Bots will start ranking your blogs on the top of search engines. Ultimately, you'll start earning money from your blogs.
Whether you're looking to build your blog as a brand or use it simply as a promotional tool, there are millions of ways to monetize a blog when you start generating consistent traffic.
Wondering how to monetize your blog? How much can you earn from your blogs? How to earn money from blogging?
You're at the right place!
This blog will provide you with the answers to all your questions regarding money blogging. So, let's get started!
How much money can I make from Blogging?
How much money can I make from blogging?- This is the first question that will come to your mind when you think of building your blogs as a brand.
Well, there is no direct answer to this question because there is no fixed income unlike your full-time job! If your blogs are helpful & attractive enough for readers, you can earn a huge amount of money that you've never thought of.
Mainly, it depends on some factors like which niche you are picking, how much time you are giving to implement strategies, whether you're implementing the right strategy or not, which tools you are using to drive traffic on your blogs, and so on.
If you have good SEO skills & the right tool in hand, you can grab success quickly in the field of blogging.
So now, let us know about some effective ways to make money from Blogging.
How to earn money from blogging?
1. Promote products via Affiliate Marketing
Affiliate Marketing is a passive method of earning income where you just need to promote other people's products on your blog.
This is quite common nowadays!
When a visitor comes to your website and buys that product by tapping on the link on your blog then you will earn a commission amount for that sales.
When you promote a product, you will be given a tracking link, which is known as the UTM code. It will place a cookie inside and will track the purchase history of that user.
This is the fastest way to make money from Blogging because you will get the commission amount from the start itself depending on the sales.
Well, the commission amount is not fixed because it depends on the program you select. Usually, the commission percentage is between 5% to 500%.
Once you have analyzed which products are converting on your blog, then you can plan further strategies that can help you to make some serious money.
2. Run Ads through your sites
This is the basic way to make money from Blogging where you need to run ads on your website.
There are various types of ads that you can place but make sure that it is not interrupting the surfing process of the visitors.
One of the most popular programs is Google AdSense. You have to get your website approved at Google AdSense to run ads.
To run display ads, you need to sign up for Google AdSense. It pays an RPM of around $6-$10 and doesn't have any minimum traffic requirements.
The more your pageviews, the better lucrative display ads you can sign up for.
But once you get many visitors to your website, you don't need to put in more effort to get this income continuously. So, it is an amazing way to make money from Blogging.
3. Sell Digital Products
Another way to make money from blogging is to sell digital products through your blogs.
Digital products are intangible that are sold in digital form. The digital products can be eBooks, Digital tools, online courses, web-based apps, etc.
The benefit is that you don't need to do any inventory management, which is required while selling products in traditional business.
You can sell digital products anytime, once it gets ready, just bring them to the market with the help of your website.
Users can sell a digital product to multiple users and can generate a good amount from that.
But it is not as easy as it seems because you are not going to be free after selling the products. You may need to provide the best customer service to the buyers.
You always need to stay alert whenever there is a new update to the product. As soon as you see a new update, you need to update your blog as well.
4. Create an Ecourse
If you have some skills that you want to explore or readers want from you in that particular area, you can create an Ecourse for them.
Yes, you can start earning by just selling some courses to the users.
You just need to monetize your skill-based course and can generate a good amount by selling them.
Creating an Ecourse is not tough as it seems, there are many tools like Udemy, CourseFunnels, etc providing some amazing features that make the whole course creation process easy.
These platforms allow you to create courses from 30 minutes to 30 hours. A long course always gets more expensive because the things are given in-depth.
So, just start creating an Ecourse and generate good revenue from it.
5. Start Guest Posting
If you have an establishment that is getting significant traffic then you can earn a good amount by allowing guest posting.
This is an amazing way to monetize your blog. You will also get some free content from other business websites.
Guest Posting is a post that is written by other websites for you so that they can access or redirect your audience to their blog also. The main aim or guest posting is building backlinks. Backlinks are an effective way to increase your ranks on Google.
The Guest Posting charges depend on several factors and you can charge a good amount in between $50 - $150 per post.
This is an amazing way to earn a good amount by allowing guest posting for other websites. The only thing you need to make sure is that you should have significant traffic on your blogs. Only then, you will be able to make money from it.
6. Post Coaching/Consulting Blogs
Another way to make money is to post coaching/consulting blogs.
Sometimes people want more detailed information than just a book and they prefer to go with coaching or consulting.
Many blog owners are using this strategy to sell their courses and books to start a revenue program.
It is always recommended that consulting can be an effective strategy from the start and you need to target the right traffic.
With consulting, it is not about just traffic, it is about quality traffic in which users are ready to pay you.
So, you just need to write coaching or consulting blogs accordingly so that you can get some conversion.
7. Sell Physical Products
Selling Physical products is another way to make money from Blogging. You just need to sell items related to your niche.
If you are having a fitness website then you can start selling supplements or fitness-related products to get more sales.
Well, physical products can also be sold through Amazon Affiliate but if your niche is not coming in that category then you can sell your products on your own.
Like, if you have an art and craft website then you can sell things from your website directly. You need to do stock management, which requires a lot of time and some investment.
If you can do investment then you should start selling your products instead of profit cutting commissions.
If you don't have time then you can hire someone who will do all the listing for you and you can earn a huge amount.
So you have multiple options to earn a decent amount by selling physical products.
Summary
So these were some of the best ways to make money from blogging. Now you can decide which ways are convenient for you to implement.
You also need to make sure that you have good traffic on your website.
That's possible only when you are implementing the best SEO strategies to improve the domain authority of your website.
In that case, Postifluence can help!
Postifluence is a great platform that helps in building fantastic and organic links to your websites. It is a platform that helps you reach out to influencers, bloggers and website owners to get them to create a guest post for you on full autopilot.
So, what's your favorite way of earning money from blogs? Comment below.
Subscribe to our newsletter
We'll keep you in the loop on our best advice and strategies for social media marketing and growing a small business.

Back To Homepage