Top 5 SEO Tools To Skyrocket Your Rankings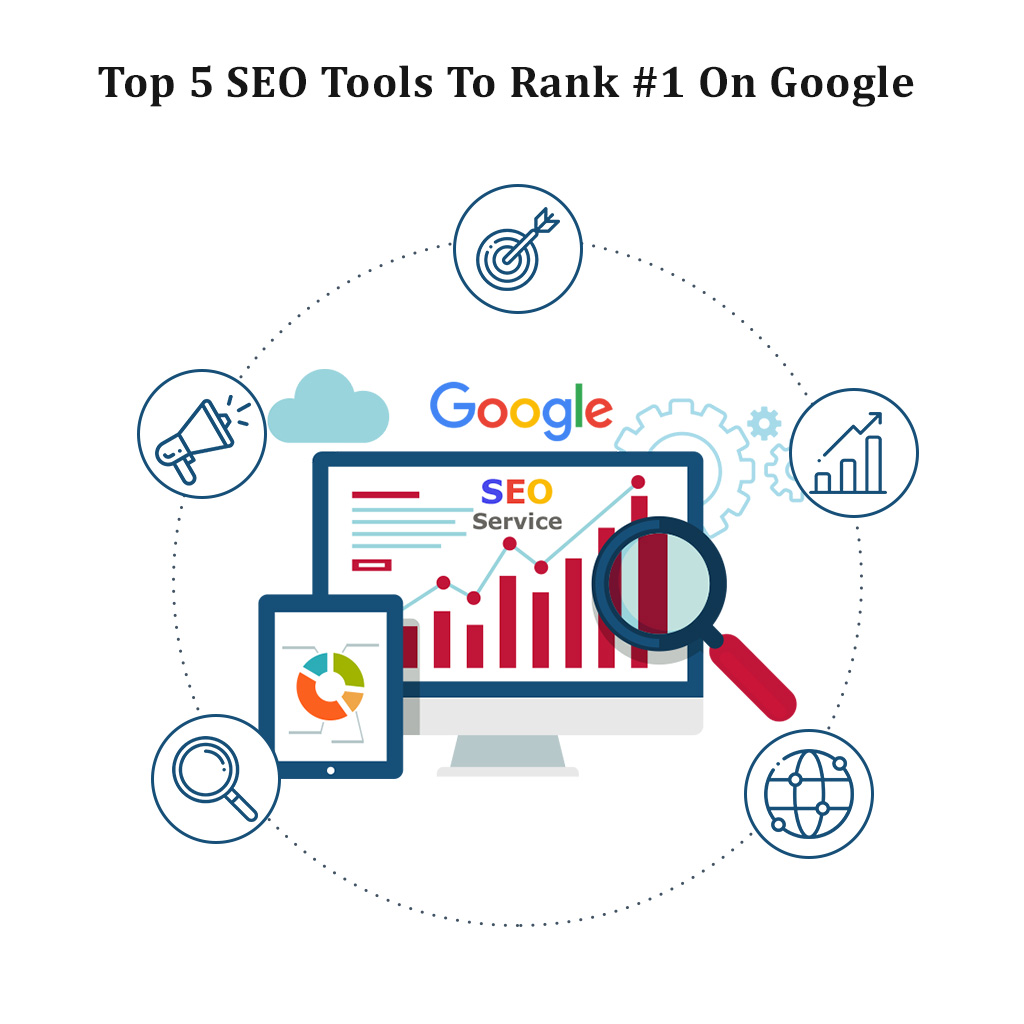 Struggling to rank at the top of the SERPs?
You're not alone!
There are millions of people who are trying to find a quicker & easier way to rank at the top of the first page of Google. If you want to create a strong brand image and stand ahead of the competition, SEO is a must.
Whether you want to start a blog or an eCommerce company, you need website traffic and to get organic traffic, it is important to rank on Google.
It's amazing to see the difference a good SEO tool can make and how easily it can reduce your effort to give you effective results.
Unfortunately, very few people end up choosing the right SEO tools for their businesses.
Wondering how to choose the right SEO tool for your business?
That's quite difficult & time consuming especially if you're just starting out. Hence, we have shortlisted the 5 best SEO tools that are fast and easy to use.
1. Postifluence
Postifluence is a powerful SEO tool that helps you to drive excessive organic traffic to your website and rank at the top of the SERPs. Searching for the best guest posting sites may take a lot of time if done manually and so this tool helps in finding the top ranking blogs & websites for guest posting & drives organic traffic from there.
Postifluence is a great platform to build organic backlinks to your websites. It is a platform that will help you to reach out to the top bloggers, influencers, and website owners to create a guest post for you on complete autopilot.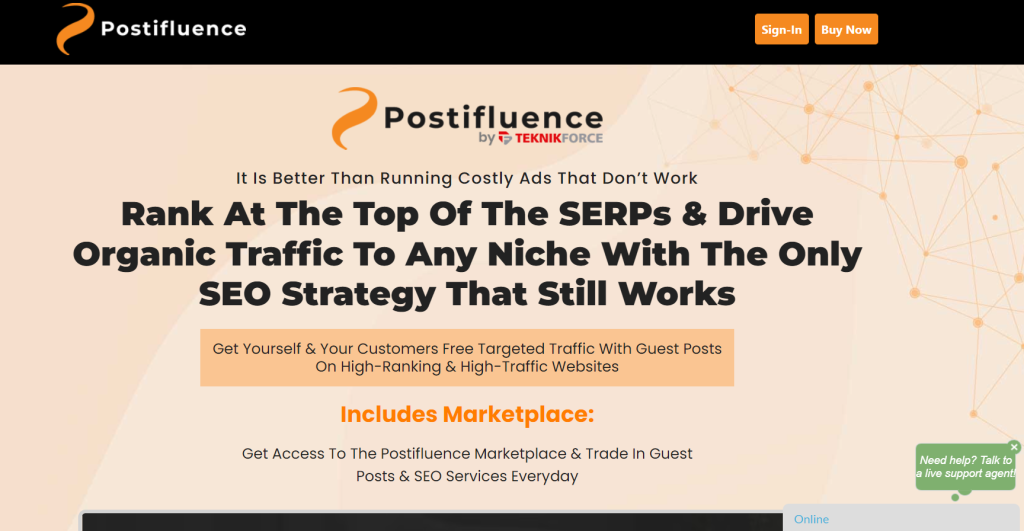 Key features
Helps in discovering the best Blogs and Sites on any niche.
Builds listings at a very affordable price.
Maximize your reachout with Gmail, GSuite, SMTP, etc
SpinText makes every mail and SMS unique.
Creates email templates for the campaigns and can use them in the future also
Detailed analytics on dashboard about what's happening
Analyzes marketplace listings and collaborate with others for links
Runs effective SMS campaigns to reach the users directly
Creates and Monitors Email Outreach Campaigns
It is 100% safe and considered as White Hat SEO because every link you get is organic
Includes free training on how to do SEO for effective results
Automated system helps in reaching bloggers through SMS and Email
Updates record and provides you the latest ranking data
Keeps the shortlist of blogs to reach them anytime
Helps in promoting any type of business
Pros
Easy to use
Offers 24*6 live support
30 days moneyback guarantee
The pricing plans are very much affordable for small businesses
Updates itself according to the new trends
Cons
Haven't found any disadvantage of Postifluence so far.
Pricing
Postifluence offers 2 comprehensive pricing plans to suit the needs of its users:
Elite yearly payment- $67/year
Elite monthly payment- $17/month
2. Ahrefs
Ahrefs is one of the most recommended SEO resources that analyzes your website properly and provides you with the perfect keywords and links to help you rank on the SERPs.
If you're looking for an effective tool to improve the SEO performance of your website, Ahrefs is the way to go. This tool is mainly used for competitive analysis, keyword research, backlink audits, URL rankings, and many more.
Key features
Analyzes your competitor's backlinks
Helps to to find the most shared content
Finds relevant keywords
Provides the ranking history of all the keywords used
Shows outgoing links report in the site explorer
Offers a detailed backlinks analysis report
Pros
Advanced filtering tools for power users
Huge web link index
Excessive tutorials & documentations
Knowledgeable user support
Cons
API integration must be improved
No mobile apps
Pricing
Ahrefs offers 4 comprehensive pricing plans to suit the needs of its users:
Plan annually:
Lite- $990/year
Standard- $1990/year
Advanced- $3990/year
Enterprise- $9990/year
Pay monthly:
Lite- $99/month
Standard- $199/month
Advanced- $399/month
Enterprise- $999/month
3. SEMrush
SEMrush offers numerous resources and one among them is the SEO toolkit. This toolkit allows you to identify which keyword it is ranking for and also helps to track your website's visibility improvement over time, and many more.
SEMrush will help you not only with understanding the SEO strategies of your competitors but also provide you with the best help for PPC, backlinks, ad campaigns, SERP, keyword research, and so on.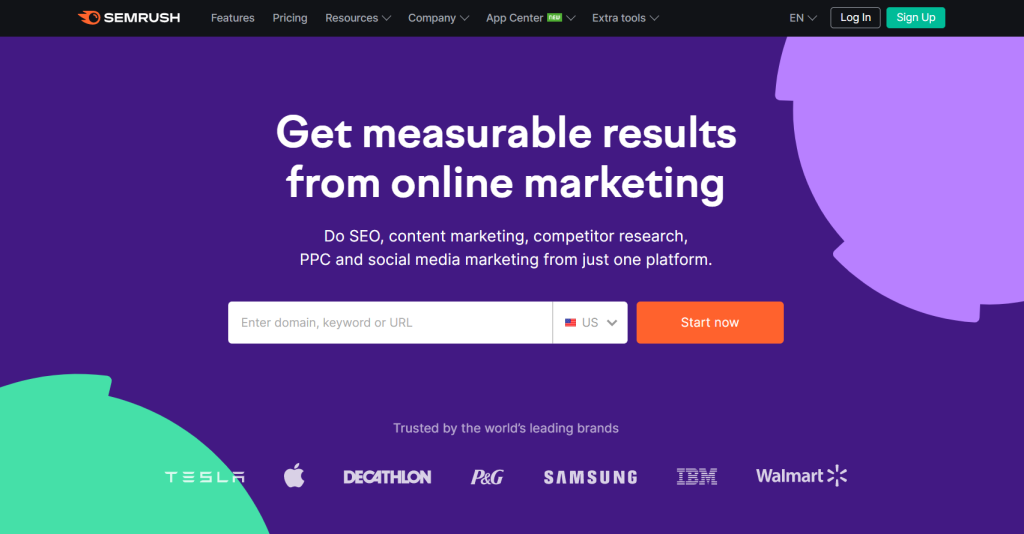 Key features
Builds organic backlinks
Use the keyword magic tool to identify the keywords and build a successful SEO strategy.
Helps to see your competitor's SEO strategy
Provides a structured list of SEO actions to boost organic traffic
Analyzes ad budgets of your competitors
Pros
Comprehensive toolkit
Finds good advertising opportunities for CPC
Informative robust dashboard
Analyzes competitors' metrics
Cons
Uses complicated terminology
Quite expensive. You need to pay a hefty amount to access its advanced features.
Little complicated for newbies
Pricing
SEMrush offers 3 comprehensive pricing plans to suit the needs of its users:
Plan annually:
Pro- $99.95/month (billed annually)
Guru- $191.62/month (billed annually)
Business- $374.95/month (billed annually)
Plan monthly:
Pro- $119.95/month
Guru- $229.95/month
Business- $449.95/month
4. Long Tail Pro
Long tail pro is a keyword research tool that helps to explore profitable and targeted keywords. This tool also helps to calculate the competitiveness of each keyword for any niche of your choice.
Long tail pro is indeed a great tool for SEO marketers and experts who are working on their keyword research strategy. It's hard to find long tail keywords manually and so tools like Long Tail Pro are helpful at times.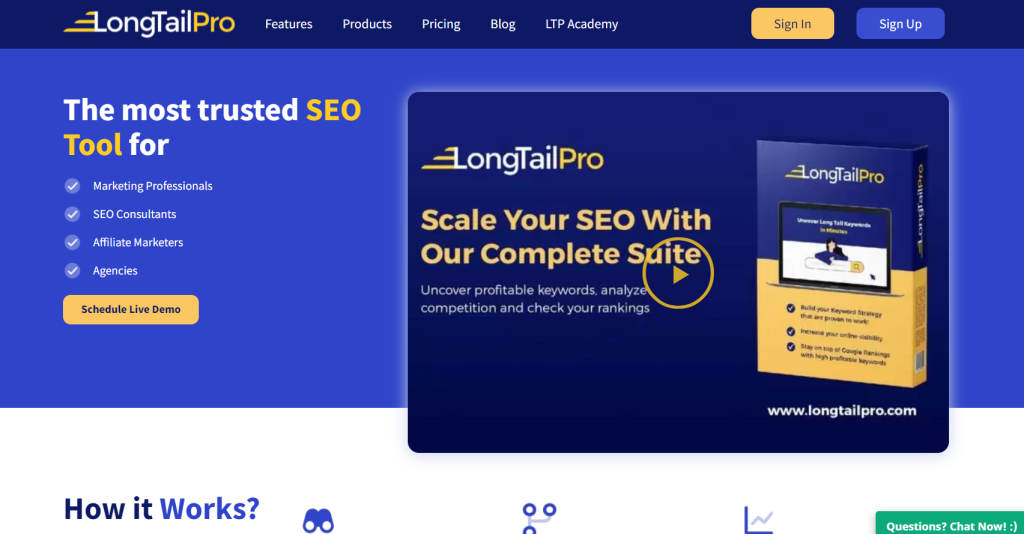 Key features
Generates keywords based on your seed keyword
Allows importing keywords
Helps to search for some long tail high-CPC keywords
Discovers profitable keywords that are easy to rank
Builds a strong strategy from a deep analysis
Monitors & offers better backlink building opportunities
Scans & eliminates the technical SEO issues
Pros
Finds competitive keywords
Generates long-tail keywords easily
Easy to use
Rank tracker is quite accurate
Keyword competitiveness score is excellent
Offers email & chat support
Cons
Manual keywords are limited
Does not help in analyzing the backlinks
Limited seed keywords
Pricing
Long Tail Pro offers 3 comprehensive pricing plans to suit the needs of its users:
Plan annually:
Starter- $297/year
Pro- $537/year
Agency- $1177/year
Plan monthly:
Starter- $37/month
Pro- $67/month
Agency- $147/month
5. Growth Bar
GrowthBar is an SEO tool that allows you to perform proper keyword research, keyword tracking, competitor analysis, and content generation easily with the help of its powerful AI. It also offers an extension for Google Chrome that offers SEO analysis directly from the Google search results.
It's a great software for bloggers as it helps them to create content & rank them in just a few clicks.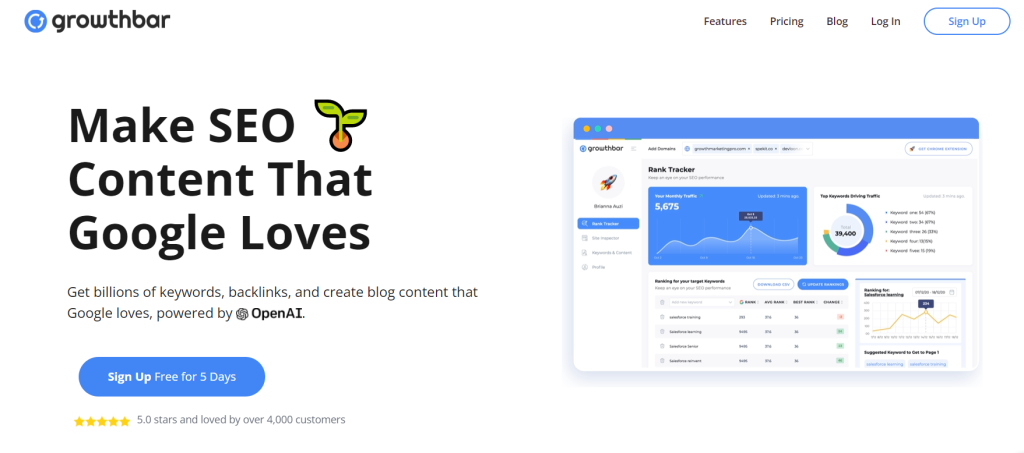 Key features
Provides the word count of any page directly from the SERPs
Gives a visual of effective Facebook ads and how they look like from the perspective of a search engine
Helps to see which paid & organic keywords are driving the most traffic
Gives a list of keywords that might help to rank on Google
Checks competitors' rankings and gives a proper result
Pros
Easy to use
Provides with all the key data you need to execute a simple but effective SEO campaign
No limits to keyword research or domain queries
Offers a 5-day free plan
Cons
Offers a very basic level of backlink monitoring
No keyword difficulty scores are visible
Offers a very high price for 'Pro' & 'Agency' based on the features.
Pricing
Growth Bar offers 3 comprehensive pricing plans to suit the needs of its users:
Standard- $29/month
Pro- $79/month
Agency- $199/month
Conclusion
Now, you're aware of the top 5 SEO tools.
So, if you want to generate a huge amount of traffic to your website, you need to get the best tool for you!
There are many tools out there, but choosing the best one is difficult. Isn't it? So let us help you out!!
If you want to get the best SEO tool, we would recommend you to choose Postifluence which is not only affordable but also feature-rich.
Postifluence is a smart software loaded with powerful features to create awareness and connect with others on a mass scale. This is the ultimate easy income solution that will help you to drive a huge traffic to your website.
Subscribe to our newsletter
We'll keep you in the loop on our best advice and strategies for social media marketing and growing a small business.

Back To Homepage