What Are The Types Of Backlinks Needed To Get Google's First Position?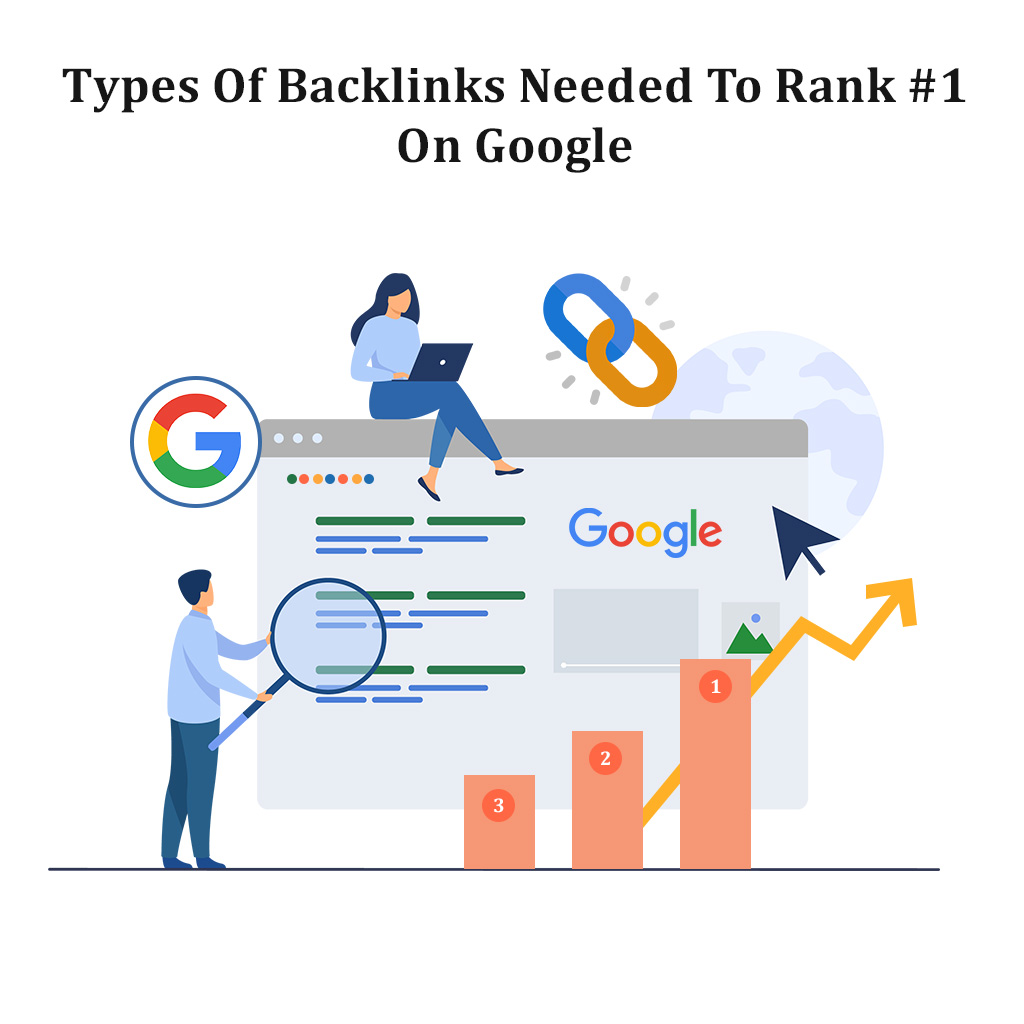 Want to see your blogs ranking on the first page of Google?
When we consider working on building a successful SEO strategy, backlink plays a major role.
Among the 100s of ranking factors that Google uses,there are 2 things that have the greatest impact — a) number & type of backlinks b) quality of content.
This is why, in this blog, we'll explain what backlinks are, why you need them to rank your content on the first page of Google, and the types of backlinks your content needs for ranking.
So, let's get started!
What are backlinks?
Backlinks are the essential component and a very important strategy for SEO.
A backlink can also be called as an inbound link or incoming link. They are the links that are made from one website to another.
Google search engine uses such high-quality backlinks as well as a number of backlinks to rank on the top.
The better the quality of backlinks, the higher is the chance of ranking on top. Why?
Because search engines understand backlinks as a recommendation. If another site is linked to yours, Google believes that your content is of high quality.
While considering SEO, backlinks are the most important aspect of SEO and practices.
Why do you need them?
Search engines rely on backlinks to determine the quality of your content. The more traffic a site gets, the more likely it is to appear in a SERP.
Wondering how search engines determine the quality of your content?
By counting the number of high quality backlinks!
Backlink building is just not necessary for building page authority. It also impacts on acquisition of referral traffic, brand awareness, & building a strong relationship.
Try getting a backlink from websites that rank at the top of the first page of Google. Can you imagine the gain in authority?
That's just because Google trusts that website and your linking to that website develops more trust & the chance of higher ranking also increases.
Types of backlinks
Google algorithms have been changing for many years. Even so, backlinks have always played a significant role in the search engine rankings of websites, and are continuously optimized by marketers.
When it comes to link building types, there is a long list to choose from. In this article, I've outlined 9 different types of backlinks that can be leveraged to get long-term SEO results.
Natural Backlinks
Getting natural backlinks refers to links that you gain because the other websites in the digital space consider your content valuable enough to link to. Therefore, when you put high-quality, user-centric content on your site, you increase the chances of obtaining natural backlinks.
Paid Backlinks
To get higher rankings on search engines, you can buy backlinks from other websites that belong to your niche. Furthermore, you can increase the visibility of your website by using paid backlinks.
Outreach Backlinks
In outreach backlinking, you reach out to other website owners and bloggers to convince them to build a backlink from their site to yours. You can reach out to these people manually and persuade them to do so.
Editorial Backlinks
If a reputable publisher refers to and links to your brand and website in their content, visitors to the website will be convinced to visit yours as well.
This is what editorial backlink is all about.
You are considered a valuable source of information to publishers, if you have created an infographic, provided a roundup on a particular topic, or interviewed someone related to your site to get editorial links.
Thus, to create backlinks, create content that helps people to understand and connect.
Guest Blogging
Submitting guest posts to other websites or blogs allows you to build backlinks to your website. These backlinks can drive qualified traffic to your website, which increases its authority.
Thus, you can build authority and trust by posting excellent content on other high-quality websites.
Press Release
An important announcement shouldn't just be published on your website. It should also be posted on other sites so that the news reaches a wide audience quickly.
Thus, by posting press releases on other websites where your target audience visits, you will achieve backlinks.
The backlinks that you gain from press release backlinks will help you leverage other marketing and press release tactics.
Business Profile Backlinks
It is important to create a profile on different platforms. You can also include social media platforms, business listings, business niches-based directories, and many more.
Profile creation will help you to build backlinks to your website from these platforms.
Comments Backlinks
Your website will get more organic traffic in turn when you post genuine comments on well-written blog posts attracting ample traffic each day. There are several ways you can do that. Posting authentic comments on high-quality blogs will lead to organic traffic for your website.
Acknowledgment Backlinks
As a result of making a donation, sponsoring an industry event, or addressing people within the same industry, you may be able to build a backlink that acknowledges that action.
As a business owner, you need to create more recognition backlinks to your website, this can be done by carefully monitoring the events that your competitors are participating in and then making a decision that is advantageous to your business.
How to get more backlinks?
When it comes to creating high-quality backlinks on blogs and forums, using genuine backlink-building tools is the quickest, most convenient, and most cost-effective method.
The right tools automate every part of the process, including research, negotiation, and building organic backlinks.
Here is a tool that can help you in building effective backlinks- Postifluence. It combines the most advanced features at surprisingly low prices.
Postifluence is an organic backlink-building tool that automatically finds and contacts the most popular blogs or influencers in your business niche to get your content and backlinks posted on their platform. It helps to raise the domain authority of your site and search engine ranking through high quality backlinks.
Conclusion
Focus on acquiring the best backlinks from well-known websites, without compromising on the quality of your website.
You can generously reward your SEO efforts by publishing user-friendly content and creating natural backlinks for your site.
Do you have any questions? Don't hesitate to comment below and let us know what's your opinion on backlink building.
Subscribe to our newsletter
We'll keep you in the loop on our best advice and strategies for social media marketing and growing a small business.

Back To Homepage