7 Best Anti-Detect Browsers For Smooth Marketing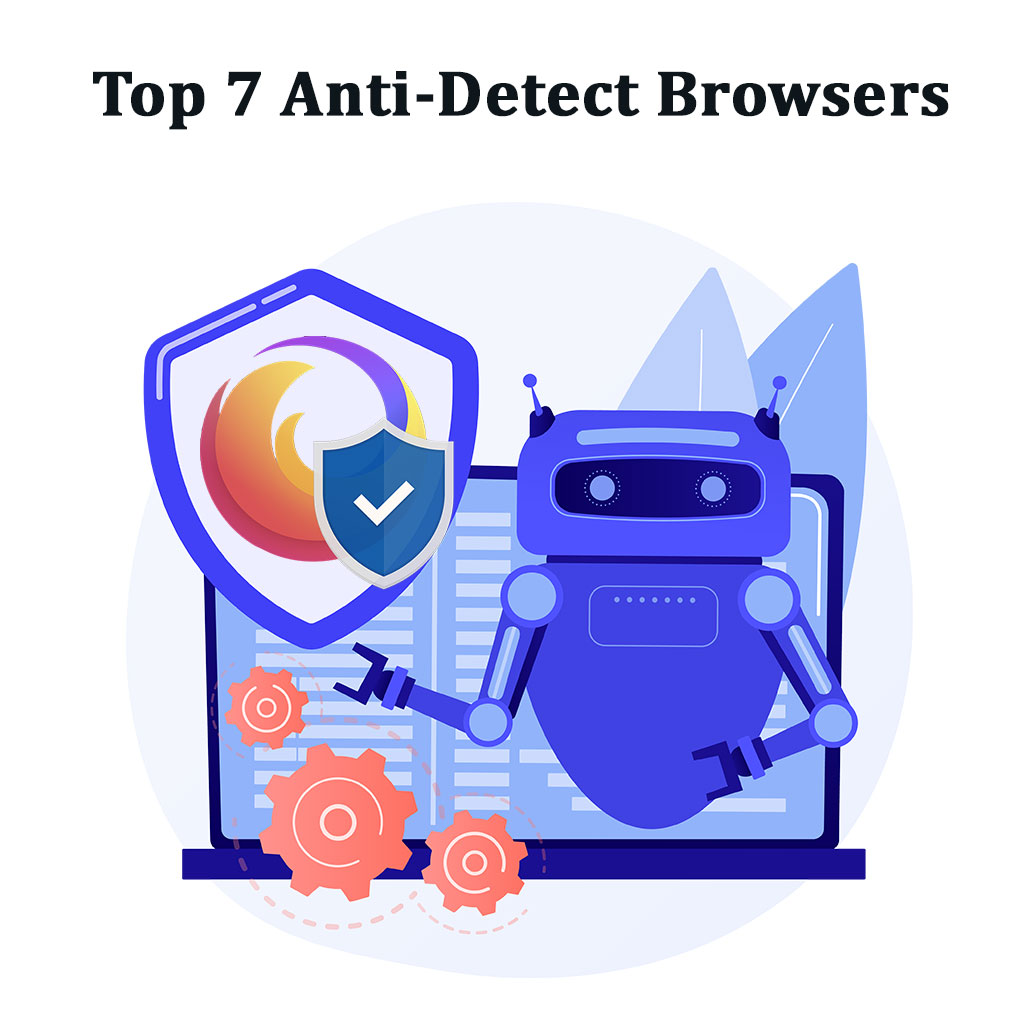 Looking for the best antidetect browser to run multi-account marketing campaigns smoothly?
You're at the right place!
In this article, we have discussed the features, pros, cons, & pricing of the top 10 anti-detect browsers that most marketers use for their ad campaigns.
Nowadays, being online is not always safe because there are fraudsters or hackers all around you waiting to steal your IP address, credit card data, or location information. So, in every activity you do online, you need protection!
Whether you are looking to enhance your privacy or you are trying to manage multiple social media platforms, e-commerce, ad accounts, and so on, anti-detect browsers can help.
There are many anti-detect browsers available but choosing one is a difficult task because not all of them are trustworthy.
However, we have done a research and in this blog you will find the top picks.
But before we get into the top 7 anti-detect browsers, we must know what exactly are anti-detect browsers and how these browsers are helpful for marketers.
What are anti-detect browsers?
Even though we know that nothing can guarantee absolute protection from fraudsters but there are tools that can minimize the risks. Those are called anti-detect browsers.
An anti-detect browser is very much similar to Firefox, Chrome, etc.
Anti-detect browsers allow you to open multiple accounts in each tab, and each account can be associated with a different set of digital prints. Such browsers guarantee anonymity by spoofing data and customizing the digital fingerprint of the user while leaving the least trace on the web.
If you visit a resource that has spam filters, these filters will not be able to identify you as the same user. For each account, there will be a different cookie, and the values of the cookies will not overlap.
Why should you use an anti-detect browser?
An anti-detect browser allows you to run multiple ad campaigns, create multiple social and blog marketing accounts, and so on. on the same device without getting banned or restricted.
But, this is not enough!
There are many other benefits of using an anti-detect browser. Find out how beneficial they are for the smooth working of a business:
It lets you log into multiple accounts on a single site without putting any of your information at risk.
Provides the ability to log in safely from any country you choose by combining commercial proxy servers.
Provides you the ability to run ads from multiple accounts without getting banned.
Ensures that each account is created in a separate space, so that none of the accounts are linked.
It allows you to manage multiple media accounts simultaneously and collaborate as a team, thereby increasing efficiency.
Offers anti-fingerprint features that will make Facebook and Google unaware that the site is from the same source, which eliminates the risk of being banned.
Utilizing the right tool may also allow you to save time and money since tedious work can be automated.
"I just became one with my browser software"

-Bill Griffith
Top 7 Anti-Detect Browsers
Choosing an anti-detect browser or multi-login browser can be a time-consuming task.
Thus, to ease down this effort, here is the list of the 7 best anti-detect browsers with their features, pros, cons, and pricing.
Find out the list below:
Logii Browser is an innovative anti-detect and multi-login browser that is indeed ideal for any online marketer. It has been built especially for marketers who want to use multiple ids from the same system while ensuring complete confidentiality.
This tool helps in making your marketing campaigns successful while keeping all the accounts safe. It allows you to share accounts with teammates without sharing any password.
Key features
Run multiple ad accounts at the same time
Users can share their accounts without sharing OTP or passwords.
It provides a very safe and secure browsing environment for every ID you are using
All the cookies are maintained separately for each ID.
Account sharing can be done in just a single click
It comes with in-built proxy management and allows users to log in from anywhere
Geolocation allows setting location to anywhere
Easy to use
It provides a secure browsing experience with multi-accounts at the same time.
It has a low requirement of bandwidth and memory
It has support for extensions
It works with all the paid and free proxies worldwide
It also allows doing limitation-free outreach marketing
Provides control on location and helps in approving more blog comments
Every identity has a separate cookie and session so that nothing can be shared outside
Includes training modules to use the tool effectively.
Pros
Very cost-effective
Well-suited for marketing agencies
Works great with teams
Time-saving
Supports extensions
Can run multiple tabs in each login
Cons
No cons are found yet.
Pricing
Logii offers 2 separate plans:
Elite Monthly Plan: $17/month
Elite Yearly Plan: $67/year
See Logii in action here.
2. Multilogin
Multilogin is also one of the best options when it comes to anti-detect browsers. This app lets you access multiple internet browsers with different browser fingerprints.
Key features
Separated browsing environment
Protection for browser fingerprint
Easy browser fingerprint
Business workflow automation
Supports multiple browser profiles
Pros
Uses own browser for anti-fingerprinting capabilities
Automation support
Supports Ads account management
Cons
It is an expensive software
Does no support mobile devices
Pricing
Multilogin offers 2 separate plans: Teamwork plan & Automation plan
Teamwork plan:
Solo: €99/ month
Team: €199/month
Scale: €399/month
Automation plan: €200/month
3. Go login
Go login is one such anti-detect browsers that allows you to control and hide your digital fingerprints. The app has an independent browser to help with the accounts and tasks.
Key features
Provides user-friendly interface
Supports cross-platform login
Easily manages the fingerprints
Helps in creating numerous profiles with different fingerprints
Easy profile sharing
Pros
Easy to use browser
Generates fingerprint configuration
Provides stable proxies
Cons
Pricing
Go login offers 2 plans: Annual plans & Monthly plans
Annual Plan:
Professional: $294
Business: $594
Enterprise: $1194
Custom: $1794
Monthly Plan:
Professional: $49/month
Business: $99/month
Enterprise: $199/month
Custom: $299/month
4. AdsPower
AdsPower is an anti detect software that aims to manage e-commerce and social media platforms. This software provides unique browser profiles with separate browser environments to manage multiple accounts.
Key features
Automatic language detection
Supports team collaboration
Simple to use interface
Supports automation
Pros
Requires no programming knowledge
Responsive customers support
Cons
Pricing
AdsPower offers 2 plans: Yearly & Monthly plans
Monthly Plan:
Base: $9/month
Pro: $50/month
Yearly Plan:
Base: $76/year
Pro: $420/year
(The plans vary from the number of profiles used and the users.)
5. Ghost Browser
Ghost browser is also one of the well-known anti-detect browsers. It provides a proper workspace to simplify the working process. It is built on chromium so the users can import chrome extensions.
Key features
Supports chrome extensions
Multiple accounts sign-in
Supports Proxy
Support for multiple extensions
Pros
Can be published and distributed everywhere
Easy to use interface
Cons
Not a mobile-friendly tool
Pricing
Ghost browser offers 2 plans:
Basic Plan: $21/ monthly
Pro Plan: $46/ monthly
6. VM login
VM login is one of easy to use anti-detect browsers. By using this tool, you can create browsing profiles with separate browsing environments and be able to effectively replace the original fingerprint with one of your choices.
Key features
Easily control browser finger-printing
Supports team collaborations
Easy to manage multiple profiles on the browser
Allows to share browser profile, teams control under one environment.
Pros
It is very easy to set up
Can be automated easily
Cons
No proxy support
Does not support mobile devices
Pricing
VM Login offers 3 Plans:
Solo Plan: $99/month
Team Plan: $209/month
Scale Plan: $499/month
7. Kameleo
Kameleo is quite an interesting anti-detect software. It supports popular web browsers like Firefox, Chrome, Safari, and Edge. It provides full control over the digital footprints.
Key features
Avoids targeted ads
Supports multiple identities
Helps in avoiding browser fingerprinting
Protects from vulnerability
Pros
Improves marketing efficiency
Ensures secure browsing
Cons
Slow customer supports
Inconvenient collaborations
Pricing
Kameleo offers 2 plans: Monthly & Semi-annual plans
Monthly Plan:
Basic: €59/month
Advanced: €89/month
Automation: €199/month
Semi-annual Plan:
Basic: €299/6 months
Advanced: €449/6 months
Automation: €999/6 months
Conclusion
Anti-detection browsers are easy to use, since the interface is essentially the same as standard browsers, and you can save sessions so you can log in without re-authorization.
Most anti-detect browsers are developed on the chromium engine, so on the Internet, you won't stand out as an outcast but will instead blend into the vast majority.
I would recommend Logii as the best anti-detection browser of all the browsers discussed above.
This is due to the fact that Logii is an extremely affordable browser built for individuals and marketers who wish to have access to multiple IDs while maintaining complete anonymity and confidentiality.
So, which one are you planning to buy?
Do share your thoughts in the comments section below.
Subscribe to our newsletter
We'll keep you in the loop on our best advice and strategies for social media marketing and growing a small business.

Back To Homepage