The Secret Tool For Building Effective Backlinks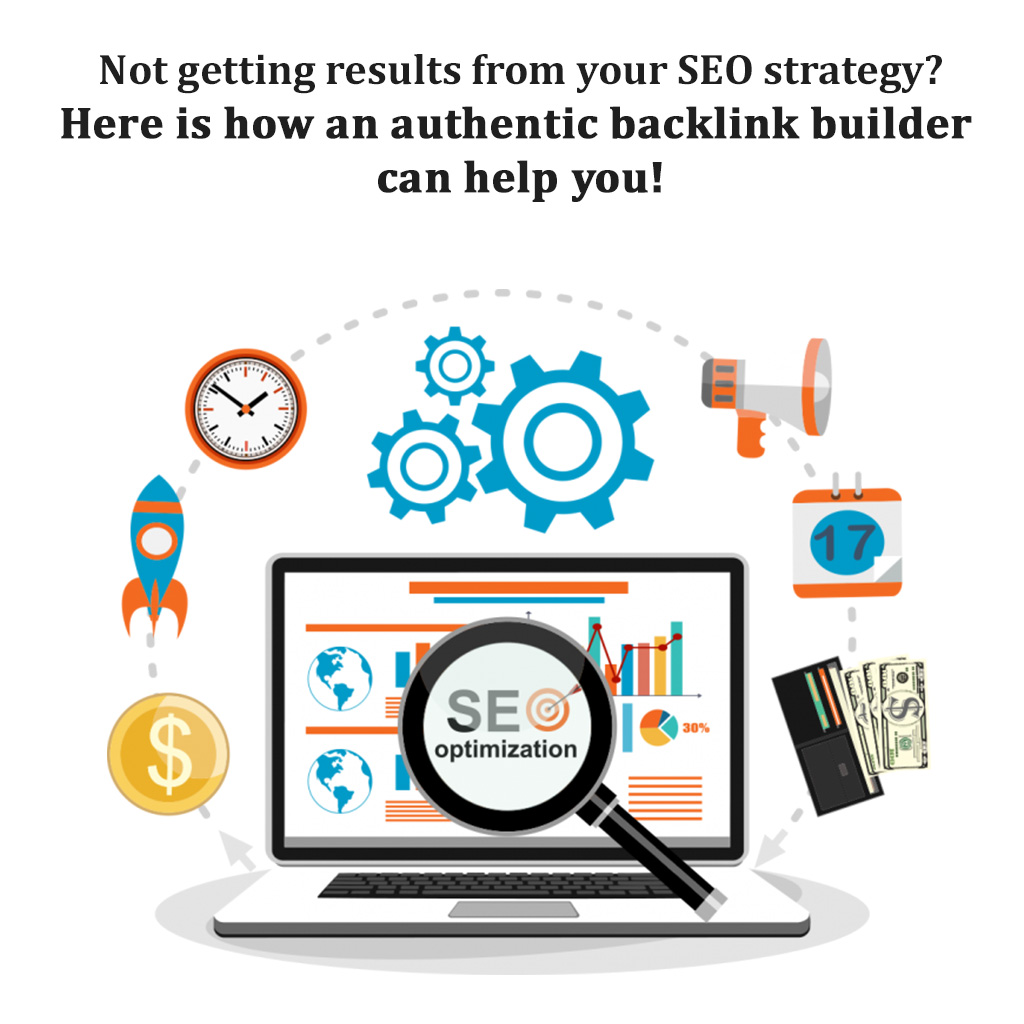 Are you struggling to get results from your search engine optimization strategy? Let's find out what you can do to unlock the true potential of SEO…
Search Engine Optimization has been around as long as search engines themselves and its popularity has only increased with time. Why?
SEO is the ladder that lets your website climb to the top of search engine result pages at minimal costs by incorporating various optimization techniques.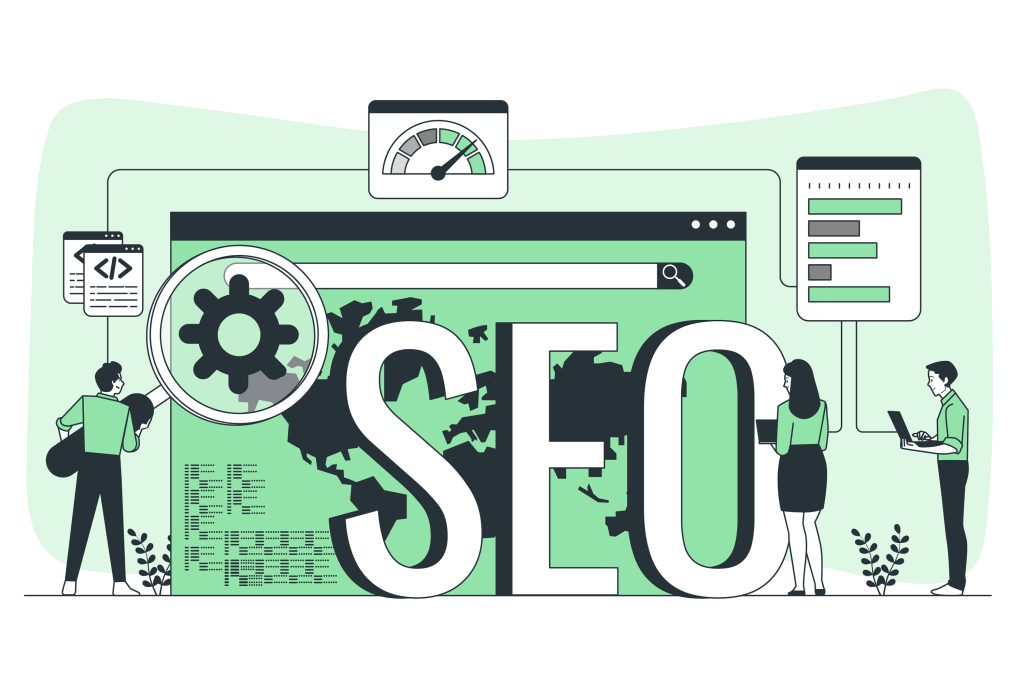 But, there's a catch!
The internet is a vast world with millions of websites in every niche, most of which are competing to perform better SEO and get to the top spot. Naturally, this has made SEO really competitive and challenging.
This may seem daunting to a beginner, but there is one technique that can still get you high rankings and traffic at minimal costs and effort. 
And that technique is backlink building! Let's discuss this method further… 
The Importance Of Backlink Building For SEO
Backlinks are the links to your website that appear on other platforms that can be accessed online.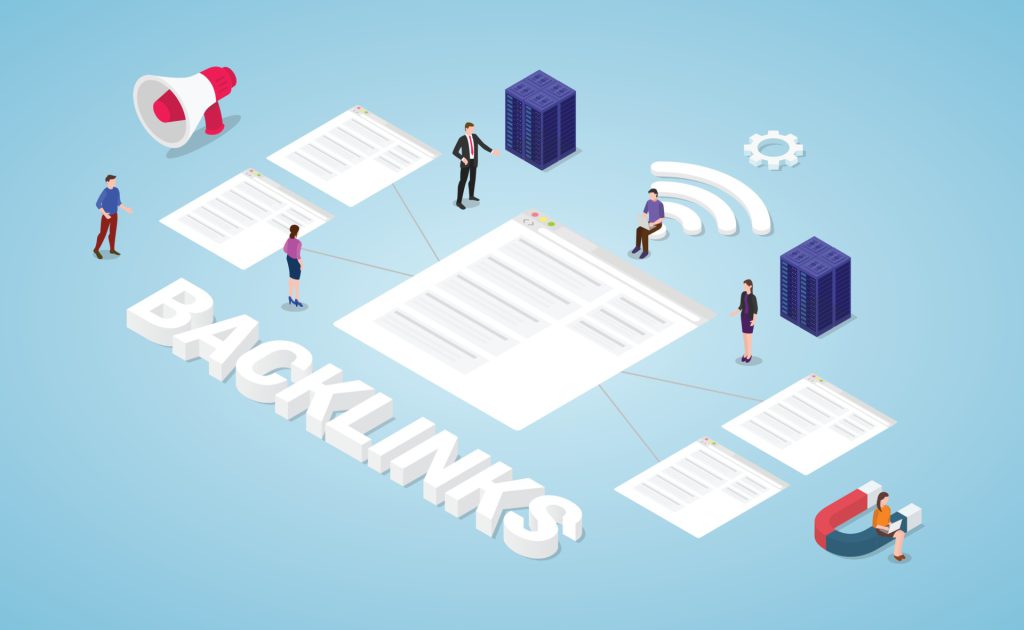 Search engines consider good backlinks as a sign that the linked web page has valuable content. As a result, the search engines will raise the domain authority and search result page rankings of your website. 
Moreover, visitors of the site that have your link may also visit your website, again bringing you targeted traffic.
Hence, good backlinks are very effective at boosting your traffic, conversions, and reputation.
But what is a 'good' backlink, you may ask?
Your backlinks will be useful only if they appear on relevant, authentic, and popular websites along with related high-quality content. 
Such backlinks are called high-quality/good backlinks and they result in quick indexing, higher SERP rankings, targeted traffic, and better domain authority for your website.
On the other hand, low-quality backlinks (that are irrelevant or on shady sites) are considered spam by search engines. As a result, they lower the domain authority, and rankings of your website and may even harm your brand impression as people hate spam!
Now that the basics are clear, let's come to the key question… 
How To Build Good Backlinks?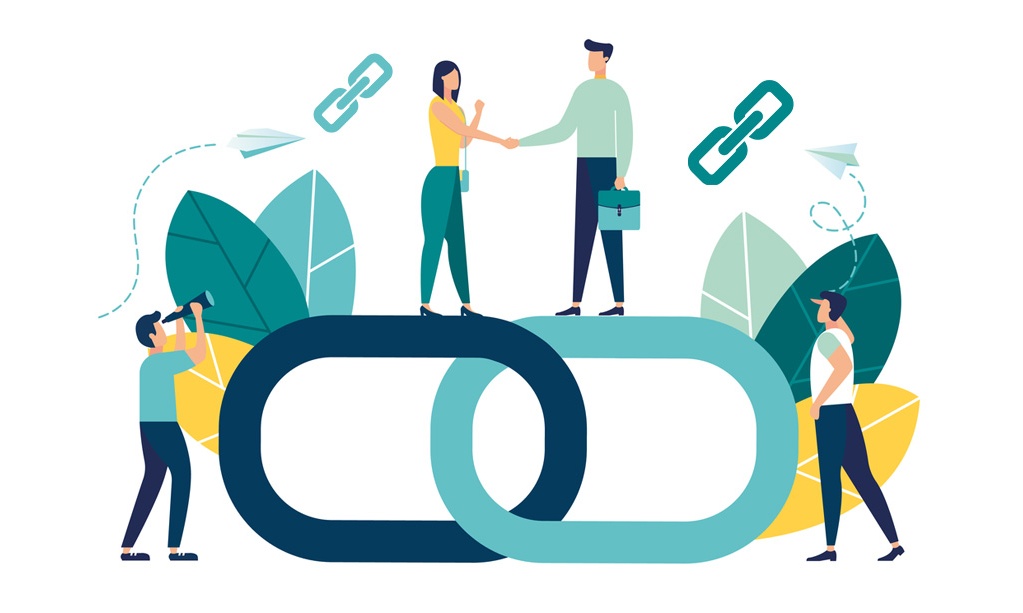 Here are the 5 smart ways to build high-quality backlinks for your website at minimum cost and effort-
Contact webmasters to report broken links on their websites and then recommend similar websites to replace those links. This recommendation should include your website wherever it is relevant.
Add internal links in your website content to other related pages of your website to increase page authority across your site.
Use listicles to get your products or services in front of your audience while also earning links by contacting popular bloggers and convincing them to add your offerings to their list with links.
Submit your website to authentic company directories, niche directories, and all local listings to increase its online visibility and also get higher authority through them.
Find opportunities for guest posting on relevant and high authority websites that allow do-follow links and publish relevant content on them with your backlinks.
Backlink Building Through Guest Posting
While all these are effective methods to create backlinks, guest posting stands out as the most lucrative yet challenging method. 
Guest posting involves searching across the vast internet to find high authority blog sites or influencers in your niche that accept do-follow links on their platform and then negotiating with them to get your content and links accepted, followed by finally posting relevant content!
If you feel this is a complex and tedious process, you are right! But using the best SEO tools will certainly make the job easier! And this brings us to the next question.
What Is The Right Tool For Backlink Building Through Guest Posting?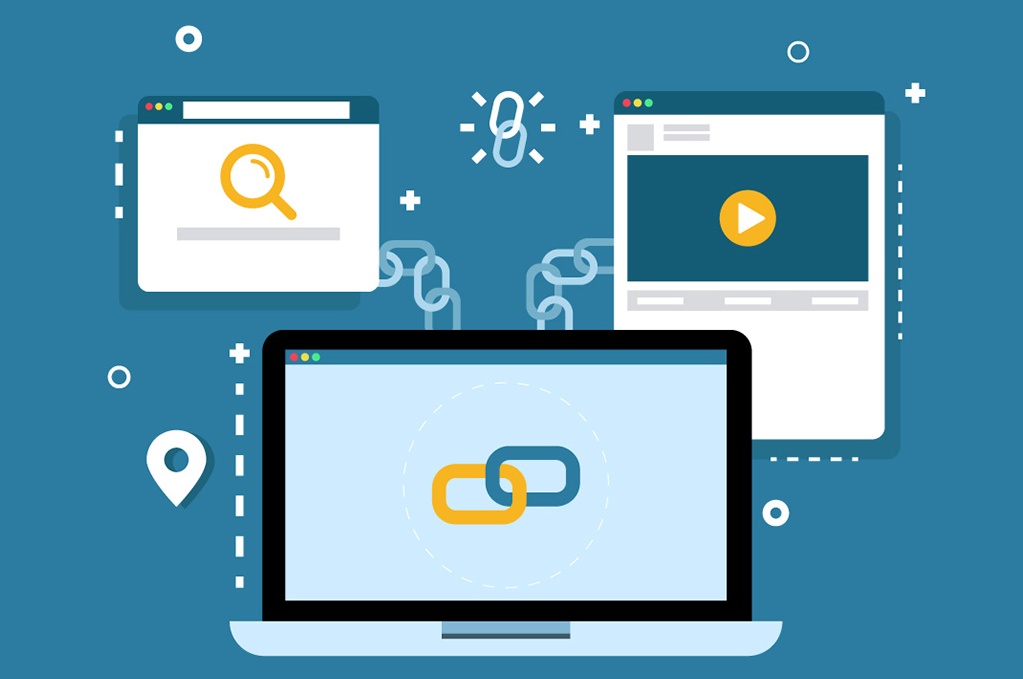 Looking for the best backlink builder?
Well, an ideal tool must have certain features that makes it stand out from the rest.
Here are some key features you should look for in the best backlink builder-
Must be affordable.
Must help you to place backlinks along with value-adding content on high authority sites in your niche.
Must have the ability to automatically search for the top ranking sites that accept guest posts.
Must be easy to use.
Must have the ability to provide the bloggers' information as well.
Must have the capability to bring huge traffic to your website.
If you can't decide which tool is right yet, below is our recommendation for the most powerful yet affordable backlink building tool that applies perfectly organic methods to get you top-quality backlinks...
The Best Organic Backlink Building Tool- Postifluence
Postifluence is an organic backlink building tool that automatically finds and contacts the most popular and authentic blogs/influencers in your niche to get your content and backlinks posted on their platform. 
This innovative SAAS is designed to raise your domain authority and search engine result page rankings through high-quality backlinks, hence getting you targeted traffic at only $17 monthly and $67 yearly! 
Here is the complete list of features of this unique off-page SEO tool-
Discovers hundreds of leading blogs and influencers in any niche you want to target.
Creates listings for free or very low cost and automatically builds you fresh backlinks 24/7.
Maximizes your reach with support for SMTP, GSuite, Gmail, and Office along with an inbuilt follow-up system to pursue leads.
Automatically stops the campaign when the corresponding prospect responds.
Applies Spintext so that every email and SMS you send out so that every message is 100% unique.
Creates email templates that are perfect for your marketing and uses them in outreach campaigns to seal opportunities for guest blogging.
Offers detailed data analytics about relevant websites and your campaign.
It is a completely safe and white-hat SAAS that will get organic backlinks daily for your site.
Includes free training on how to do SEO marketing using the tool.
Finds only blogs that actively accept guest posts and articles with backlinks and do not include PBNs or shady blog networks.
Gets complete contact details of owners, including Contact URL, Email address, and phone number.
Uses an automatic system to reach out to bloggers through both Email and SMS to get organic backlink building opportunities.
Offers a marketplace that lets you connect with other people to find guest blogging opportunities.
Constantly updates its records so you have the latest ranking data at all times.
Lets you build links for your websites or your clients with the included commercial license.
Helps you to target influencers with content specific to them to convert them faster.
Lets you keep a shortlist of blogs you want to reach out to, so you can connect any time you want.
Offers you full control over your campaigns as you can decide which blogs to target and change the reach-out emails to any blogger.
Has a modern and easy-to-use interface that you can master fast.
Comes with free upgrades for 1-year.
Key Features Of Postifluence
Let's check out the major features of Postifluence in more detail with their screenshots-
Powerful Dashboard
Get a bird's eye view of all your campaigns, messages, responses, and SMSs.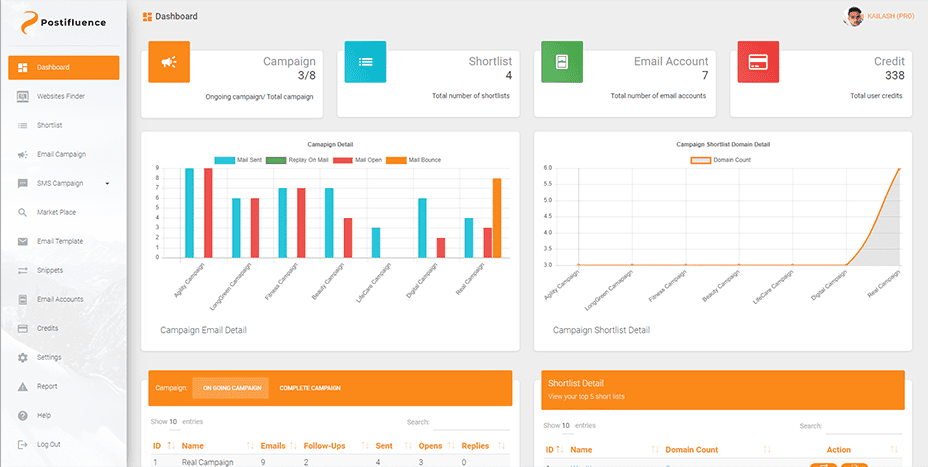 Website Finder
Find the perfect websites that are eager to publish your posts. Get full traffic stats and even contact data.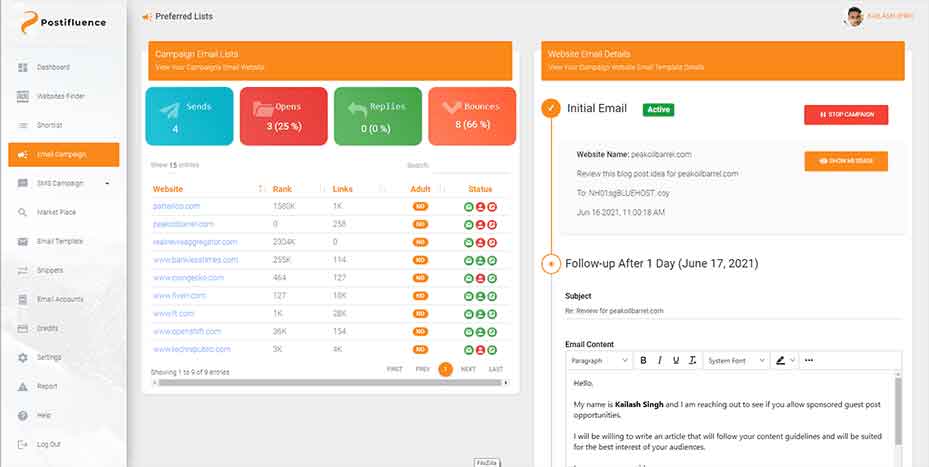 Shortlists
Create shortlists of websites and blogs that you want to reach out to later.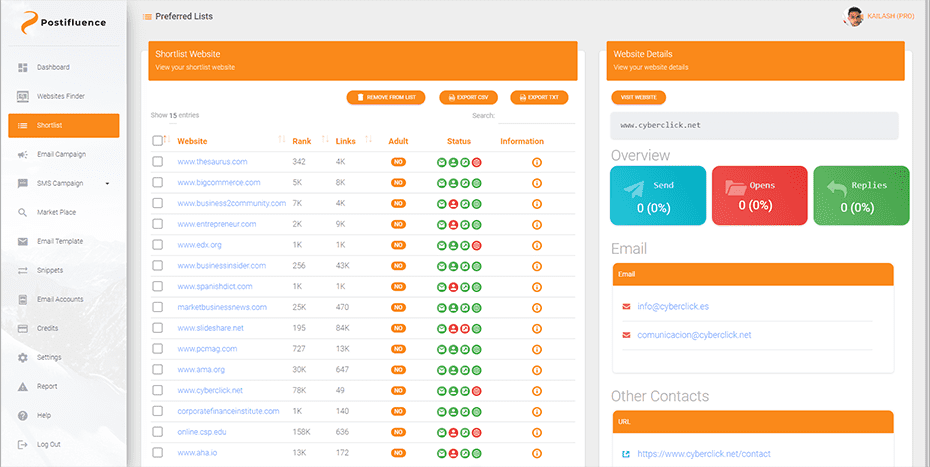 Email Campaign
Create and monitor your email outreach campaigns and change any email you want.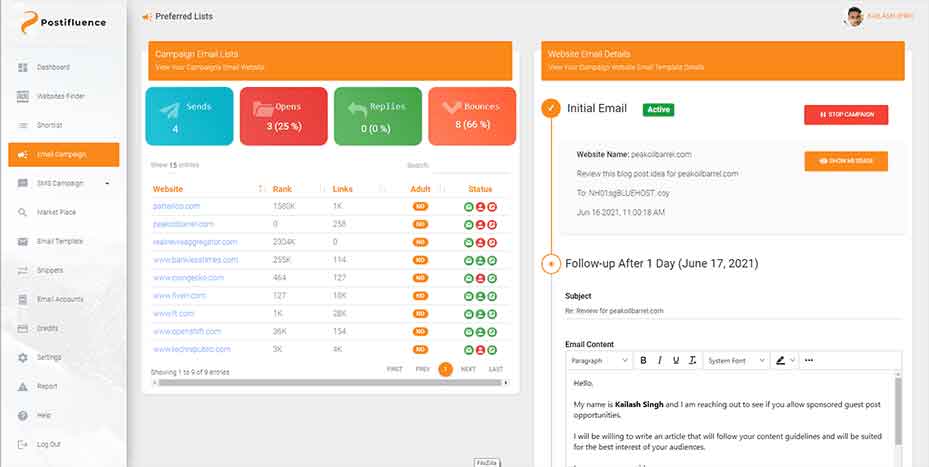 SMS Campaign
It also runs effective SMS campaigns that reach the decision-maker quickly and directly.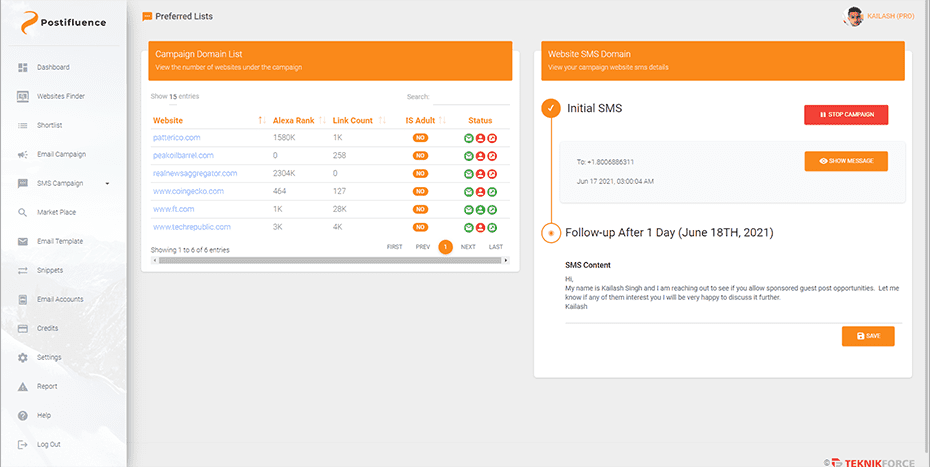 Market Place
Check the marketplace listings and collaborate with other marketers for links.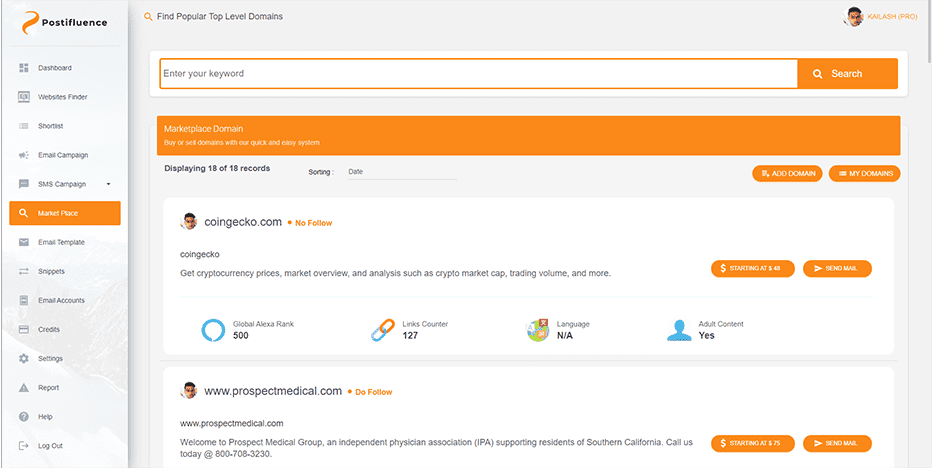 Snippets
Lets you plug in snippets and craft customized messages in bulk.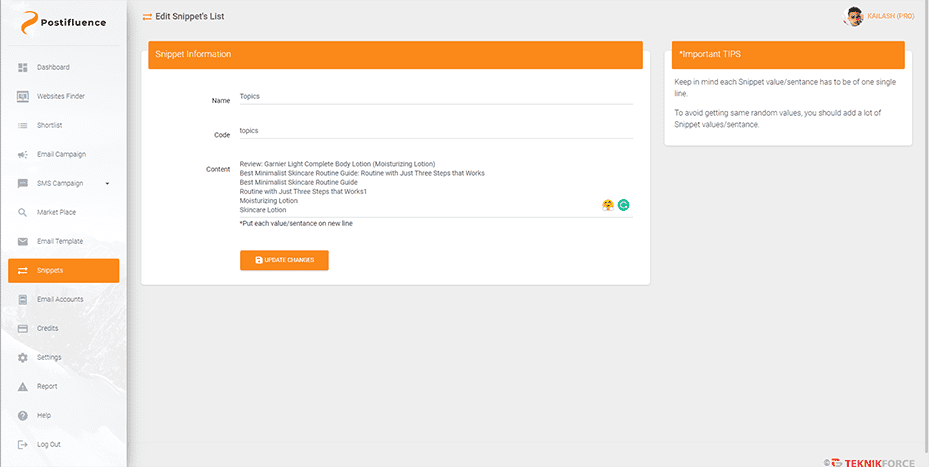 Detailed Reports & Analytics
Keep an eye on everything that's happening in one place.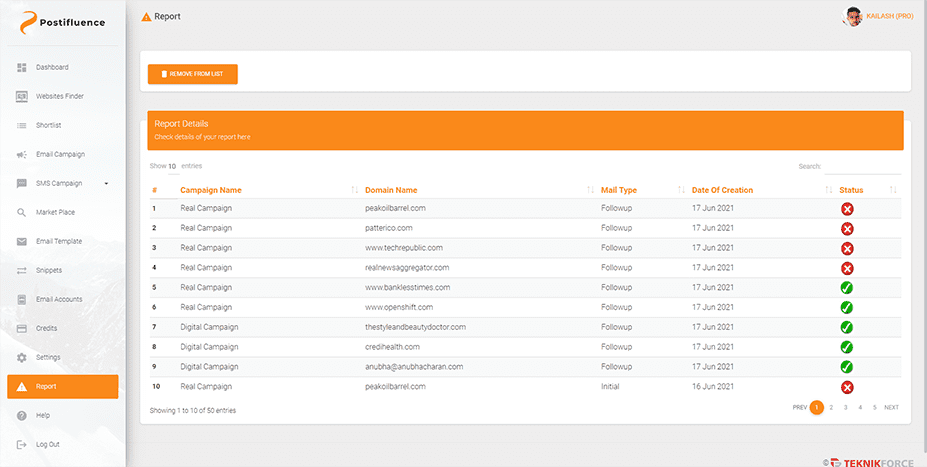 Demonstration Video of Postifluence
Do you want to see it in action? You can check out the following demonstration of Postifluence to find exactly how it will benefit you.
Conclusion
Backlink building is thriving as an off-page SEO technique but you must use the right backlink building tool to make the most of it at low costs. As discussed, Postifluence is a powerful SAAS for this purpose with its unique benefits.
Subscribe to our newsletter
We'll keep you in the loop on our best advice and strategies for social media marketing and growing a small business.

Back To Homepage