10 Ways To Market Your Online Courses & Increase Sales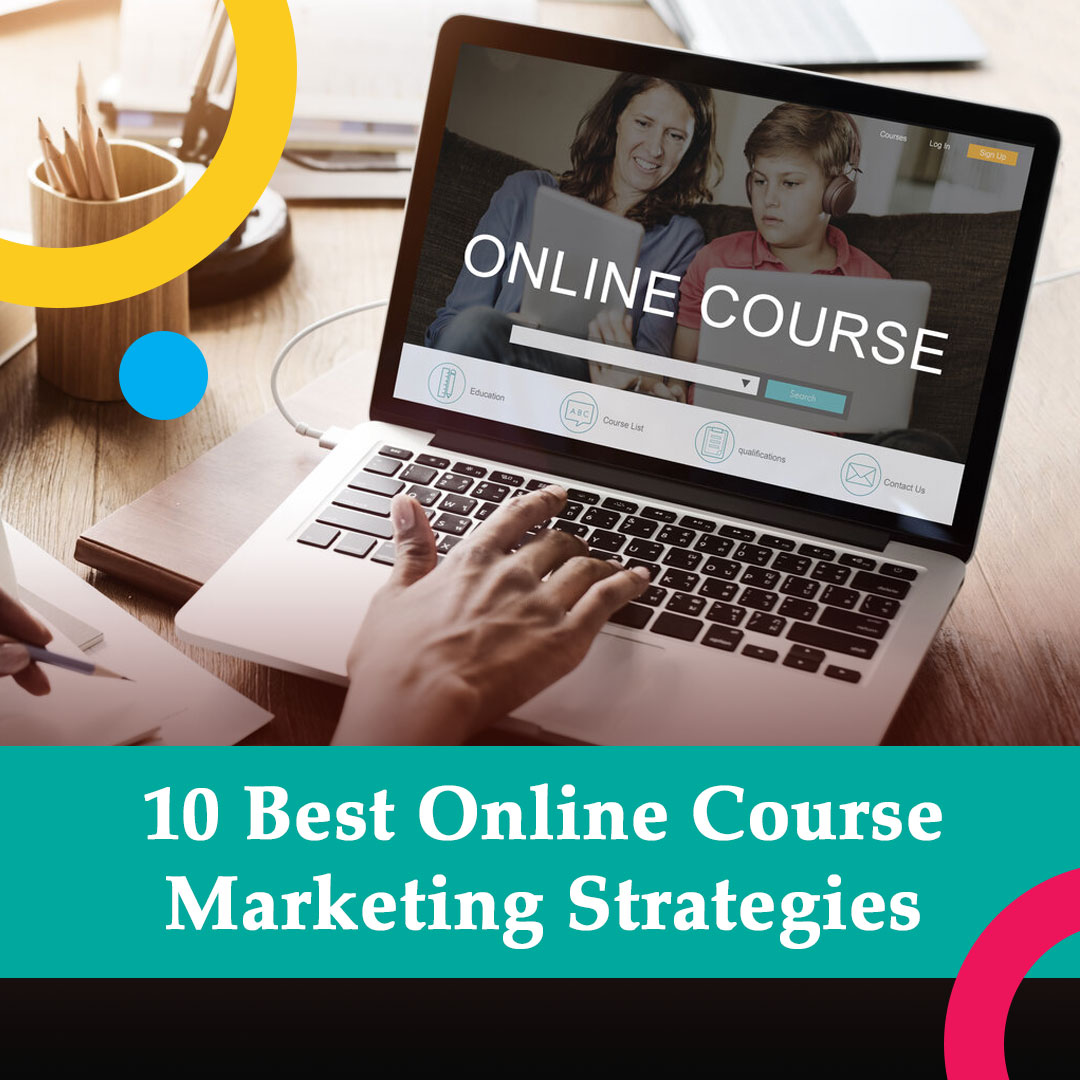 A marketing strategy for your online course or business is critical to your success as an entrepreneur. However, designing one might be daunting.
How do you choose which marketing channel is ideal for your company? How can you determine whether your marketing strategies are effective?
With the ever-changing digital world, you must alter your marketing strategy regularly.
Whether you've already devised a strategy or are looking at a blank page unsure where to begin, we'll go through some useful marketing tactics you may implement in your firm.
How you choose the right strategy for marketing your online course?
Marketing an online course is not easy. It not only requires the right strategy but also requires hard work & patience. Choosing the right digital marketing strategy to promote your online course will be heavily influenced by the following questions:
What is your target demographic? What do they consume? What music do they enjoy listening to? Where do they go? To effectively target your ideal consumer, you must first understand them. Consider the individuals who are interested in enrolling in your online course.
Where do they typically spend their online time? Is your ideal consumer active on Quora or Reddit? Do they participate in any community forums? Consider where they might go to get answers to their important questions.
How can you broaden your reach to get new leads? Which ones can you pick that will have the most impact? Some marketing strategies just work better than others. Use Google Analytics to create useful metrics to track these triumphs and issues.
A Marketing Strategy for Selling Online Courses is important to your entrepreneurial success. On the other hand, creating one might appear to be a difficult undertaking.
How do you know which marketing plan is ideal for your business and how do you determine the efficacy of your marketing efforts?
This blog contains some useful marketing strategies for selling online courses that you may use to advertise your courses.
The 10 Best Marketing Strategies To Promote An Online Course
Below are 10 different types of marketing strategies to make an online course a hit.
1. Utilize Your Existing Audience
If you plan to build a course in a certain niche, you probably already have a following or some traffic to an existing website or blog.
The most apparent place to begin promoting online courses is on your website, where you may announce it to your audience and potentially offer a special reduced price when it first launches.
2. Begin Compiling a List
An email list is perhaps the most efficient approach to promote any online course.
Consider this: you have the authorization to send emails to those who have expressed their interest in your specialty. Install an opt-in form on your website that provides a free ebook, or urge clients to sign up for the list in return for the opportunity to buy your course at a large discount when it starts.
The greater the value of your free lead magnet offer, the more subscribers you will gain.
3. Regularly Publish Blog Posts for Long-tail Search Traffic
Your chances of having your course appear on the first page of search results for popular search phrases are minimal if you're in a competitive field.
Ranking for competitive search phrases is not impossible, but it is tougher than ever. However, there are dozens (if not hundreds) of less competitive long-tail search phrases in your niche.
Even though they might not receive 20,000 monthly searches, getting a few of these words into a blog article on your website will occasionally get you on the first page of search results for these terms.
4. Make a Course Promotion Video for YouTube
Create and submit a short promotional video for your course on YouTube. You could even make many promotional movies, each with a different title, to boost awareness for your course.
Your videos will rank higher in search results if you use significant keywords associated with your subject in the titles and descriptions.
5. Give Subscribers a Free Mini-Course
A free mini course can assist you in gauging interest in your course without requiring you to generate all the content first. The goal is to make a short introductory course or a preview of a longer course available to your email subscribers.
Make sure the mini-course you're offering your subscribers must consists of all the topics that your complete course offers and a sneak-peek of the complete course which will motivate your audiences to subscribe to your course.
6. Boost Your Social Media Profiles
Your social media networks are a fantastic method to create your brand and position yourself as an expert on your course's subject. Update your bio on any social network with a profile representing your area of expertise.
In your profiles, include a link to your main website (or even straight to your course) so that visitors interested in your course topic may learn more.
7. Plan a Live Webinar
One of the most effective ways to sell online courses is to host a live webinar for individuals who are interested in your topic.
During the webinar, give away some of your greatest stuff for free. This establishes you as an authority and aids in developing trust before offering your course and asking for the sale.
After a successful live webinar, you may utilize the recording to sell further courses.
Send an email with a link to the recording to anyone who registered for your live webinar but did not attend. You could even utilize the recording to build an automatic webinar and advertise it to earn recurring purchases.
8. Start podcasting
Starting a podcast about the topic of your course is a smart approach to establishing an audience of individuals who are interested in that topic.
Anyone who listens to your podcast has the option of enrolling in your online course. Share relevant ideas about your topic on each podcast episode, and include a call-to-action at the end of each episode to visit your website and/or learn more about your course.
Also submitting your podcast to sites may allow you to reach hundreds or even thousands of listeners for free every month. It provides fantastic exposure for your online class marketing.
9. Improve the Efficiency of Your Course Sales Page
Create an engaging course description that effectively articulates the benefits of enrolling in your online course. Discuss the desired goal and how it will benefit your target audience.
You may even employ a copywriter to write your description for you.
Try to include particular keywords throughout your description to help your course rank for those keywords in search results.
10. Request Your students for a Review
At some point during the course, ask your students to offer you a review or testimonial for your course. This simple request can assist you in receiving good feedback from your pupils, which you can utilize in your internet marketing.
If you receive unfavorable feedback from your students, utilize it to enhance some aspects of your course so that future students have a better learning experience.
BONUS TIP
Launch a Price Cut Campaign
A limited-time pricing discount is a great strategy to boost sales for your online course. You may also coordinate your pricing discounts with well-known holidays such as Boxing Day or Black Friday. It is more beneficial to wait for certain holidays to discount your course than to discount it indiscriminately or without a reason.
Conclusion
Knowing where to start can feel overwhelming when looking at so many different marketing strategies. The most important part is choosing a tactic that works for your target audience and fits your strengths.
A successful online course can be a valuable revenue stream for your business. But like any other product or service, it won't sell itself. However, these different market strategies for online courses at low or no cost can help you.
Subscribe to our newsletter
We'll keep you in the loop on our best advice and strategies for social media marketing and growing a small business.

Back To Homepage