8 Amazing Ways To Improve Your Video Visibility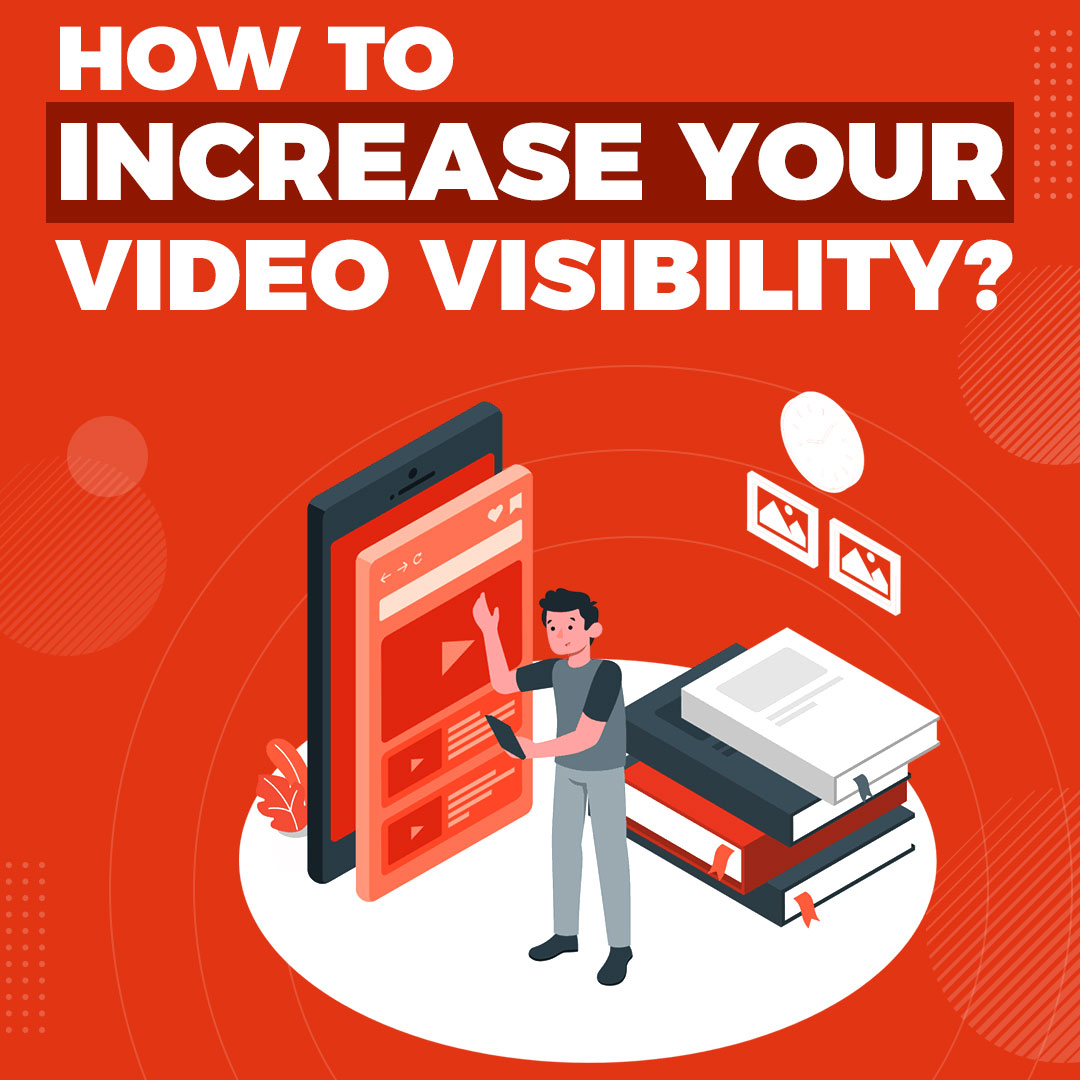 If you are an internet marketer, you must have noticed how video marketing has evolved over the years. People consume millions of videos every day on different platforms.
Among so many videos getting uploaded every day, it's difficult to stand out from the others. Once you're done with creating your videos, the next step is distributing it effectively.
Remember, people will not go an extra mile to find your videos themselves. You'll have to optimize your videos in such a way that it starts ranking on Google search and make it easy for people to find your videos. You need to make sure that your videos stand out from the rest!
So, if you want your video content to be the best, you need to craft an effective video SEO strategy that will increase your video visibility smoothly.
This is why we are here today! In this blog, we'll go through some of the best video SEO tactics that can help your videos rank on top of the SERPs.
Let's get started!
What Is Video SEO?


Video SEO is also called VSEO. It is the process of improving the ranking of your video on search engines like Google. When a video ranks on the search engines, it shows up on the first few pages of results. 
The process of video SEO involves creating video metadata that is relevant to what internet users are searching on search engines. It also involves creating video content that generates traffic for a specific website.
Optimizing your video content for SEO can bring you a huge number of views.
Most Common Types Of Video Content
Wondering what type of video you should create?
There are many types of video content that marketers use. Below are some of the most common types of video content that people like to watch on the internet.
Vlogs
How-to-videos
Presentation videos
Tips & tricks videos
Animations
Tutorials
Behind the scene videos
Interviews
Interactions
Gaming videos
Funny prank videos
8 Ways To Improve Your Video Visibility
Here are some video SEO tactics that can help internet marketers improve their video visibility.
1. Create high-quality videos


Would you like to see a video with blurry image? No, right? Quality matters!
You must remember that people all over the internet are interested in high-quality and engaging videos that give them a great experience. When you post great quality videos, there are chances that the viewers will spend more time watching them.
This can lead to a comparatively longer watch time and an increase in the number of returning visitors. Some studies show that high-quality videos get more likes, and shares and also get positive comments from viewers.
Make sure your videos have 1080p clarity with clear audio.
2. Choose the best hosting platform as per your genre
This is probably the most important way to boost your video visibility.
Let us assume that you have posted a video on a platform where hardly people stays active. Do you think your videos will get the visibility it deserves? Of course no!
Do a thorough research on the best video hosting platforms.
Let's take the example of YouTube. The video hosting app has billions of viewers who watch different kinds of videos. There are many more free video hosting platforms like Instagram, Vimeo, Twitter, and many more.
If getting more views is your priority, then you should upload videos on YouTube or other such platforms which has more active users. You don't have to be an SEO professional to rank on YouTube.
3. Make an appealing thumbnail


What's the first thing you notice before watching a video? Thumbnail right?
The first thing a person notices in any video is the thumbnail. A thumbnail can encourage the viewer to click on your video and not on the others that appear on the search results. 
People will not open your videos if they don't find the thumbnail attractive. Some studies prove that an appealing thumbnail increases the click-through rate of a video, which is a ranking factor on YouTube.
Instead of designing a thumbnail from scratch, you can edit templates or customize the templates available on several visual design tools to suit your needs. Your thumbnail should contain the keyword you want to rank for, a blend of colors, and a high-resolution attractive image.
4. Write optimized titles & descriptions
Just like for blogs, titles and descriptions play a very big role in ranking improvement of the content, same for video content. You must know that people search online by using target keywords.
If you add high-ranking keywords in your video titles and descriptions, there are chances that it can improve your videos' searchability.
You must not include some random terms for the sake of SEO. Your video titles and descriptions should be creative, informative, and clear and should encourage the audience to click on your videos.
5. Optimize your video landing page


To maximize the number of views you get from your video landing page, you need to work on providing a great user experience. You should design the landing page around your video only.
All the content you'll add to the page images, text, etc. needs to be in sync with the video's core message, tone, and overall interface. You can also write convincing copy, and use eye-catching images to attract the audience.
6. Add transcript to your videos
You must know that search engine bots and crawlers can't identify the keywords from audiovisual content. As a result, the keywords you add to your video won't be counted in your SEO marketing unless you mention them in your transcripts.
A transcript is a text file that contains all the subtitles of the dialogues in the video. The process of transcription can be done manually. You can also use an automated software for video transcription that will transcribe your videos automatically into any language of your choice. Keep in mind that it's always useful to proofread and edit the transcript.
7. Syndicate your videos on other platforms


Have you heard about video syndication?
Video syndication is the process of publishing your content to third-party sites that can get your more views. Doing this manually is a difficult task. Hence, the best way to syndicate your videos on different platforms is to use an automated tool.
Try Videoseeder! This tool allows you to promote your videos on different platforms and brings a huge pool of views on 100% autopilot. This platform also allows you to turn your videos into blogs easily and posts on different blogging platforms as well.
8. Add CTAs to your videos
A call-to-action is something that can redirect your viewers to the place you want them to be. It is always better to simply ask for engagement to get your videos noticed, especially when you consider the connection that video content can create.
Your viewers may not remember to like your videos after watching them, so why don't you request them politely to like & subscribe to your channel?
Remember, your viewers will not take an initiative unless you tell them. So, if you want to grow your audience, adding a CTA is a must.
Conclusion
I don't think I have to emphasize how popular videos have become as a preferred type of content. As the attention span of people are reducing, short videos are becoming the trend. Almost all marketers and business owners find videos effective and engaging.
Videos can help your audience learn many things about a particular brand and its products. When it comes to improving your video's visibility organically, there's more required than just traditional SEO practices. 
You need to work on the aesthetic trends and more technical details of the videos. You can follow the above-mentioned ways to help you improve your video's performance and put it in front of your target audience effortlessly.
Let us know in the comments box below if you have any other tips for improving a video's content and visibility to grow your business.
Thanks for reading!
Subscribe to our newsletter
We'll keep you in the loop on our best advice and strategies for social media marketing and growing a small business.

Back To Homepage