6 Best Facebook Group Alternatives Your Business Needs In 2023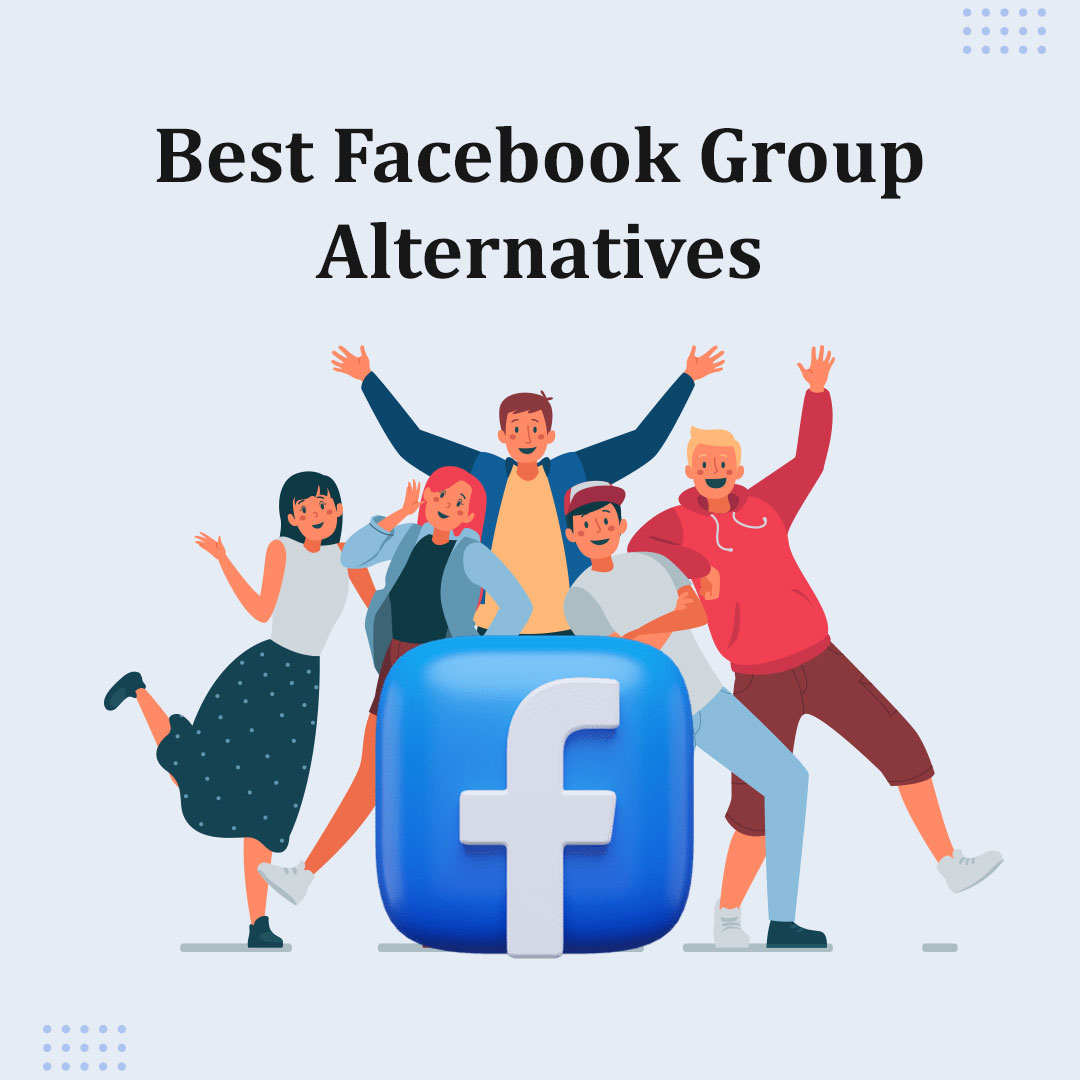 Are you looking for an alternative to your Facebook group?
The reasons you're trying to search for an alternative to Facebook group is quite obvious. As a creator, if you're trying to grow your online community, the first place that will come to your mind is Facebook group. Of course, because Facebook is a much popular platform and also an easily accessible one. So, this option is quite tempting!
But that's actually not the case. Facebook has a lot of challenges. One of the most common one is data privacy issues, which makes it difficult to build a strong community there. Your aim should be to provide your members with a great place to communicate with each other without worrying about their privacy or data getting hacked.
So, whether you're building a community of sports enthusiasts or a community of teachers or a community to teach something you're a master at, this blog will give you 6 amazing alternatives you can opt for as an alternative to Facebook group.
Let's get started!
Reasons Why You Need An Alternative To Facebook Groups
We already know why you need an alternative to Facebook groups. But in case you've not yet started using Facebook groups, you need to determine the reasons why this blog post is talking about Facebook group alternatives.
Growing your business's community using Facebook Groups might seem an attractive option but comes with certain disadvantages of its own.
So, before we start looking for Facebook Group alternatives, let's have a look at why you need an alternative to Facebook group. Below are some of the reasons.
Trust issues


Facebook has gone through a series of scandals connected to revealing user data to other parties. Hence, a lot of people are still reluctant to register on the platform. The customers don't trust the platform easily.
There are a lot of businesses that consider Facebook groups as a means of brand promotion, but, they should remember that Facebook is a business first. The platform always needs to prioritize its success over the businesses it supports.
 Members can get easily distracted
Facebook is a social media platform that is full of content that can distract your prospects from your business notifications. This means that a user doesn't pay much attention to your posts and it can have a direct impact on content visibility and your business's reach.
Minimal customization


Facebook cannot express your brand's identity. Facebook Group customization is rigid and limited only to a few features about your brand. The platform doesn't allow you to adapt its groups to your business needs.
To help your business grow, you should work on making your content visible to new users. Facebook doesn't provide any features to attract users beyond the platform's borders.
6 Best Alternatives To Facebook Groups
Now, we know the reasons why you need an alternative to Facebook groups. So, let's have a look at the best options. Below are some of the top alternatives for Facebook groups that you can use for your business.
1. Reddit


This social media website allows users to create communities and these communities can be used to discuss any topic. These communities range from fan clubs for specific topics of interest like marketing and design, to general communities such as poetry or lifestyle and everything that comes in between. 
One drawback of using Reddit is that your community can be shut down if the admins feel that you have violated site guidelines. 
Here are some of the features of Reddit:
Easy-to-use interface
Open-source platform
Mobile app
Chat forum
Ability to create anonymous profile
Reddit: https://www.reddit.com/ 
Reddit Pricing: It is a free site but it lacks some of the advanced features.
2. Discord
This unique app originated as a way for gamers to connect with the players they are gaming with. Discord allows people to talk, text, share screen, and video chat with other people. Due to its great functionality, users from outside the gaming community have also started using it. 
Here are some features of Discord:
Admins can control the privacy of their groups. 
Create a list of friends and contact people directly.
Link social media accounts to your profile.
Discord: https://discord.com/ 
Discord Pricing: It is a free group website, but it does have 2 paid membership options.
3. Tribe
Tribe is a community-building platform that is made to work as per the business market. It offers businesses customizable options to engage with their customers. It gathers actionable insights for its users and takes customer service features to a new level.
Here are some features of Tribe:
Q&A forums. 
Integrates with apps like Zapier.
Consists of a panel to efficiently control posts.
Has rewards tools to retain old customers.
Tribe: https://tribe.so/ 
Tribe Pricing: starts from $599 per month.
4. WhatsApp


Who doesn't know about WhatsApp?! It takes your social networks to a different direction. Businesses can create WhatsApp groups and gather customers for private discussions regarding the business. 
All you have to do is convince people to share their phone numbers and their numbers are visible to the rest of the group.
Here are some features of WhatsApp:
Access from phone, desktop, or tablet.
Send texts, voice calls, or video calls.
Send files in almost any format, be it PPT, JPG, MP3, or MP4.
Allows posting multiple photos & videos & voice notes as status updates
WhatsApp: https://www.whatsapp.com/ 
WhatsApp Pricing: Free of cost.
5. Slack


Slack is one of the best alternatives to Facebook Groups for you if you are very serious about building an online community for your business. It offers control over your groups and many monetization features too. 
Using this platform, users can create both free and paid groups. Unlike Facebook Groups, it gives you complete ownership and control over your online community. 
It is more professional than the other options mentioned in this list and is apt for internal communication among employees.
Here are some of the features of Slack:
Control over the way users interact
Free & paid online packages
Integrates with other apps easily
One-on-one video and audio conversations
Supports screen sharing
Slack: https://slack.com/intl/en-in/ 
Slack Pricing: Starts from $2.68 per month.
6. Telegram


Telegram is a solid messaging app and a great alternative to Facebook Groups. The users on Telegram can interact with each other easily and without any hurdles. Business owners can use it to interact with their team, customers, and all other people related to their business.
Here are some useful Telegram features:
Building communities 
All-in-one marketing 
Allow phone numbers migration
Users can upload multiple profile pictures
Secret chats
Customizable
Auto night mode
Users can mute groups
Telegram: https://telegram.org/ 
Telegram Pricing: The plan is Free to use.
Conclusion
That's all we have for you! Now, you are aware of the top 6 alternatives of Facebook Groups.
All the Facebook Group alternatives covered in this blog are everything you may need for your community. If you are looking for a simple platform for your business, you can look into some free group sites from this list. 
You have a detailed analysis of the different Facebook group alternatives available right now. But which one should you choose?
For companies looking for a 360-degree solution. Telegram is the best option, in my opinion. It is free to use as compared to other alternatives and has good features too. You can also give Reddit a thought.
If you have any specific questions about anything related to promoting a business on Facebook groups, feel free to ask in the comments section below. 
We would be happy to respond!
Thanks for reading.
Subscribe to our newsletter
We'll keep you in the loop on our best advice and strategies for social media marketing and growing a small business.

Back To Homepage