How To Use ChatGPT- The Beginner's Guide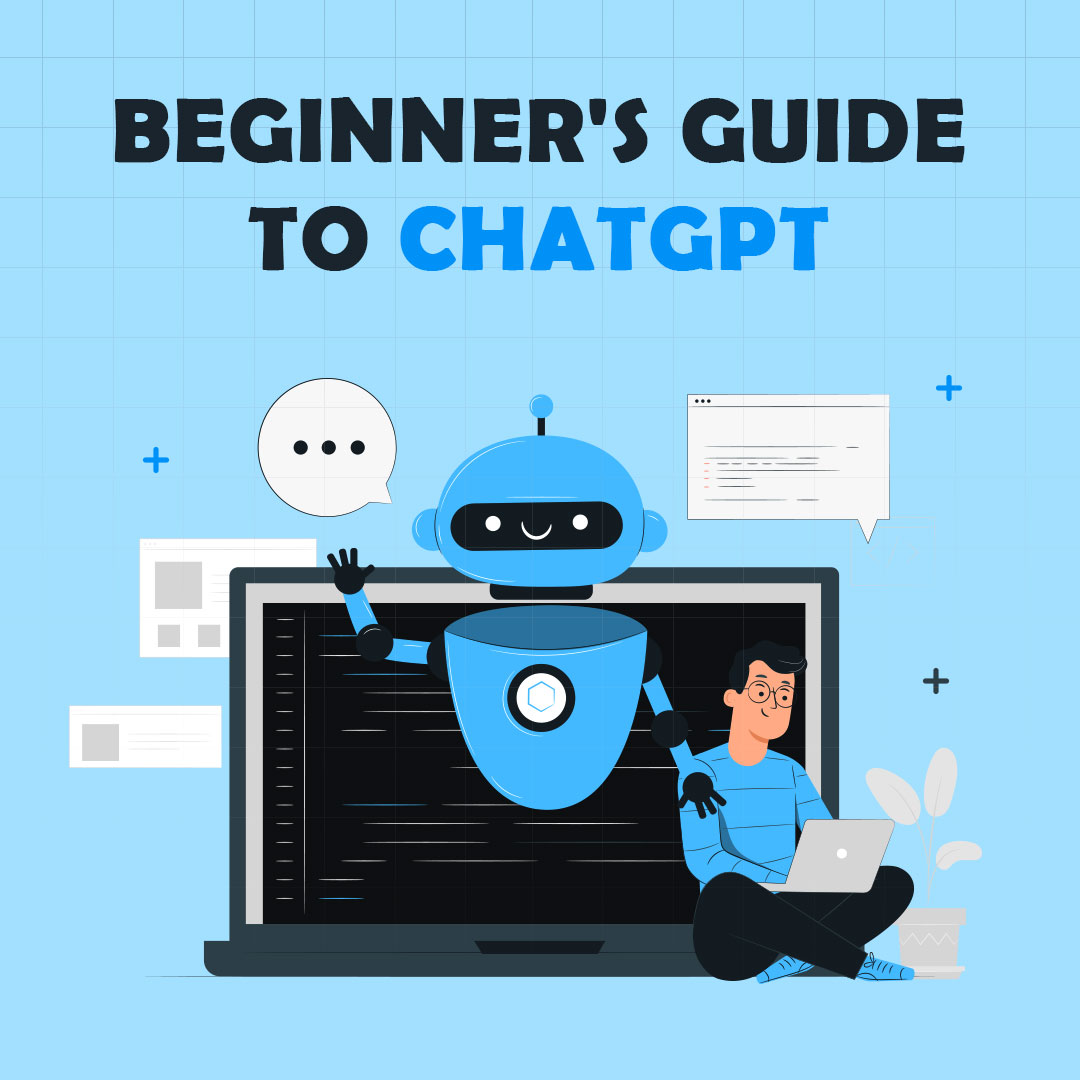 Have you heard of ChatGPT?
ChatGPT is one of the most important thing to happen in this digital world after the invention of internet. This new AI bot has taken the world by storm. It took less than 5 days to reach 1 million users whereas for Instagram it took 75 days.
AI chatbots are simple tools that can be used by business owners to level up their digital experience. Such chatbots are made to have human-like conversations using a process known as natural language processing (NLP).
Artificial Intelligence chatbots like ChatGPT can make your job easier as they can do everything from chatting with your customers to guiding you through a complex B2B sales process.
This technology enables them to interpret human language as it is written. The software can understand language outside of pre-programmed commands and provide a response based on the existing data.
If you're new to ChatGPT, this blog will help you get started. 
What Is ChatGPT?


ChatGPT is an AI chatbot that quickly garnered attention after its launch at the end of the year 2022. In simple words, ChatGPT (Generated Pre-Trained Transformer) is a program that is built to answer a person with any query in a human-like manner.
The main function of ChatGPT is to mimic a human conversationalist. Not only this but also it can write and debug computer programs. Its training data includes many pages and information about programming languages, such as Python programming language.
Unlike other AI chatbots, ChatGPT remembers previous prompts given to it in the same conversation, which is why it is also considered as a personalized platform. Not only this but to prevent offensive outputs from being presented, the queries are filtered through OpenAI's company-wide moderation API. 
Is ChatGPT An Alternative To Google?
The OpenAI software, ChatGPT's real value lies in its ability to explain complicated topics without any confusion as if you are talking to a human, and to do simple writing tasks.
Let me give an example, imagine, you have asked ChatGPT to explain a topic like the stock market and its relationship with the internet to you. The responses you will get from ChatGPT will be as if you took opinions from an expert. 
Now, if you search the same query on the search engine, Google, you will have to go through several articles to see which one will work the best for you. With ChatGPT, you can also command the software to write a letter, however, in Google, you cannot do it. 
The well-known search engine, Google knows a lot about us and tailors the results to our interests and behaviors. Google is a highly-reliable source of information whereas ChatGPT has not gained the term 'reliability' yet. 
ChatGPT is still in the testing process and some incidents have proved that it's not 100% accurate. It is not an exact alternative to Google, however, you can call it a competitor of Google as ChatGPT is taking the internet by storm.
ChatGPT Benefits And Challenges


Well, everything has its advantages and disadvantages. Just like the use of internet can be advantageous for some whereas harmful for a few. Similarly, ChatGPT also has its pros & cons.
Below are some of the top benefits of ChatGPT for you and your business.
It helps in increasing productivity.
It helps in generating quality content automatically.
It provides multilingual support.
It fastens your research process.
It saves you money as you don't have to hire a lot of people.
It helps in reaching new customers.
It provides 24*7 availability services to your customers.
It has pre-recorded and consistent answers
It saves you a lot of time.
With all these benefits, ChatGPT makes your job easier, however, it comes with some challenges too. Below are some of the major cons of ChatGPT.
Since the AI software chats are still in beta mode, many leads might feel a lack of human touch in the conversation. 
ChatGPT uses NLP technology to interpret, recognize and understand user requests in free language. This NLP technology comes with certain restrictions of its own.
ChatGPT will not work offline.
It will only respond to data till 2021 making it useless for content curation on current affairs.
We all believe that pictures are a better presentation. ChatGPT deals only with texts and no visual graphics.
ChatGPT is not good with maths, calculations, and other logical reasoning part. It's great with content creation & language translation to be precise.
How To Use ChatGPT? 


Follow the below-mentioned steps to get a clear view of how to use ChatGPT.
Visit the OpenAI website, ChatGPT, and create your account.
Verify your email address and mobile number.
Configure the language, response time, and tone of the chatbot as per your liking.
Integrate ChatGPT into your website's chat or social media response.
Start asking your queries.
Once the OpenAI ChatGPT answers you can review and edit as needed to ensure accuracy and relevance.
10 Best Creative Uses Of ChatGPT
ChatGPT is a great invention and it can be used in various ways to get your work done. Here are the 10 ways you can use ChatGPT to improve your productivity & efficiency.
1. Helps with market research

Market research is an important work for the marketing team and it is quite a hectic process. ChatGPT helps to streamline the process and makes it easier for marketers. It can conduct surveys and questionnaires based on your target audience and will also help you with analyzing their feedbacks.
2. Explains how something works
ChatGPT excels in helping people understand different ideas. You, as a ChatGPT user, can ask the AI software to explain a major theme of any topic required and it will clarify all your doubts. It can even help you to understand in simple words like a layman.
3. Helps you get better at writing 


There are several ways that ChatGPT can help you in learning to write better and more useful content. You can use it to proofread your writing and also try describing what it is you're trying to say and it will suggest better words or some better ways. It will also help you to write a story, poem, or some research paper.
4. Helps with email writing
You can sometimes find it difficult to write an email stating exactly what you want to say. With ChatGPT, you will always know exactly how to arrange your words professionally. All you have to do is go to ChatGPT to draft an email explaining your needs.
5. Provides excellent customer service


It sometimes might get overwhelming for you to chat with all your customers and respond to each and every query. So why not let ChatGPT solve their queries instead? ChatGPT can have a conversation with your customers and also solve their issues as it works like a chat bot.
6. Generates various ideas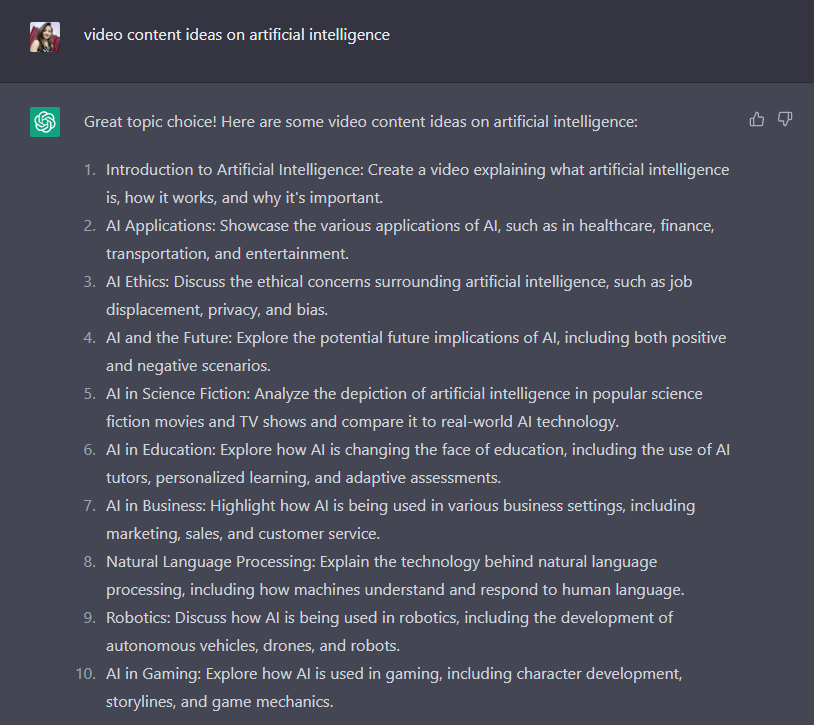 ChatGPT is a great place to ask for ideas & planning. If you're unable to understand how to create a YouTube video on a particular topic, ChatGPT will help you with the video content creation. In fact, ChatGPT can also help you to decide the topic you should work on for your next video.
7. Helps in writing codes
Whether you're a coding ninja or someone who is trying to learn to code, ChatGPT can come in handy for you. You can simply ask the AI chatbot to do the coding for you and can even tell it which programming language you want to write the code in.
8. Get party theme ideas


If you are stuck trying to figure out ideas for a party theme, you can take help from ChatGPT. All you have to do is ask it to suggest party themes and it will do so. For example, I asked ChatGPT to suggest some party themes for a birthday party for a 5-year-old and it gave me great ideas.
9. Translate Using ChatGPT
This is one of the most used things in ChatGPT. The users can use the chatbot to translate text from one language to another. ChatGPT knows 95 natural languages. So, just type your words that you want ChatGPT to translate for you.
10. Helps with data analysis


ChatGPT can also help users to analyze large amounts of data within a few minutes and identify the key trends and insights. This can help teams to work better and take better data-driven decisions.
Conclusion
ChatGPT is a great invention which has got a lot of benefits but it's still a nascent technology, so there are many limitations to it as well. Apart from the above-mentioned uses of ChatGPT, there are many more ways in which you can use it. 
So, put your queries to ChatGPT today and see what it can do for you.
Let us know in the comments below how are you planning to use ChatGPT. We would love to hear from you.
Thanks for reading!
Subscribe to our newsletter
We'll keep you in the loop on our best advice and strategies for social media marketing and growing a small business.

Back To Homepage