How To Create The Best Twitter Marketing Strategy For Your Brand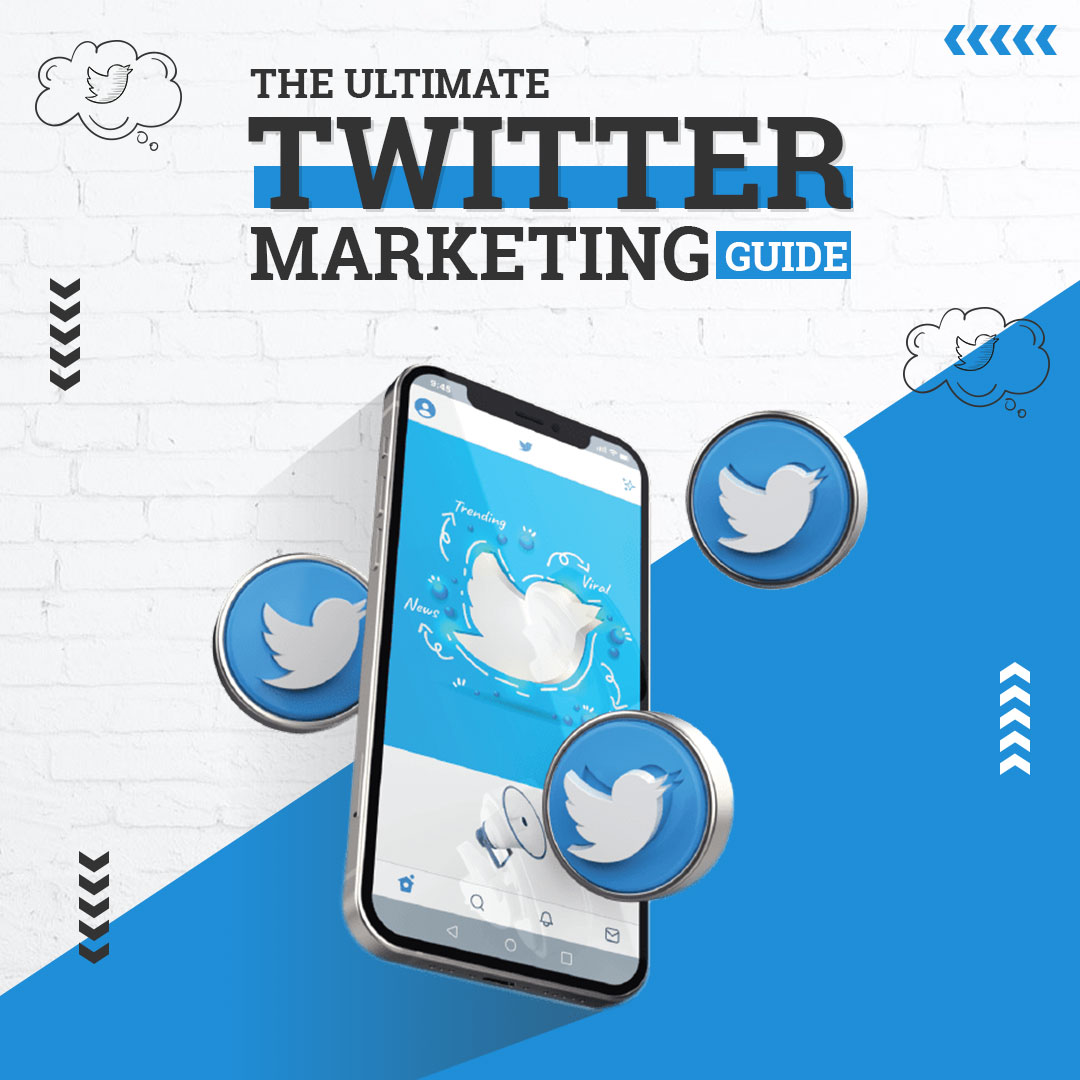 When it comes to connecting with customers & achieving your business goals, Twitter is non-negotiable.
With an active user count of more than 237.8 million, Twitter marketing has proven to be useful for brands all over the world.
Businesses market their content on Twitter to engage users, increase brand awareness and boost conversion. You too can create a Twitter business account to distribute content and grow your business.
With more than 500 million tweets sent daily, it's not easy to stand out from the crowd. You need to be strategic and savvy to grab your audience's attention and grow your business.
Feeling intimidated with this fast-paced platform?
Don't be! Because we have brought you everything you need to create and implement a highly effective Twitter marketing strategy that brings you results.
Let's get started with this detailed Twitter marketing guide.
Why Market On Twitter?


You might not be fully aware of the benefits of Twitter for your business. Below, we have given you a detailed breakdown of why you should market your business on Twitter.
1. You get valuable insights into customer
There are more than 350,000 tweets sent every minute on Twitter. 
This clearly shows that people are using Twitter actively and the platform can be used for conversions as it can prove to be a valuable source of customer insights. 
The Twitter Explore feature of the social media platform gives business owners an updated list of topics and hashtags trending that are relevant to their interests. 
This feature can also be used as a source to get to know more about the trending content.
2. You can build your brand's persona
Twitter lets you share information about your business and start conversations with your target audience. If your audience will find your content useful, they might share it with their followers.
When you share content using your brand's tone, it will build your brand's personality and will attract an audience whose views align with yours.
3. You can get instant feedback
Many brands use Twitter for marketing and as a market research medium that can provide valuable insights. Customers can easily reach out to brands and provide their feedback or ask for help on Twitter.
4. You can build a community of loyal clients
When you have conversations with your customers on Twitter, you automatically start building your brand community. 
You can use the platform to start and join in on relevant conversations and engage with the community for the growth of your business. Social media platforms can help brands connect with like-minded people.
5. You can give all company or product updates to your customers without annoying them
Most people think that posting multiple times on social media platforms is annoying. But on Twitter, it is not. This is the only social media platform where you can post at least 15 times a day without annoying your followers.
It's a great platform to give all the updates about your company or product to your customers without annoying them.
6. You never know when you go viral
With more than 350,000 tweets being sent every minute, I agree it's difficult to stand out from the crowd. But once you start applying some tips and tricks to attract the attention of your followers, you never know when one of your tweets goes viral.
Making viral tweets can boost your traffic and followers count which in turn may increase your sales as well. So, it's a great platform to make your brand go viral.
Types Of Twitter Posts
There are many types of twitter posts which you can take advantage of to grow your Twitter marketing strategy. Below we have stated the types of Twitter posts that anyone on Twitter can use.
Link tweets- Tweets that contains a link of your product or brand. Clicking on the link will redirect your customers to the place you want them to be.
Image tweets- Tweets with visuals like a graphic or an infographic.
Video tweets- Twitter allows to embed a video in your tweet which will not be more than 140 seconds.
Polls- A poll is a question with various options asked to people.
What to post on Twitter?


Not sure what to post on Twitter? Well, it's not easy to stand out from the huge crowd and grab your audience's attention. Every brand has their own strategy and it's important for you too to have your own strategy.
However, here are some engaging post ideas which most brands try out and have become successful as well. Try these ideas on Twitter to grow your audiences:
Ask questions
Trending news or industry news
Polls
GIFs & memes
Brand announcements
Discount offers
Blog content promotion
Visual content (graphics, infographics, etc)
Short videos (behind the scenes, teasers, launches promo, etc)
Job openings
Motivational quotes
Tips & tricks
Testimonials & reviews
Products & services
How To Advertise Content On Twitter?


Twitter ads are quite cost effective and so most brands try to take advantage of Twitter ads. The best thing about Twitter ads is that it can help your business to grow faster.
If you want to spend some money in order to give your business a push, here are the steps you need to follow to run your ads on Twitter:-
Set up your Twitter ads account
Pick your advertising objective
Set your ad group
Select your target audience
Choose your ad placement
Launch your campaign
Tips And Tricks To Grow On Twitter
Now we came to the main part of the blog. This part will help you with some amazing tricks which you can take advantage of to stand out from the crowd and grow your business faster.
Go through the following tips to grow on Twitter and increase your business' followers.
1. Optimize your Twitter Profile
To ensure the growth of your business, you must have a complete profile with the company's name and a handle that fits your brand. 
You must keep your bio keyword-friendly and also add a link to your website. To make sure your Twitter page stands out from the rest, you can customize the color scheme.
2. Promote your business on other social media platforms


To grow on Twitter, you must also share your handle with your customers on different social media platforms like Facebook, Instagram, LinkedIn, and so on.
Apart from this, you can promote your business using newsletters, advertisements, and other promotional tools also.
3. Spy on your competitor's content 
You must know how often your competitors are tweeting and what they're tweeting about. You can keep an eye on how they respond to their customers.
Take ideas from your competition's profiles and make your tweets stand out from their's.
4. Find influencers on Twitter
You can find and follow the influencers in your genre as they may follow you back.
There is a possibility that your tweets could end up in their feeds. If they like your tweet, they might retweet it and this can increase your followers organically.
5. Leverage the power of hashtags


Are you aware of the power of hashtags on Twitter?
Tweets with hashtags get almost double the engagement than tweets without any hashtags. But this doesn't mean that you'll fill your tweets with lots of hashtags.
There are certain ways to leverage the power of hashtags. You can create a specific hashtag for your brand and make sure all your customers are using that particular hashtag to mention your brand everywhere on Twitter.
Twitter recommends not to use more than 2 hashtags.
Never use hashtags that are not relevant to your content. You can check out the explore page on Twitter and see the relevant hashtags that are trending in your niche and use them in your posts.
6. Choose the right time to tweet
You must work on finding out when your users are the most active on Twitter so they'll see your tweets. As per the prevailing consensus, the best time to post is between 12pm and 3 pm or later at 5pm on weekdays.
There is no limit to the number of tweets you can post per day. Many brands post 1 tweet a day and many posts 10 tweets per day. I would recommend you to test and check your analytics before deciding a fixed number of tweets.
7. Use promotional tools
To grow on Twitter, you can also use promotional tools which can help you in finding qualified leads and capitalizing on the local leads. 
With the help of such promotional tools, you can find people who are looking for your genre's topic in a local region and discover leads right where you are.
8. Diversify your content 
When you offer a variety of content to your followers, they tend to spread your brand's name to more people.
You can also add custom graphics with quotes or advice or even customer testimonials. You can also make your page interesting by adding some customer shoutouts once in a while.
Nowadays, UGC (User Generated Content) works great when it comes to Twitter marketing. Leverage the power of UGC to grow your business.
9. Post useful and visual content
People on Twitter want to take part in conversations and see content they're interested in. 
To grow your followers, you must make sure that your content appeals and adds value to the life of the viewer. You can check out the Explore page of Twitter to have a look at the trending topics.
Apart from being useful, you must focus on visuals to be added to your tweets. You must add a variety of visuals to make your content more appealing and attractive. 
10. Focus on tagging, retweeting, and replying


You must know that you can't get more followers on Twitter in a few minutes. To get more followers, you must focus on spending the most time on the platform.
You can schedule tweets to optimize engagement but it should not appear that you aren't handling your Twitter account but some robot is doing it. 
It is always a good idea to stay in touch with your followers and customers. Engaging with your followers by tagging, retweeting, and replying to them gets more eyes on your brand. 
When replying to customers, you must keep in mind a thoughtful response. Don't make your customers wait for your reply.
You can also give a shout out to your followers whenever possible by mentioning them in your tweets. When you retweet your followers' tweets, it shows that you value engagement and are actively participating on the platform.
Conclusion
Twitter is a competitive platform. Hence, marketing on Twitter is not easy. You need to be strategic enough to make your brand stand out from the rest. Leveraging the above-mentioned tips and tricks on Twitter will definitely help you grow your business faster.
Did we miss some more tricks?
Let us know in the comments if you use any other hack to promote your Twitter page and grow your business on the social media platform.
Thanks for reading!
Subscribe to our newsletter
We'll keep you in the loop on our best advice and strategies for social media marketing and growing a small business.

Back To Homepage