How to Optimize a Twitter Profile for Maximum Engagement & Follower Growth
Hello Folks, welcome to the third chapter of Twitter Marketing. Today you will learn about Optimizing a twitter profile.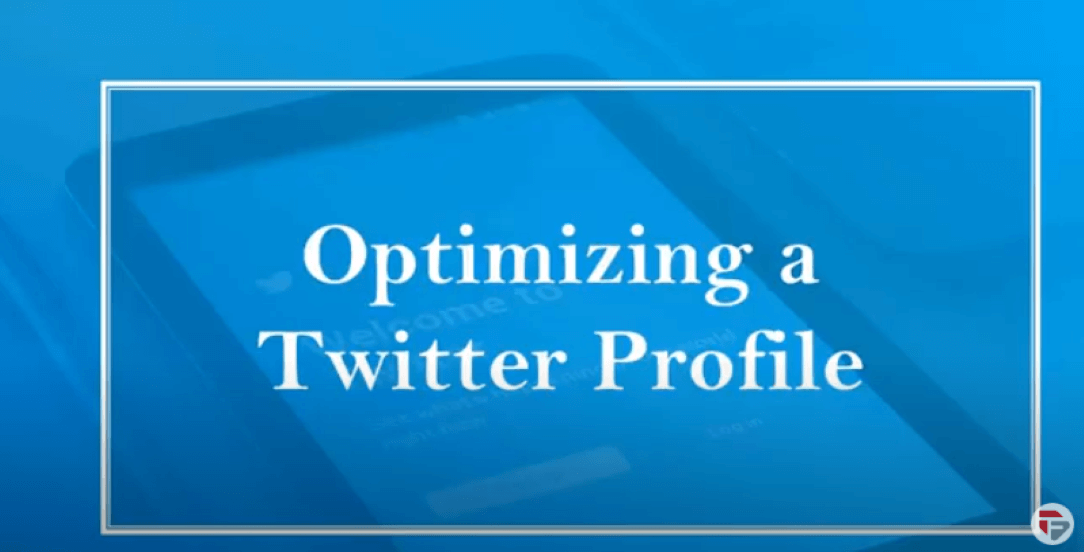 More than 330 million people use Twitter every month, and more than thousands of tweets are posted every single minute. There's no doubt that potential clients and customers are there, and if they are, your business should be, too.
But beyond your potential clients and customers, there are journalists, bloggers, and influencers who monitor Twitter for the brand, fan, and company story ideas.
Don't forget about the passionate customers who go to Twitter to voice their concerns, complaints, and opinions.
The first step to succeeding at Twitter is creating the right kind of profile.
Your twitter bio is the first section of your twitter profile that your target audience will see and learn more about you.
You need to use relevant keywords and hashtags. However, if you choose to use hashtags they will be clickable and may distract from your bio.
A carefully crafted bio will help your business attract potential customers and increase your searchability on Twitter's search engine.
To edit your Twitter profile, go to twitter.com and log into your profile.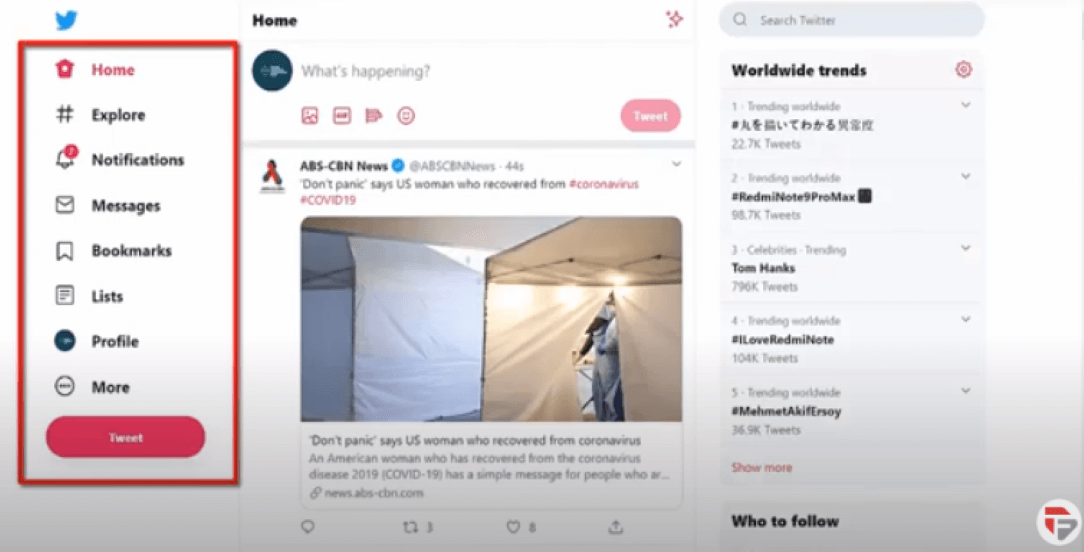 Go to the profile menu and tap the edit profile button.
You will see a pop-up window where you can see the sections of your profile such as:
-Cover photo
-Profile photo
-Bio
-Location
-Website
-Birthdate
Each field shows you the character limit and the number of characters you have used.
You can edit your twitter profile and can make changes any time without any limits. The only limit is the number of characters that you are allowed to use.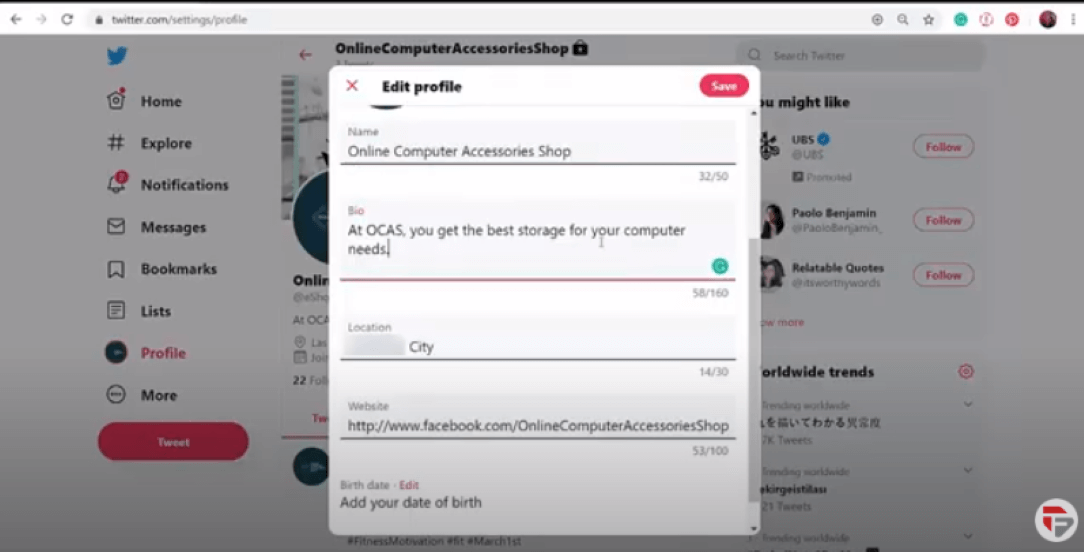 ---
Twitter Name
It is best to use your brand name if you're using twitter for your business. A Twitter name is simply there to help people find the company they are looking for.
If you're using Twitter for your tweets and establishing your brand it is best to use your real name.
A twitter handle is a username that appears at the end of your unique twitter URL. Adding a location is a great idea for local businesses or businesses with multiple locations.
Your Twitter name should be short. The shorter it is the easier it would be for someone to mention you in their Tweets because of the word limit. The word limit on Twitter restricts you to keep your Tweets to a length of 140 characters.
---
Twitter Bio
The best Twitter bios have one thing in common: They're original. That being said, writing a creative Twitter bio is easier said than done.
You have 160 characters to wow your potential audience with. You need to use relevant keywords and hashtags.
You can use hashtagify.me website to search for Twitter hashtags. Explore more trends and see sample tweets with your keyword search.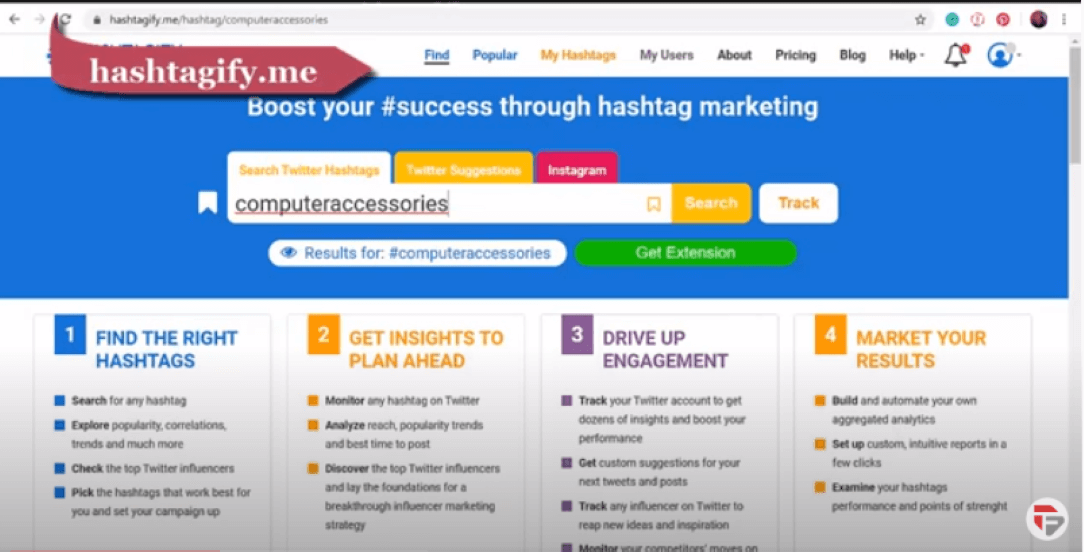 Twitter bios are searchable. In other words, Twitter bios are indexed by search engines such as Google and Bing.
So put your SEO skills to work and optimize by including relevant keywords.
---
Remember to not just fill your bio with hashtags and keywords!
You have a limit of 160 characters. You must be able to inform your viewers about your business or personal brand offers and what makes you different from other businesses or brands.
Be funny, be serious, be kind. Whatever your brand personality is, be sure to show it in your Twitter bio. Give people a taste of the flavor of your content.
How does the saying go? An emoji is worth a thousand words? Okay, not exactly. But emojis can help convey more within the bio's limited character space. And they can add a splash of color and character to your bio.
Your bio must convince them to follow you on twitter!
---
Link to other Accounts
Many brands have multiple accounts on twitter, like a Customer support account, a subsidiary, or an affiliate charitable organization.
To generate more friction for these accounts and to let their followers know where else they can find information about the company, they'll link to those other accounts directly within their bio.
For example, this is a Customer Help page of Starbucks and they have linked the Main page in the bio.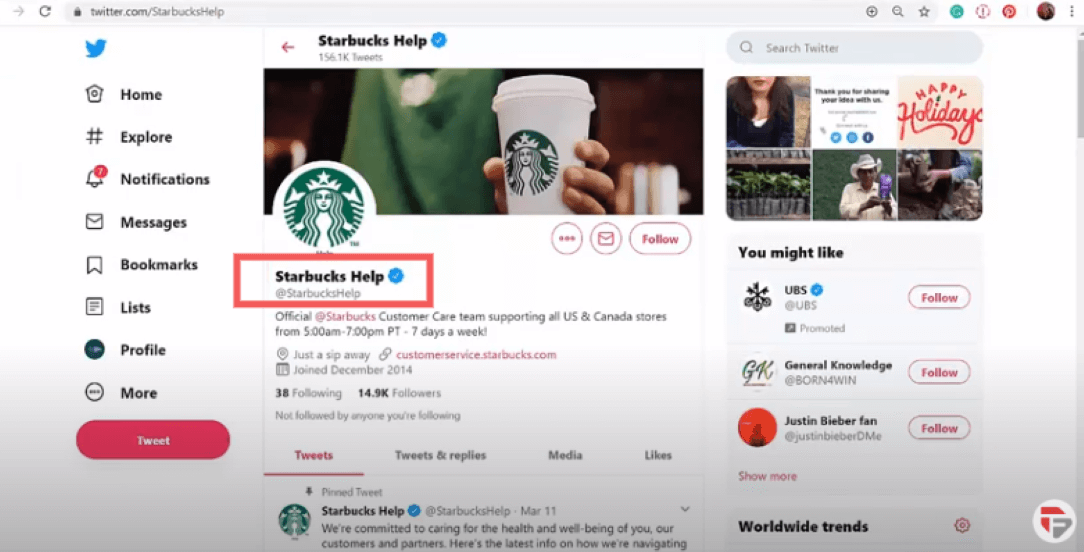 ---
Location
Where is your business located? If you're a global company, you can say that here or use this space to share additional info about your business.
If you're an online company, you can be creative and can say one click away. By including your location it would be easier for you and your business to be discovered by your potential customers.
Website
A link on your profile helps people to find you and connect outside of the Twitter platform.
Most people use Twitter to network with other people who may be interested in similar activities or to promote your business or organization, so the more opportunities you give people to connect with you, the better.
Whatever the link you choose to include on your Twitter profile, make it a valuable and appropriate one. Don't link to your blog when you're using Twitter to network professionally.
Instead, link to your organization or business website, and enhance it with dynamic content such as photos, regular updates, and relevant links, as well as basic contact information such as email, and telephone numbers to increase traffic and promote communication.
---
Conclusion
Crafting your twitter profile page is a huge factor in growing your business. If you're active on twitter people are coming to your profile page.
You have a limited amount of space for your bio, so crafting it in just the right way can be difficult. With the 160-character limit, you need to briefly say why you're awesome and why people should follow you.
But, you also need to include common keywords people search for on Twitter to make it easier for people you want to interact with to find and follow you.
One thing to remember is that if you're on Twitter, your bio will appear in the search results when someone searches your name. That means it will be one of the most visible descriptions of you on the internet, so you've gotta get it right.
When people check out your profile they'll have the impression that your business is Legit and a brand they can trust.
Hope this lesson was useful, now let's proceed to the next lesson.
---
Optimizing your profile photo and cover photo
Twitter – and all social media platforms are about connecting with other people on a human level.
The profile picture helps you and your brand to be recognized by even those who do not follow you but read your tweets when someone else tweets you often.
Thus, a Twitter profile picture is crucial for the brand identity and personal identity of the Twitter user.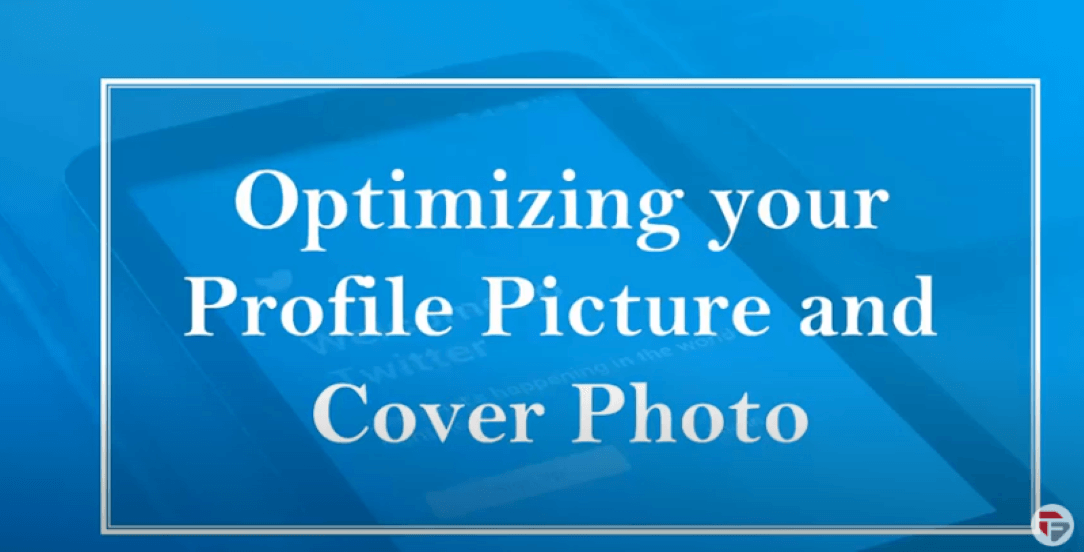 Studies show that a personal photo is far more engaging, and a smiling, headshot-style image is much more approachable and appealing than a non-smiling one.
Get headshots taken by a professional photographer and use the best one for your Twitter profile.
If we are talking about an official Twitter account of a company, one can either use the logo as the profile picture or the picture of the company's headquarters, especially if the building is classy enough.
If you are an employee or have a Twitter account that is professional/personal but is not the official Twitter account of a company, you must use your clear face picture as your Twitter profile image. This is extremely crucial in ensuring trust, confidence, and reliability among your followers.
A person who uses graphically designed images as a Twitter profile picture will have less credibility and may even be mistaken for spam.
For this reason alone, it is important to use an image that clearly shows your picture professionally and stylishly.
Don't hire a Professional Photographer! You could just ask one of your friends or colleagues to take your picture on a Smartphone against a professional-looking background.
You need to make sure that you are dressed in formal attire and not a T-shirt, as that can send a message of you being sloppy or laid back.
The key is to appear as trustworthy and professional as you can. Twitter users do judge you by the way you look, and you must ensure that your followers think you are professional.
No matter how much we try to deceive ourselves, the way we dress and carry ourselves leave lasting images.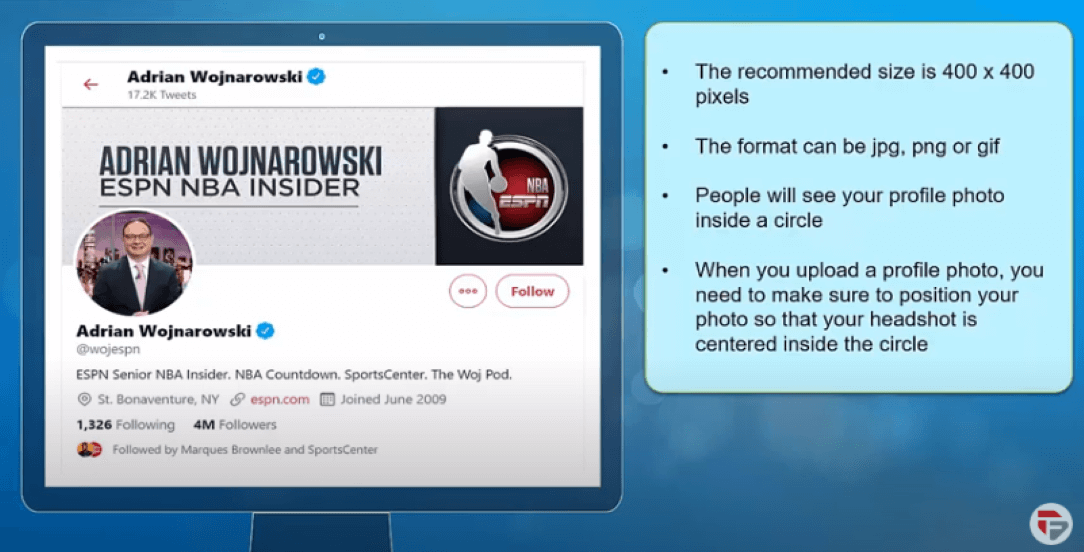 ---
Key points
- The recommended size for profile images is 400x400 pixels.
- The recommended dimensions for header images are 1500x500 pixels.
- Twitter supports JPEG, GIF, and PNG file formats.
- The maximum filesize for profile photos is 2MB.
- Make sure you click 'Apply.' Your image won't save until you do
Use a photo in which your face is in front and it occupies 70% of the circle. Also, choose a background that is in contrast to your outfit. Here is an example for a better understanding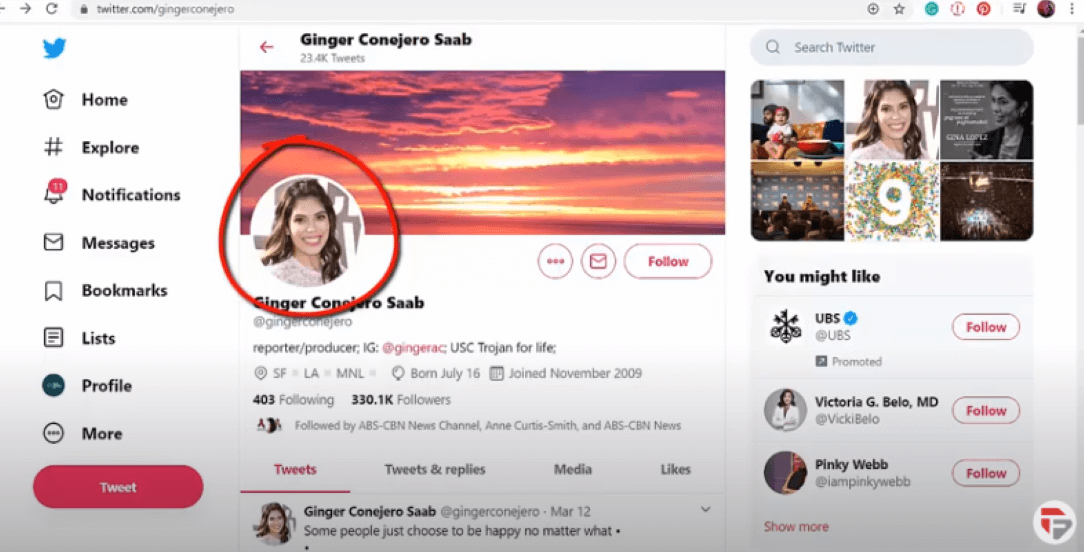 Avoid pictures where you blend into the background or are not distinguishable from your surroundings. Below is the example of one such profile where the profile picture doesn't stand out.
---
Using a logo for your twitter picture
Logos are widely used on Twitter and other social networks, though surprisingly not as often as portraits even by the business.
Successful brands who choose to use their logo as their profile balance out the personalization aspect in their content and bio.
Important things to remember when choosing a logo are:
- Use an image that doesn't get distorted or hard to read when uploaded.
- The image is square: 73px x 73px.
- If your brand is not widely known, try to include some imagery that describes what you do.
The quality of the logo must not be pixelated
Let's take a look at the profile photo of a business or brand. In the below example they have used Logo with easily readable text.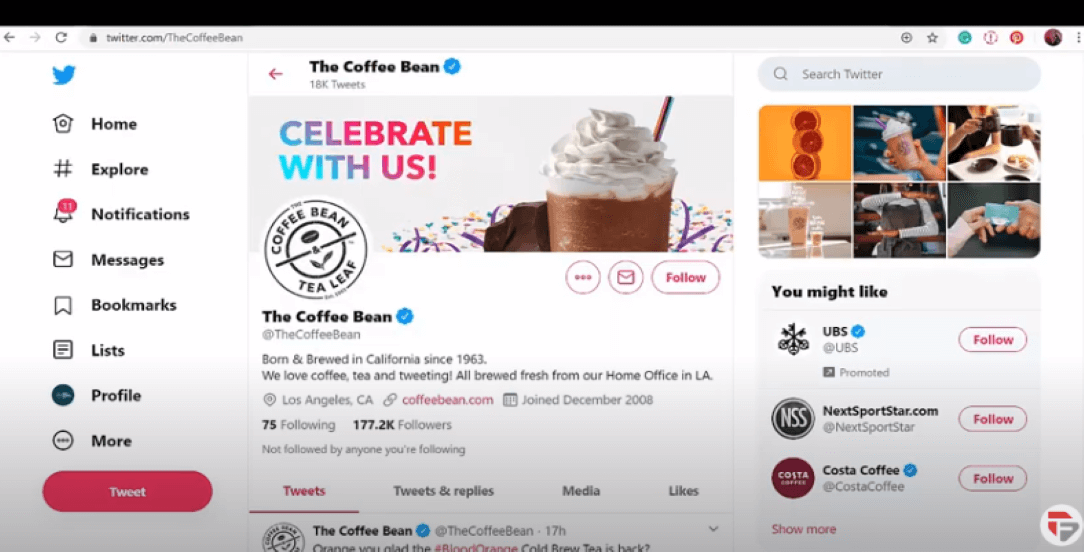 ---
Cover Photos
When you consider some of the biggest and most successful brands in the world, their twitter pages all look highly professional and creatively put together.
This space is also a perfect place to advertise events such as talks, webinars, new books, and many others.
Important things to remember:
- The recommended size for the cover photo is 1500 x 1500 pixels
- File size should be less than 5mb
- You can upload PNP, jpg, or gif
- This photo must reflect your brand or your business
This is the biggest section of your Twitter profile that your audience can see, remember to upload high-quality cover photos that are relevant to your business.
You can also showcase the best products that your business can offer people in your cover photo.
Doing this can feature your best seller products and people will be encouraged to purchase from you.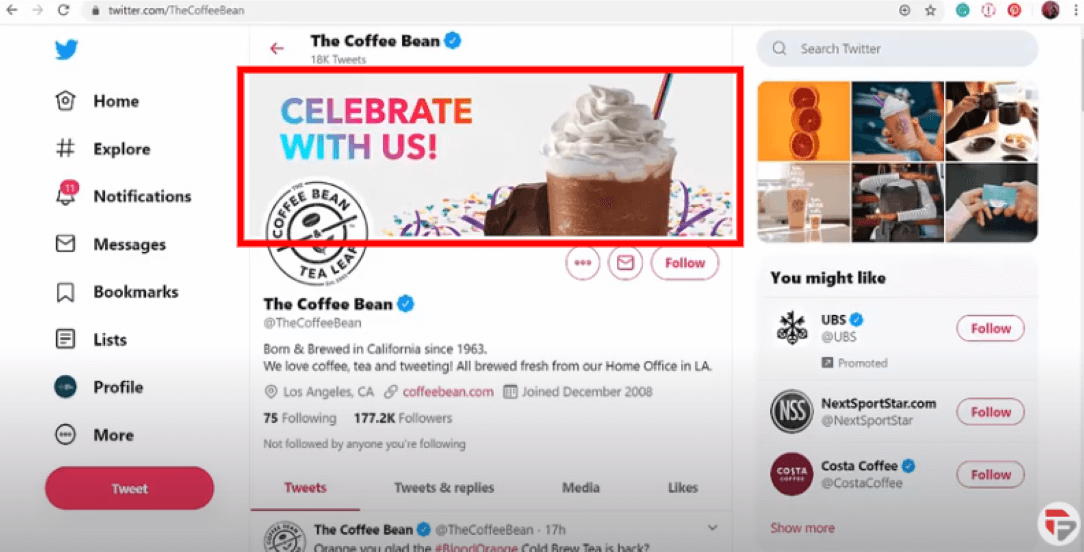 For your brand, your cover photo can show people what you do and the services you can offer them.
You can even show sample work and portfolios in your cover photo. Like in this example
---
Conclusion
Choosing the right profile photo for your brand or your business logo will help your twitter profile attract more users and grow your brand.
Having a high-quality cover photo will also support your profile photo as you showcase your best products or services that people can expect from you.
People will see your account as authentic and unique.
People are attracted to visuals (Photos of high quality and a good combination of color palettes)
Let's proceed to the next lesson which isReviewing some well-optimized twitter accounts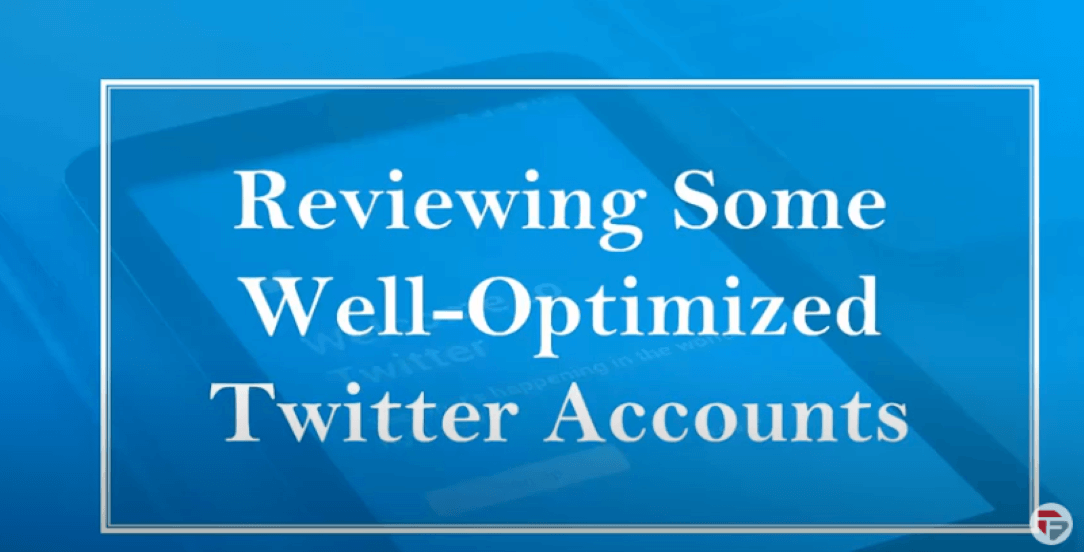 If you want to increase your followers and make your profile credible, you must optimize your profile to make it stand out from others.
Let's take a look at some Twitter accounts to give you ideas on what you can do with your twitter account for your brand or your business.
Let's look at the profile of Richard Branson, founder of Virgin Group and an author of a book that you can see on his cover photo.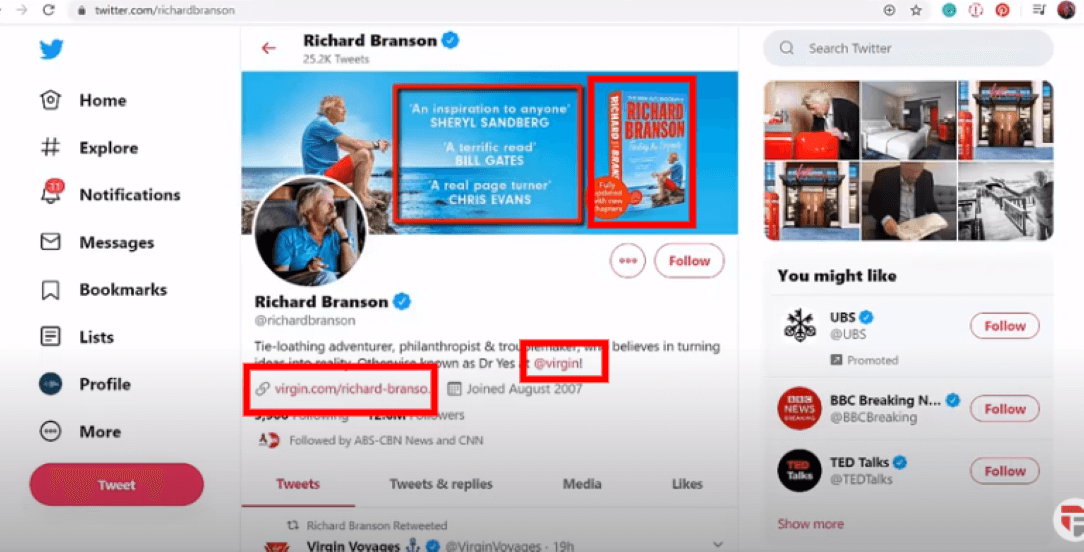 His cover photos also include some testimonials from famous people who have read his book. He has showcased his book.
In his profile, he has included a link to his website and as you click on it you will be directed to his company's website.
Also, he has included another twitter handle which links his bio to his Virgin company which adds more visitors to his company.
---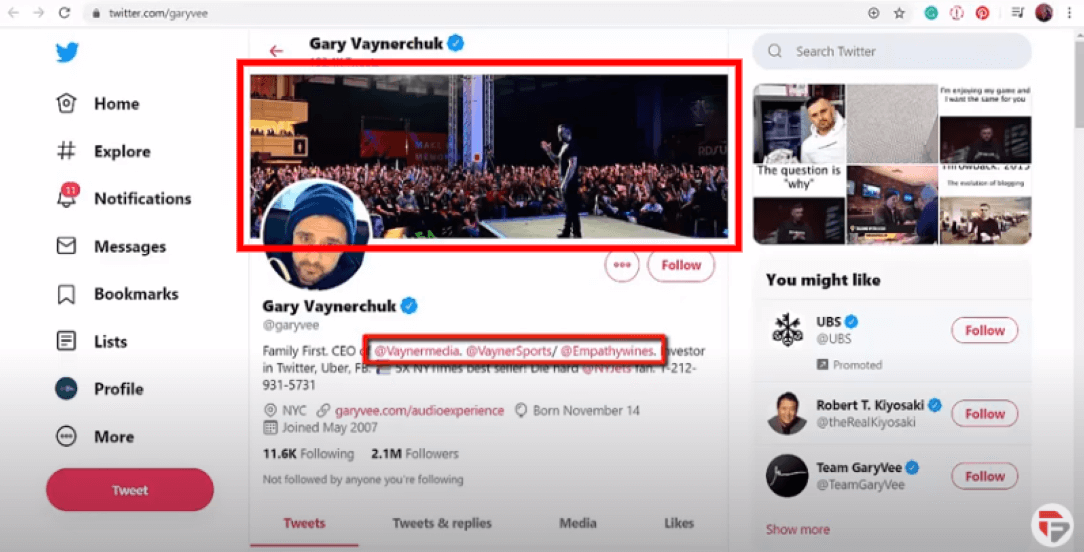 The next profile is of an influencer who does a lot of talks and seminars about self-awareness to improve the lives of people.
He used a twitter handle which is what people know him for i.e @garyvee
His cover photo shows people what he does, which is a speaker. In his bio, you will see multiple twitter handles. If you click one of the twitter handles you will see the linked twitter account where he is a part.
Besides, you can see a book emoji in his bio followed by 5x times bestseller. He even included his contact number.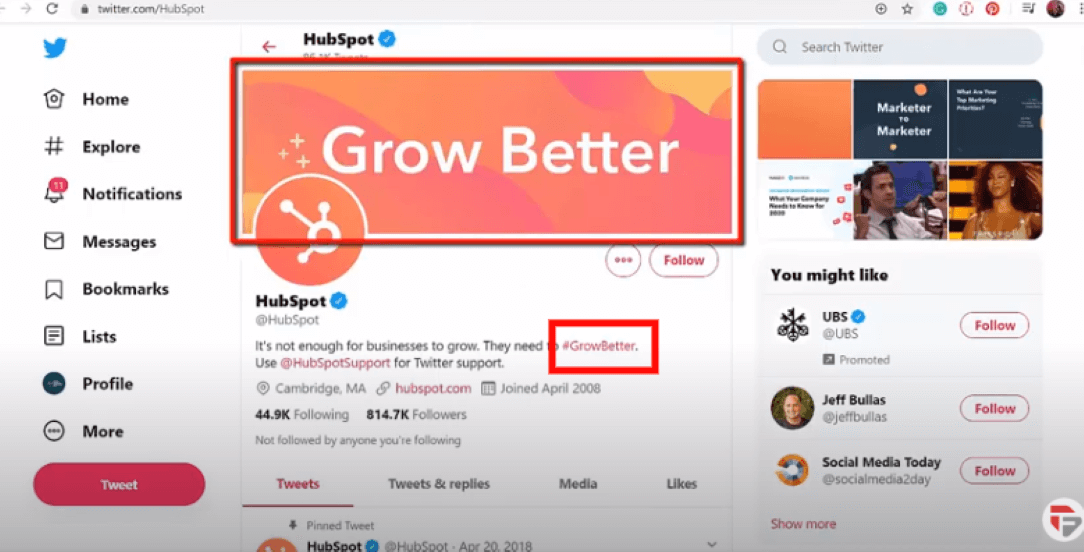 The next profile is of HubSpot company that develops software products. You can see in their cover photo they have used their Tagline and also they have made their hashtag.
As business owners, you can create your unique Hashtag that people can use in their tweets.
In their cover photo and profile photo, they have used color palettes that complement each other. This color combination can be known by people as their brand.
The next profile is Amazon which is a well-known e-commerce website for different products.
They have used their business logo as a profile picture and the cover photo shows tons of amazon boxes.
You can see in their bio another twitter account which is another amazon account dedicated to customers.
---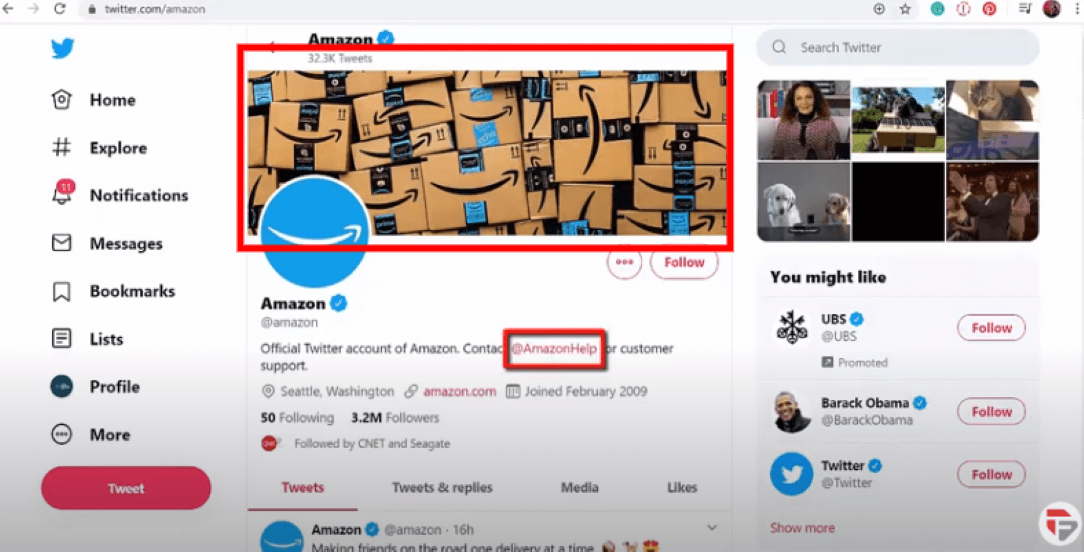 When you click on this link you will be redirected to the Customer Service page. This account informs viewers about the different languages that they support.
When you click amazon.com/help link you will be redirected to the website where you can find more solutions as you type keywords in the search box.
Look at the example for a better understanding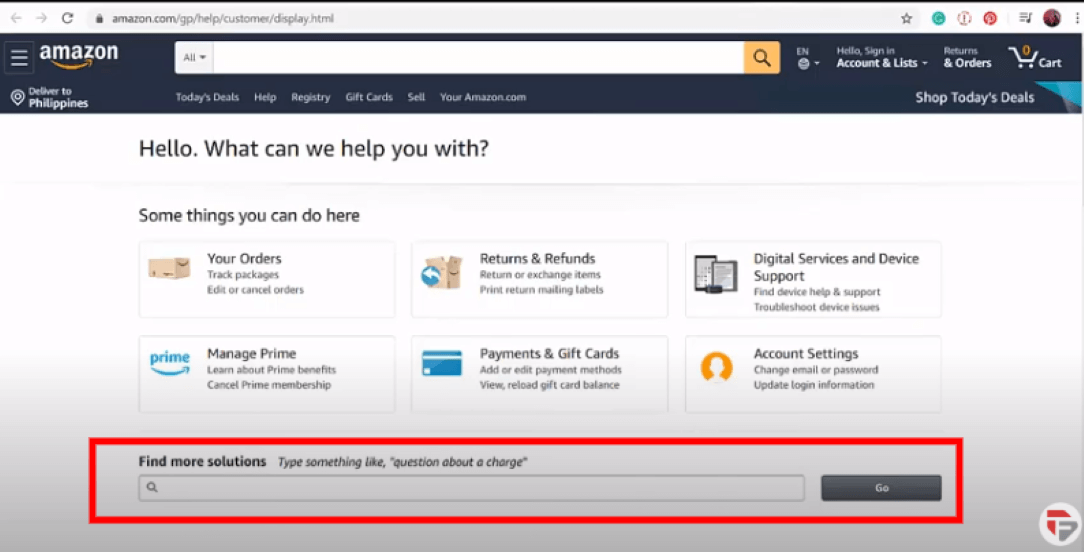 The next profile is a news and sports coverage media. You may notice that their cover photo is a call to action that tells people to sign up and enter the link for free.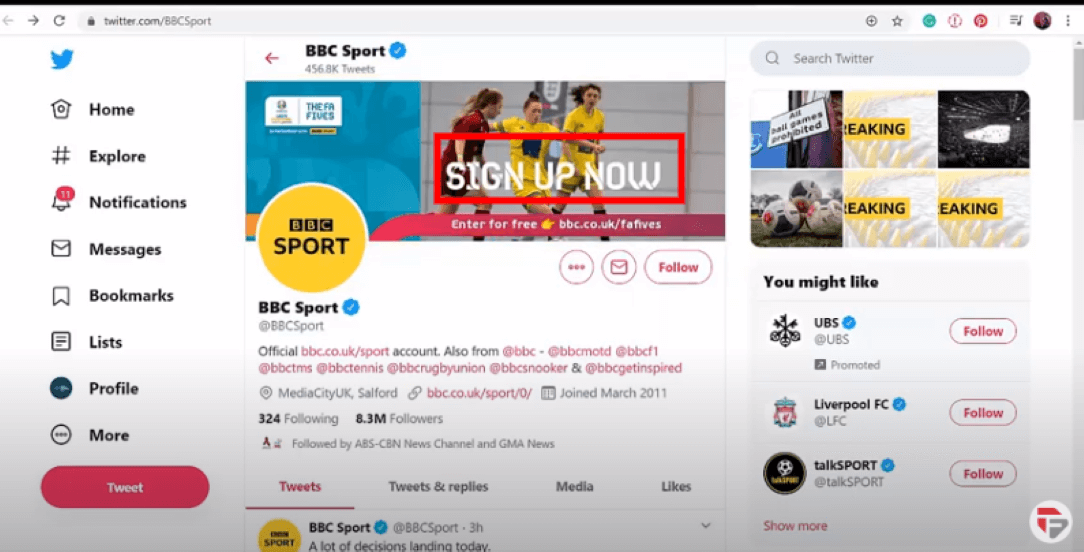 Hope this lesson was useful. Our next lesson is How to Tweet on Twitter.
Chapter 4 : How to Tweet on Twitter. Tips and Tricks to Grow your Visibility & Twitter audience See More
---