Connecting with Influencers & Using trends for twitter marketing
Hello Folks, welcome to the sixth chapter of Twitter Marketing. In this chapter, we will guide you through why and how to connect with Influencers on Twitter.
Finding the right people to follow isn't always easy to do!
When you consider the 200+ million accounts on Twitter, it's like looking for a needle in a haystack, and it can be a major time suck.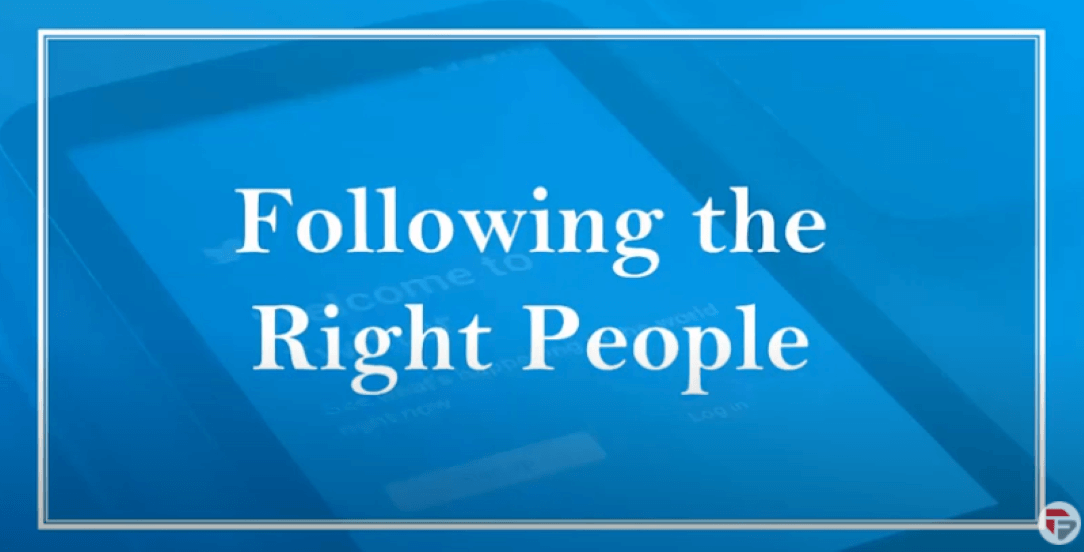 Growing your Twitter account is one of the goals of businesses on Twitter. This way more people can view their tweets.
Promoting their products and services will get more reach as more and more people to follow them on Twitter.
Their tweets can be retweeted, liked, spark conversations from their followers, and make their created hashtags rank high on trending tweets.
One way of growing your Twitter followers is by searching for Twitter accounts that can be your inspiration in your industry.
These twitter users can be leaders in any industry that have tons of followers since they have built their brand for a very long time.
---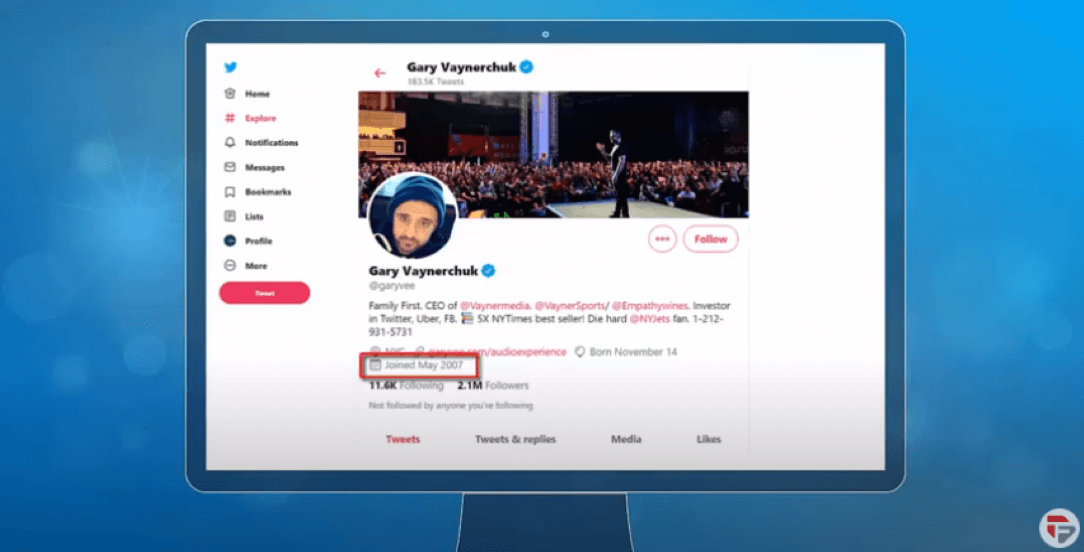 Identify the type or Influencer you are looking for
Some online users have a huge following because they know the essential methods in providing tweets that constantly interest others.
If you follow them online, you will also be exposed to more potential followers who will be most interested in your account.
Speakers of seminars are mostly great at talking about topics they are expert of, you may notice that he also does podcasts.
This is common nowadays as people can't talk about topics that they know. People who are interested in that topic will be eager to listen to them
More people are going to follow him. Podcasts can be a way of talking about certain topics and promoting products that are related to that topic.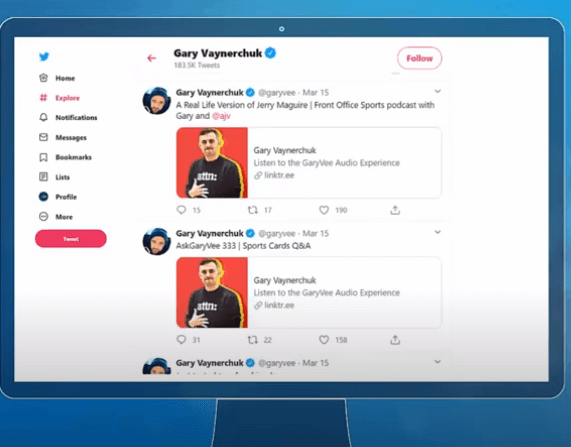 Use the Twitter search box to input keywords or hashtags to get search results for tweets that use these keywords.
Think about the hashtags that are commonly used in your niche. If you're not sure, head over to hashtagify.me and do a quick search of a keyword to find some hashtags.
The top results will show us people who have names and brands related to our keywords search. You may check each Twitter user here and browse through their profile and feed.
By going through their feed, you may decide if these people or brands are one of the right people that you can follow on twitter. You can check their followers.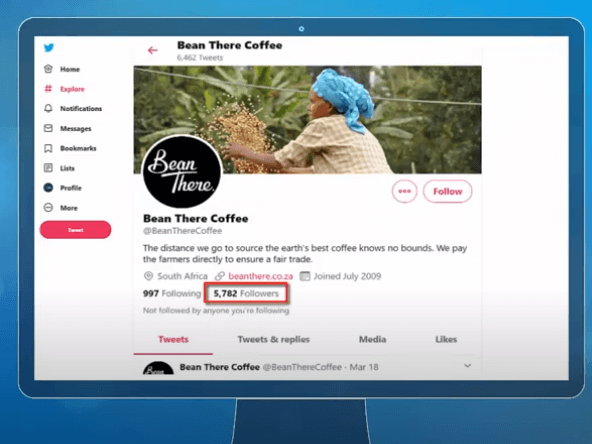 You can follow any Twitter user to see posts about their lives, catch up-to-the-minute news from business accounts like CNN or Google, or follow accounts that use Twitter as an outlet for comedy.
There are millions of Twitter accounts out there, but no definitive "right" way to use Twitter. Want to fawn over celebrities? Have at it.
Post interesting, frequent tweets, and you may soon develop a following. But you don't have to do that -- you can use Twitter to follow other accounts without ever posting a single tweet.
For example, you can follow this account since the brand is reputable.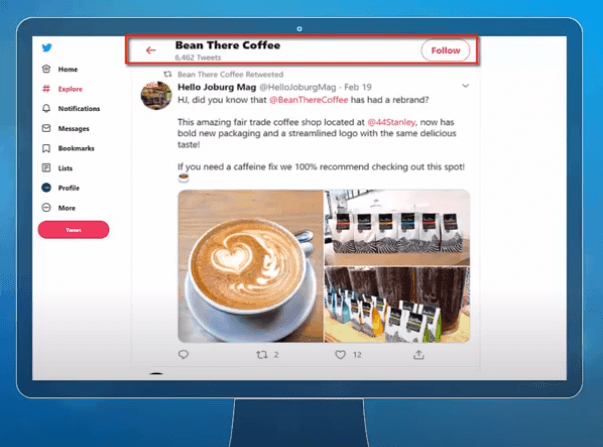 Hashtags are an important way to expand your Instagram audience. When you use a hashtag, your post will appear on the page for that hashtag.
If you use a hashtag on your Story, it could be included in the relevant hashtag Story, which also appears on the hashtag page.
People can also choose to follow hashtags, which means they could see your hashtagged post in their feed even if they don't follow you (yet).
You can also look for people who used the same hashtags that are related to your business. Just remember that every one of the hashtags you use on a post must fit with the content and should not be too repetitive.
Don't copy and paste your whole saved list onto every post.
---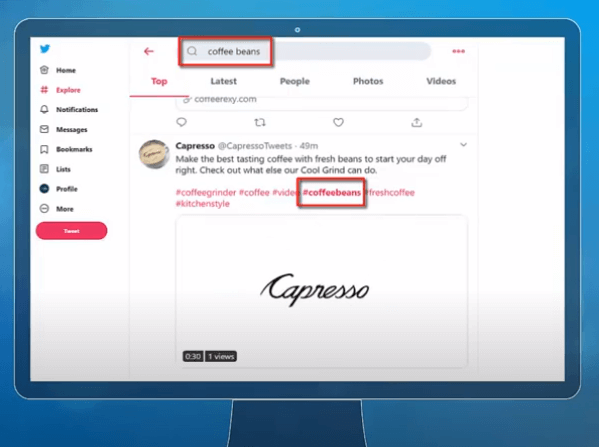 In this post, they have included several hashtags. As you check their profile you can find their website as well.
Many profiles include a link -- also called a URL -- to the user's blog or website. Not only can you put a Web link in your Twitter profile, but you also have no reason not to.
Most people use Twitter to network with other people who may be interested in similar activities or to promote your business or organization, so the more opportunities you give people to connect with you, the better.
A link on your profile helps people to find you and connect outside of the Twitter platform.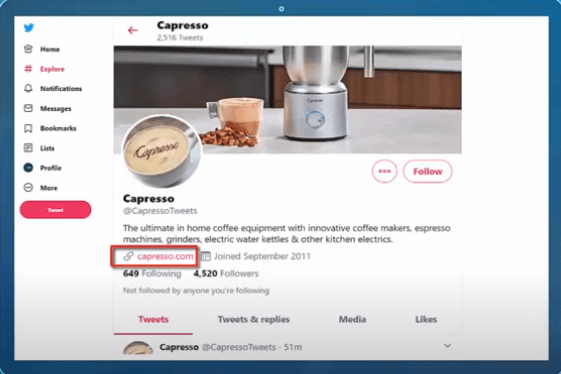 When people click on the link they can directly go through your website. You can see they have an e-commerce site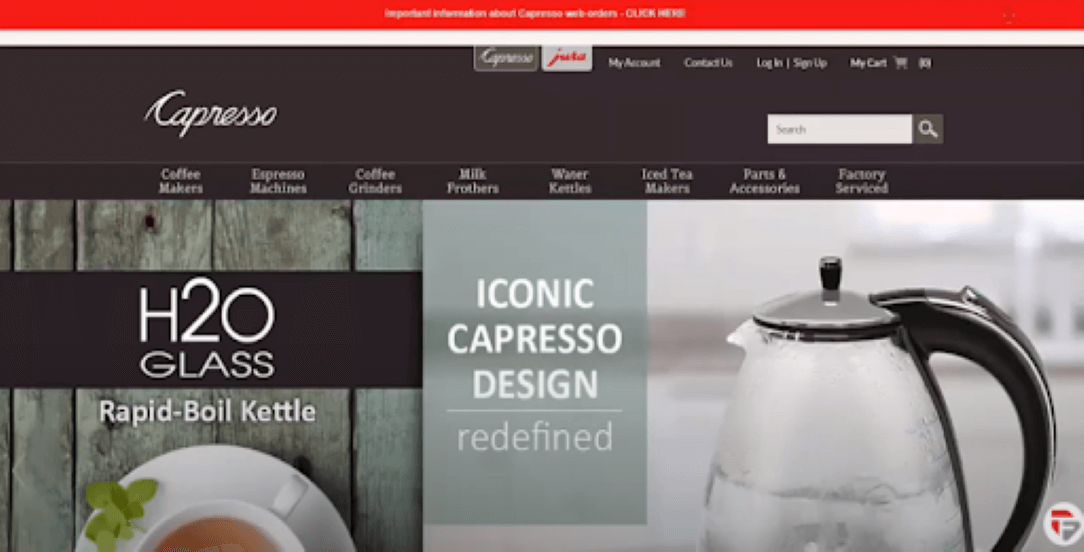 It's important to put a URL on your Twitter profile that links your potential contacts and customers to your home on the Web, your website must be equipped to handle the traffic and answer questions from potential customers about your activities, business, or organization.
Whatever the link you choose to include on your Twitter profile, make it a valuable and appropriate one.
---
Check the twitter user's list
Twitter lists are an incredibly useful resource with hundreds, maybe even thousands, of Twitter lists out there full of vital information.
Though it's simple and easy to build your own Twitter lists, there's no point in trying to replicate a comprehensive well-maintained list of users that already exists.
Twitter Lists are the best way to keep your streams organized so you can see just who you're looking for at exactly the time you're looking for them.
Viewing a List timeline will show you a stream of Tweets from only the accounts on that list.
---
How to follow other people's Lists
→ Tap the more icon (…)on an account's profile.
→ Tap View Lists.
→ Select which list you'd like to follow.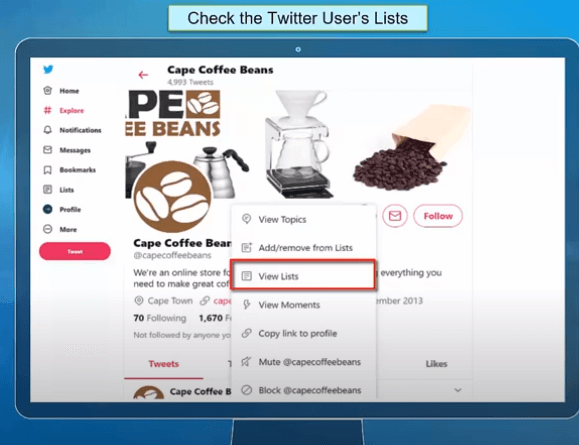 You can view which Lists you are a member of through your Lists tab. To remove yourself from a list you will need to block the creator of that List.
To search for lists on Twitter, you need to use the search bar, which is available at the top right-hand on your Twitter homepage.
Type in the topic of the list you're looking for, or the kind of people you'd like to find on a list.
You can also check out who other people in your industry have on their lists. This can give you ideas about who to add and who to follow on Twitter.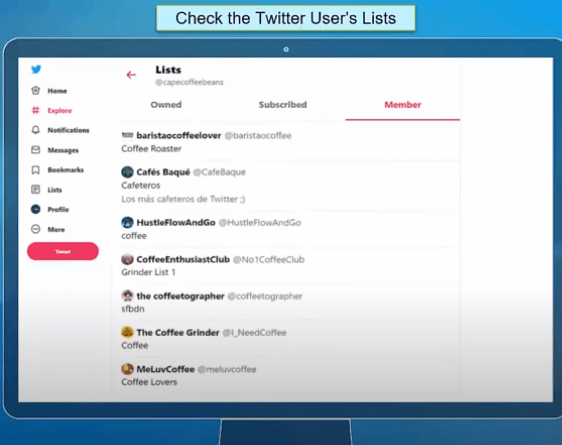 ---
Conclusion
By knowing how to find the right people on twitter you can increase your chances of getting more twitter followers.
And potential customers who are also followers of the leaders you are following or the brand with the same industry as your business.
I hope this topic was useful. We will now proceed to the next topic!
Finding Topics to follow
Imagine you love the Money Heist web series and want to find interesting tweets about the series on Twitter. But, when you search for it, all you find are meaningless tweets from random fans.
This is a pervasive problem on Twitter!
Twitter has begun to roll out a new feature, called Topics, which aims to correct this issue. You will be able to follow more than 300 areas of interest - whether it is sports, entertainment, or gaming - similar to how you follow regular accounts.
Then, you'll see tweets from accounts that you don't follow but have expertise on or have said something notable on the topic.
Here's how Twitter described the new feature:
"Following a topic allows you to stay informed on what's happening and see more relevant content, including tweets, events, and ads, about that topic. We may also match you with other topics that we think you are interested in based on your profile and activity, such as the tweets you view or like."
Twitter is working on rolling out more topics, including a feature to mute topics, plus it's exploring letting you browse topics on an explore page.
---
Let's check out our twitter topics
- Log in to your account
- From the left left menu click on more
- From the drop-down menu click on Topics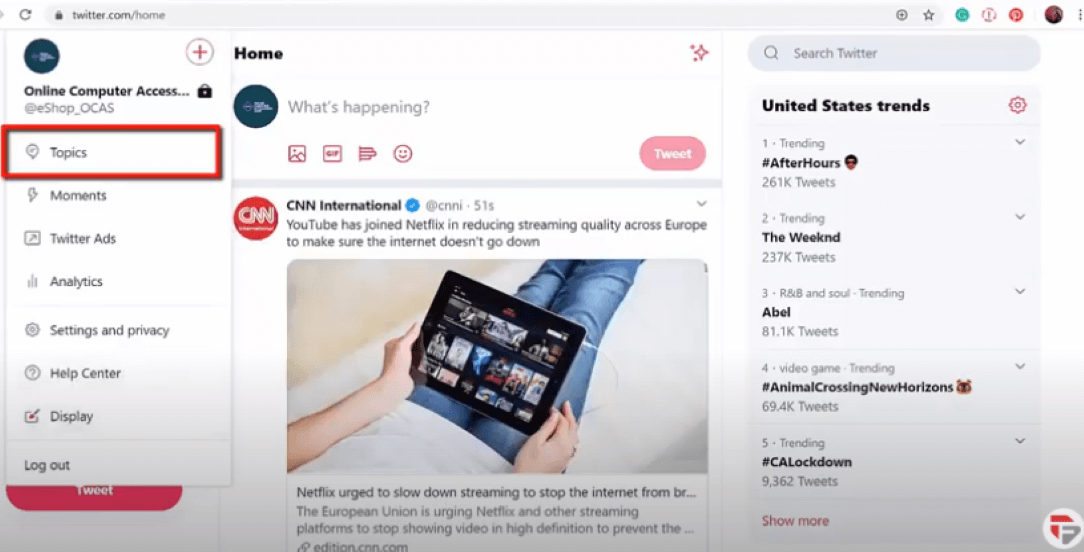 If this is your first time to access the topics, then this will be your welcome page for new topics to follow.
You can stay up to date with top tweets about topics to follow, right in your home timeline.
Make twitter yours with the most relevant tweets, events, people, and ads.
Share your interests so people can see the topics you follow on your profile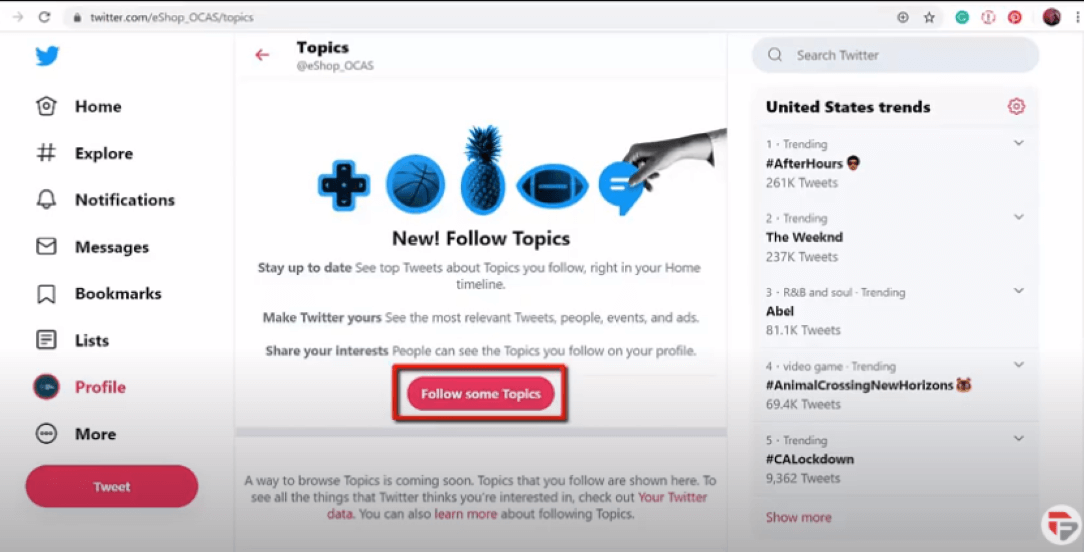 - Click Follow some topics.
- Now you will see a pop window with some topics category such as
→ Entertainment
→ Gaming
→ Sports
→ Music and Radio
→ Hobbies and Interests
- When you click the Plus icon, From within each category and sub-category type, tap the Follow button next to the Topics you'd like to follow.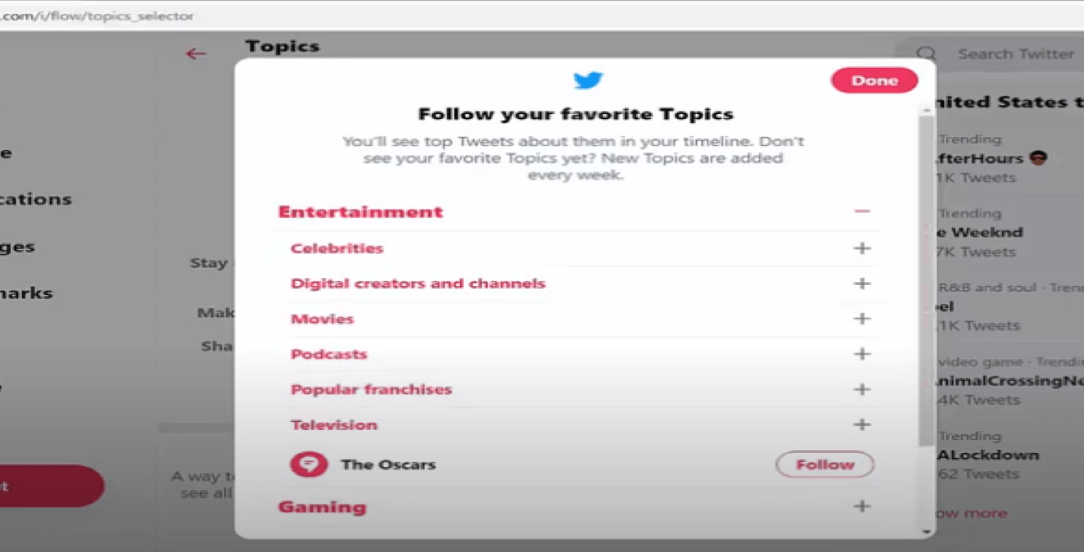 - When finished, tap Done.
---
How to unfollow a Topic
- From your Home timeline:
→ In your Home timeline, navigate to a Tweet about a Topic you're currently following.
→ Tap the scroll down icon from the top of the Tweet and select Unfollow.
- From your Topics:
→ Tap Topics in your profile icon menu.
→ Tap Unfollow next to the topic.
---
Account suggestions by Twitter
Twitter makes suggestions based on your activity on Twitter, such as your Tweets, who you follow, and accounts and Tweets that you view or otherwise interact with.
These suggestions are generated by algorithms, which means you may or may not know the accounts or find them relevant.
You can see in this example Twitter suggested people based on your recent activity.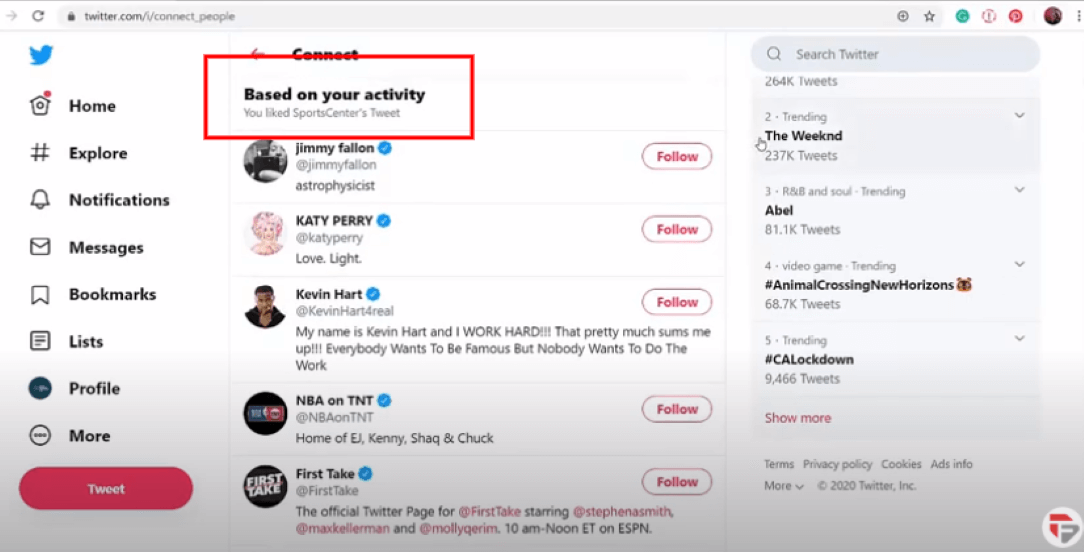 If you've uploaded your contacts to Twitter, it will suggest you connect with those who already have Twitter accounts.
If someone has uploaded their contacts to Twitter, and your email address or phone number is included in their contacts, twitter may suggest you follow them.
Twitter may also make suggestions based on your location, such as the city or country you are in.
---
Conclusion
Finding topics on twitter and following them will allow you to view tweets that are related to the topics that you are currently following.
Twitter will make sure to show you the most relevant topics that you might be interested in and discover more topics that you can also follow.
Finding topics related to your business will also help you in reaching more audiences on Twitter who are not familiar with your brand yet.
With twitter's help, people who are interested and are also following topics related to your business will make your tweets and twitter account be visible to these Twitter users.
Hope this topic is useful. We will now proceed to the next topic.
---
Finding Trends Using Explore
Trending content on twitter is the section where you find the popular tweets, hashtags that are getting a greater number of tweets daily.
Twitter will show you the top twenty trends that you can explore. If you track your Top 20 trends, you may notice that some of the topics here will be replaced by other trending topics as the day passes. This is due to Twitter's algorithm!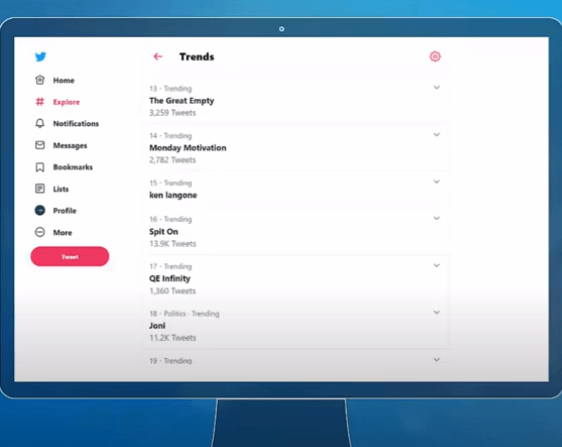 Trends on Twitter are hot topics that you can talk about and join in on a conversation about said topic. When your tweet contains a trend, it's added to a list of tweets about the trend, further bolstering the trend's popularity.
You can easily search for a trending topic in the search box.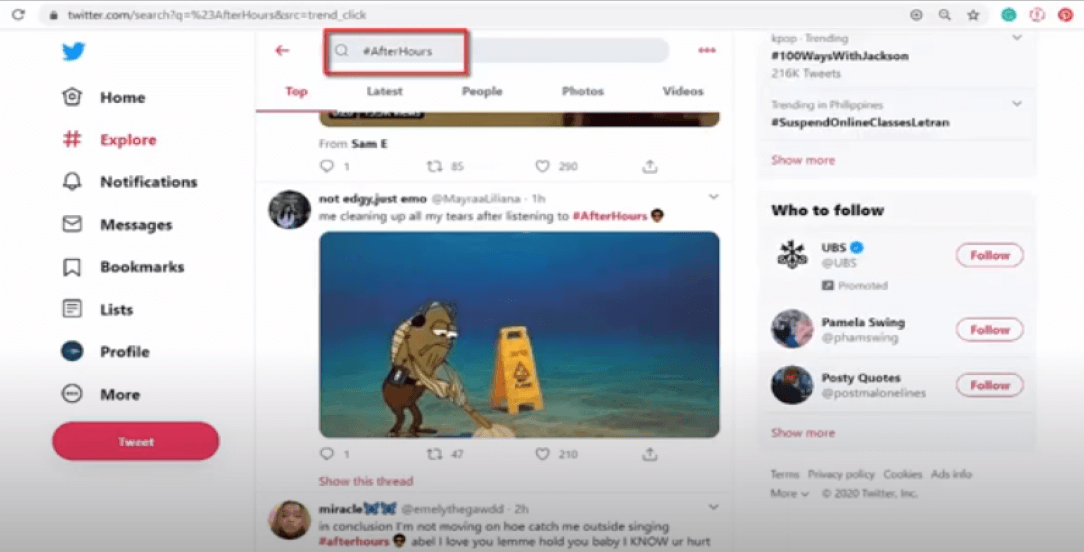 Trends on Twitter are determined by a combination of volume and how much time it takes to create volume. In other words, one-day growth is trending, while 30 days is just more news.
Trends on twitter depends on each person, their location, who they follow and what their interests are.
You can check out different trends per location if you need to gather data for your businesss.
---
How to Adjust Trends setting
→ In the top menu, tap your profile icon.
→ Tap Settings and privacy
→ Under Explore, tap Trends.
→ Drag the slider next to Trends for you to turn on and receive personalized trends.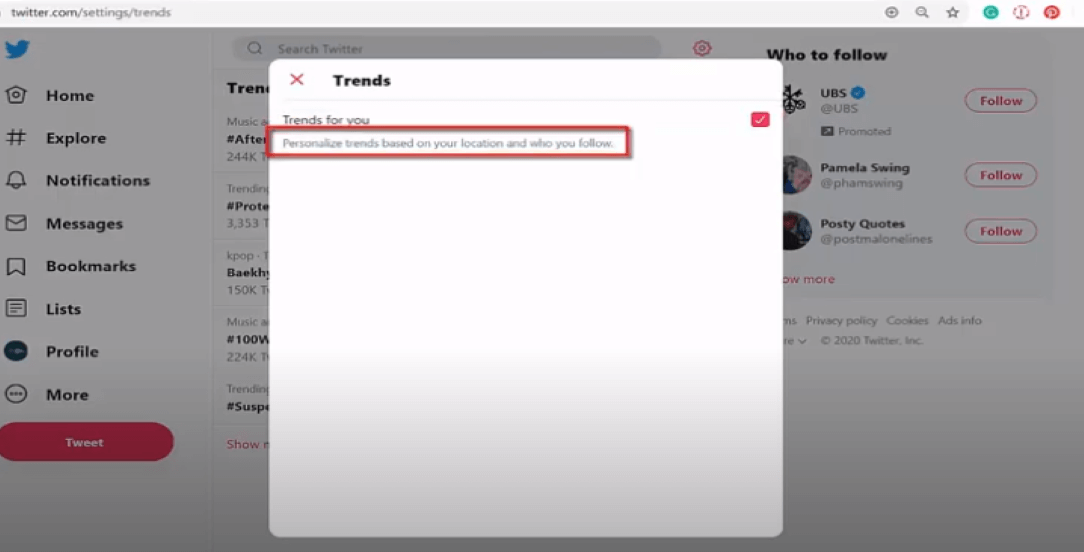 → When the feature is disabled, you can change your location by tapping Change location. In the search box, type your desired trends location or choose from the list.
---
Conclusion
Using the explore menu to find trends on Twitter will help your business in determining the keywords that you can use to include in your tweets based on the trending posts on Twitter.
You can check the trending topics, keywords or hashtags on your location or in different countries.
Doing this will give more explosure to your tweets as you promote your blog, products or services of your brand or business.
Hope this lesson is useful. We will now proceed to the next chapter.
Chapter 7 :
Gain Followers on Twitter with images and emojis
See More
---