Using Twitter for Customer Services - Build Customer loyalty with Twitter
Hello, Folks welcome to the thirteenth chapter of Twitter Marketing. In this chapter, we will talk about using Twitter for Customer services.
Twitter provides a new dimension to customer service; it allows companies to reduce customer wait times and also the expensive costs associated with a call center. At the same time, it helps businesses build a reputable brand image.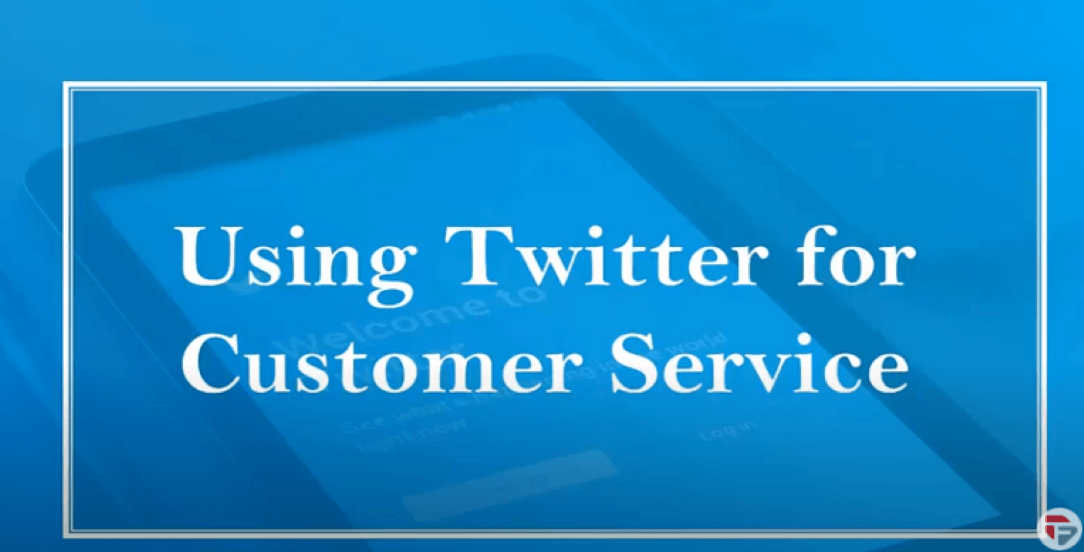 Twitter provides a real-time conversation on tweets. People use Twitter because they can get news, updates, and people can respond to their tweets quickly.
The conversation on tweets can be public and anyone can see it. For companies, responding to customer concerts via Twitter is cheaper than having a dedicated call center for their company.
Twitter is free to use and any one of their employees can manage their company's twitter handle which is dedicated only for customer support.
People will get faster responses and companies can offer them good customer satisfaction.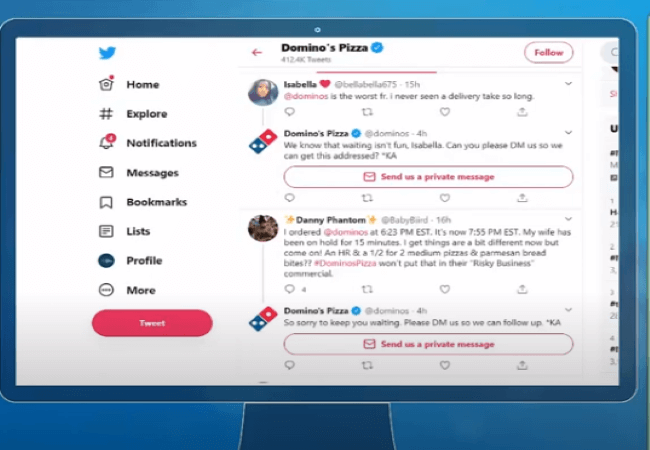 The first thing you must do when customers post tweets regarding their concerns is that you should respond as quickly as you can.
The faster you respond to your customers the better the chances that your customers will give you great feedback and do business with you again.
They can even brag about it on their tweets and heir followers will know that your business is great in dealing with customers' concerns.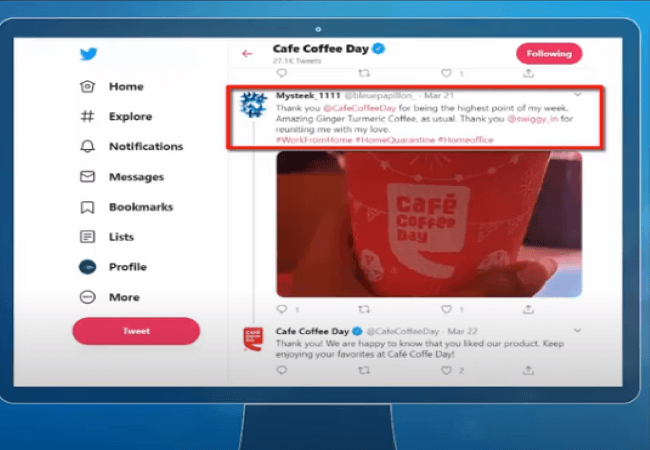 Many reputable businesses are using Twitter to handle their customer services. Its direct-to-consumer capabilities are unparalleled and influential brands are taking advantage of the platform's versatility.
---
Solve customer problems quickly.
Try to be as prompt as possible when responding to customers. Our guide to the support staff in our company is to first inform the customer that our team has received the message and we are looking into it (if it's not possible to respond with the correct answer immediately).
If the answer cannot be provided on Twitter as it is too complex, then we give the customer details on how to contact us on or direct them to a support document on our website.
As you can see in this example, this user sent a tweet to Amazon Help's Twitter customer support profile. Amazon help replied to this tweet in less than 10 minutes.
If we take a look at the next tweets, you can see that they respond to customers quickly. This one was responded to within 6 minutes.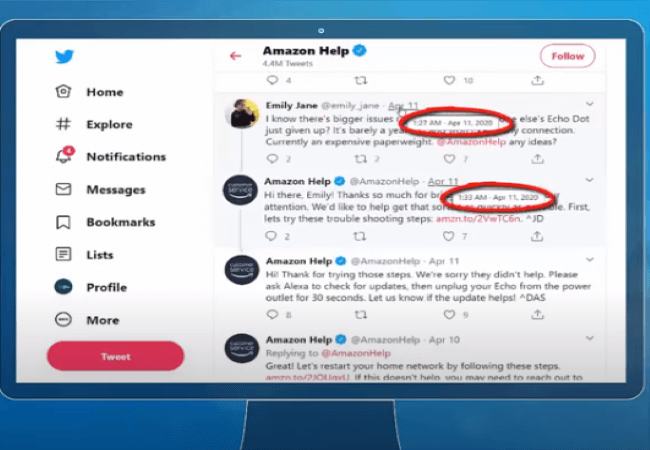 This clearly shows that this customer service support for Amazon does a good job of keeping their customers' concerns responded to as fast as they could.
Providing real client testimonials is a smart and innovative way to leverage a Twitter feed. Everyone can relate to the annoyance of being put on hold by a customer service department for hours.
Amazon customer support service has managed to eliminate this dread by utilizing its satisfied customer base.
---
Save on costs.
Having your customer service reps use Twitter to respond to customer inquiries is less expensive than hiring a call center. Using Twitter's response function is a smart idea because all exchanges are public and thus are indexed.
Customers seeking information might find the answer to their question on your Twitter profile page and therefore might not need to contact you at all.
Another benefit is that you increase your efficiency in responding to customer questions.
Because Twitter limits tweets, customers need to be concise and precise in their demands. More precise information, in turn, can help you meet demand more quickly.
Track conversations and improve customer support.
To provide impeccable customer service on Twitter, track all of the conversations you have with customers as well as other mentions about your brand.
Keep information such as the customer's name, username, product name and comments so you get an idea of what people think of your business and can monitor any trends.
Monitoring tools exist to help you with this task, and most alert you by email when information about your business or products is published online.
By tracking trends, you can refine your customer support by fine-tuning it to increase overall customer satisfaction.
Be available to answer queries.
If you decide to utilize Twitter for customer support, make sure your team is available to respond to customer tweets.
Availability is a key element on Twitter. If you set up an account and then don't use it, then the public perception will be a negative one.
Use Twitter to build brand reputation.
In addition to providing a powerful platform for customer support, Twitter allows you to build your online reputation.
It can shorten your response time, resolve issues intelligently, build a more personal relationship with your followers, and reach more potential customers.
Adobe
Design software company Adobe is another great example of a business that uses Twitter to help customers. Users can tweet specific questions about using the software and can expect a detailed response that provides a solution directly from the AdobeXD Twitter.
Having trouble editing an image in Photoshop?
Rather than spending hours trying to figure it out for yourself on YouTube, you can tweet at Adobe with your issues and they will respond promptly.
Customers rarely take the time to call customer service with these types of issues. It's a smart move by Adobe because it prevents users from getting frustrated with the software and either abandoning it or switching to a simpler competitor.
It also helps build brand loyalty if customers feel that you understand their problems and are willing to take the time to help.
---
Separate Customer Service Twitter Handle
Businesses have been using Twitter for marketing purposes since its inception, but over the last few years, they have increasingly been using it for customer service too.
Often creating a separate handle specifically for help and advice, staff similarly interact with customers to live chat services.
Many businesses start with just one account handling brand engagement, ads, and customer service.
This can help consolidate all your followers to one place. However, if you find more complaints are sliding into your DMs than brand-related inquiries, it may be time to consider splitting the account into two.
Doing this will give your promotions an organized and peaceful Twitter profile for your business. People who visit your profile will be looking out for what your business offers.
As you can see here, this airline company has a twitter profile for promoting their business using this twitter handle. But they also use this twitter handle for people to send their concerns regarding flight issues.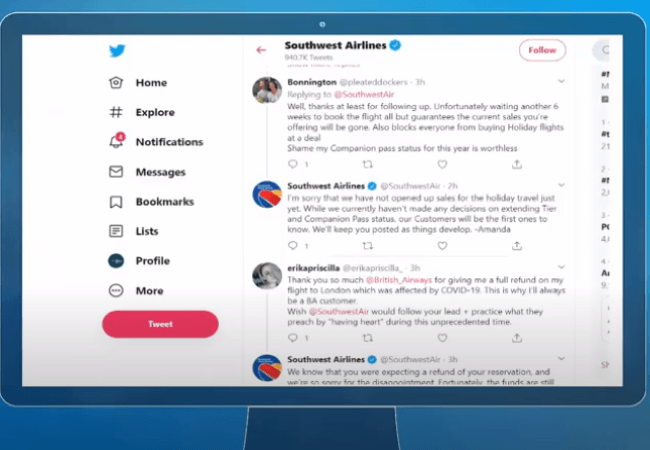 As you can see brand engagement posts are swamped with customer complaints. This is a common reason for wanting to separate your Twitter accounts.
This will make your company have tons of issues when dealing with business.
Giving your followers a dedicated account on Twitter for customer service can encourage dissatisfied customers to channel negative experiences to one place, hidden from new or prospective customers.
However, this can also be an opportunity.
When it comes to making a purchase, 64% of people find customer service more important than price - demonstrating how well you handle a problem from your main brand page can be extremely appealing to potential customers.
Your entire timeline, including your tweets and replies to other users, is available for anyone with a Twitter account to view. This means that any problems customers have been aired publicly and should be tackled appropriately.
Keep an eye out for particularly frustrated customers, or even trolls, and diffuse the situation calmly and politely.
Try to maintain a professional, helpful attitude as you would with a customer in real life, and never deflect anger or negativity back.
Try to maintain a professional, helpful attitude as you would with a customer in real life, and never deflect anger or negativity back.
You can't delete negative tweets about you – but you can convey your care for the customer in your output!
---
Learn when to deal with customer concerns in private
There are times when customers tweet to your twitter handle and there is too much negativity to discuss their concern in public.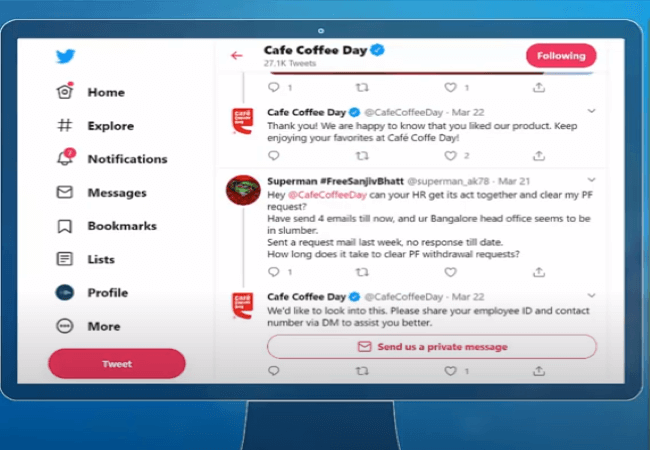 Businesses must keep their calm and listen to the customers' concerns. Most customers who are looking for help won't care if they're tweeting to the "right" account or not: as long as it belongs to the right brand, they'll use it.
These customers believe that it is your responsibility to dissect brand engagement from customer service mentions.
You must remember to deal with delicate issues regarding the involvement of customers' private details or the concerns that will cause more harm than having a good impression on your potential customers.
Always attend to each customer's concerns. Make sure that you can address each customer's issues regarding your business.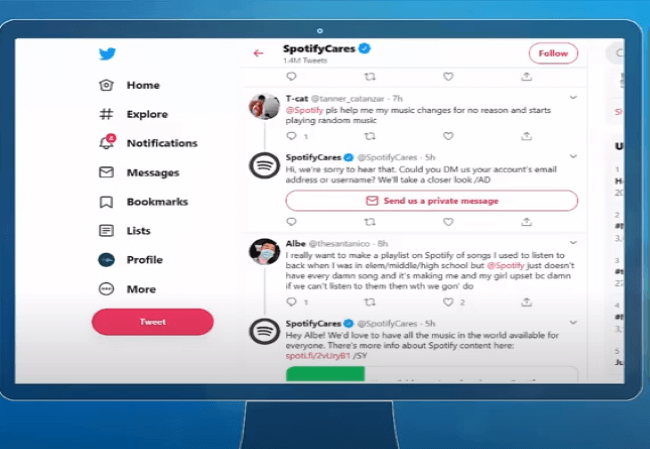 Ignoring angry consumers will be seen by the whole world - including current and potential customers. This will only hurt your brand's reputation
Your business must show that your best intention is for customer satisfaction. Believe it or not, angry customers just want to be heard. Even if you can't solve their problem entirely, the fact that you're listening goes a long way.
---
Conclusion
Having a Twitter profile for customer service is a great marketing strategy for your business. People love getting quick responses right away.
People can even use their mobile phones while they're on the road and tweet their issues to any businesses that they have concerns with and eventually send them quickly.
Businesses can receive the tweet regarding their customer concerns and quickly respond to them as soon as they get notified that someone posted a tweet to their timeline.
Businesses must know how to deal with their customers as fast as they could to prevent them from escalating the issue and leave your business with bad feedback.
Hope this chapter was useful. We will now proceed to the next chapter i.e How to get blue tick on twitter - Special Strategy
Chapter 14:
How to get Blue Tick on Twitter - Special Strategy
See More
---